Generations Unite to Address Climate Change
Campus conference helps community understand climate change effects and solutions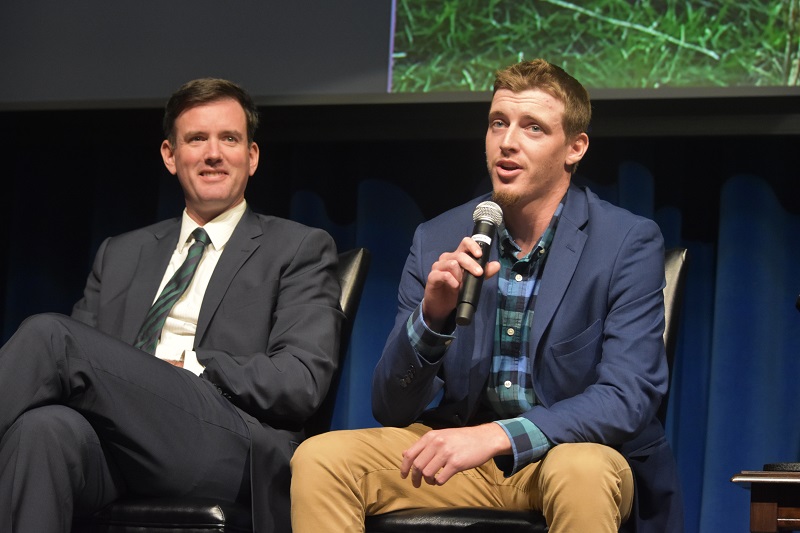 University News | November 11, 2019
Photo Gallery: Generations Uniting to Address Climate Change
In an effort to help students further understand how climate change is altering the environment and what can be done now to alleviate or adapt to these changes, Virginia Wesleyan University and The Gunn Group hosted "Generations Uniting to Address Climate Change" on November 8 in the Goode Fine and Performing Arts Center on campus.
"A university is a spot where young people need to begin to understand in earnest what they have at stake in the future," said Lee Gunn, Chairman of the Gunn Group and a retired Vice Admiral for the U.S. Navy, "and that their voice, in a democracy such as ours, can be and must be counted."
National and local climate change experts and Virginia Wesleyan students shared their knowledge, experiences, and insights through a combination of panel presentations and question and answer periods. The event was comprised of two main discussions: "Where are we and how did we get here?" and "What can we do, together?"
"You are vital players in a drama that's unfolding before us, in which a couple of acts have already been performed," Gunn told students in attendance. "It's dreadfully important that in the final act we actually make the changes, bring about the technologies, develop the approaches and the policies necessary, to control the environment in a way that allows this wonderful green planet—this wonderful blue planet—on which we live to continue to sustain the kind of lives that we have all enjoyed."
Gunn served as a panel moderator along with David Architzel, also a retired Vice Admiral for the U.S. Navy. Panelists included Doug Beaver, Chief Resilience Officer for the City of Norfolk; Dr. Sweta Chakraborty, Policy and Communications Fellow for the Center for Climate and Security; Cameron Evans, VWU student; Andrew Holland, Chief Operating Officer of the American Security Project; Ann Phillips, U.S. Navy Rear Admiral (Retired) and Special Assistant to the Governor of Virginia for Coastal Adaptation and Protection; Ashley Roehrman, VWU student; and Dr. David Titley, U.S. Navy Rear Admiral (Retired) and Founding Director of the Center for Solutions to Weather and Climate Risk.
During the conference, select VWU students received Earth and Environmental Sciences Department Endowed Fund awards for notable sustainability initiatives and research. Recognized students included Patrick Berard, Devin Calpo, Qi Chen, Allison Fernandez, Ezekiel Herrera-Bevan, Michael Harrison, Ashanti Kincannon, Skyler Lattuca, Jean Mahon, Kayleen Meinen, Monika Metro, Christian Roden, Ashley Roehrman, Andre Toppin, Michael Tres, and Kathleen VandenBerg.
A Green Career and Volunteer Fair was held in the Watts Lobby, with representatives from Lynnhaven River Now, the Elizabeth River Project, Sierra Club, the Virginia Department of Environmental Quality, the U.S. Coast Guard, Oceans 2022, Norfolk Botanical Garden, Virginia Tech Hampton Roads Agricultural Research and Extension Center, BrightView Landscape Services, and Marlins Go Green.
Hosted with support from Virginia Wesleyan University's On Deck Speaker Series, Fairlead INT, HII-NNS, Marine Technology Society, and Oceans 2022.