Campus Conference: Generations Uniting to Address Climate Change
November 8 event to help community understand climate change effects and solutions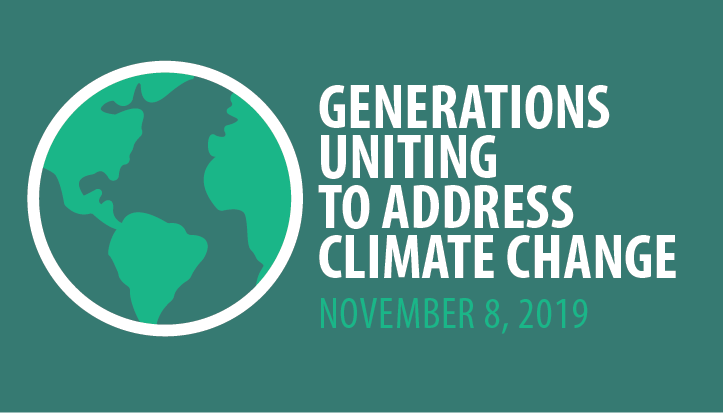 University News | October 11, 2019
Around the globe, young people are joining scientists, governments and environmental organizations to understand and address climate change. To prepare students to lead or support this effort at the local, national and international level, Virginia Wesleyan University and The Gunn Group are hosting a one-day conference, "Generations Uniting to Address Climate Change," on Friday, November 8, from 1:30-4:00 p.m. in the Goode Fine and Performing Arts Center.
The conference is open to all, but is planned specifically to help students understand how climate change is altering the environment and what can be done now to mitigate or adapt to these changes. National and local climate change experts and Virginia Wesleyan students will share their knowledge, experiences, and insights through a combination of presentations, panel discussions, and question and answer periods. The goal is to demonstrate what can be done and motivate people to act.
A Green Career and Volunteer Fair will take place prior to the event from 12:30-1:30 p.m. in the Watts Lobby, featuring representatives from Lynnhaven River Now, the Elizabeth River Project, Sierra Club, the Virginia Department of Environmental Quality, the U.S. Coast Guard, Oceans 2022, Norfolk Botanical Garden, Virginia Tech Hampton Roads Agricultural Research and Extension Center, BrightView Landscape Services, and the Marlins Go Green student organization.
Hosted by Virginia Wesleyan University and The Gunn Group with support from VWU's On Deck Speaker Series, Fairlead INT, HII-NNS, Marine Technology Society, and Oceans 2022.
Agenda
Welcome
Dr. Scott D. Miller, President of Virginia Wesleyan University
Panel Discussion: Where are we and how did we get here?
RADM (Ret.) Dr. David Titley, Andrew Holland, Cameron Evans, and Dr. Sweta Chakraborty
Moderator: VADM (Ret.) David Architzel
Break and Waggl
Panel Discussion: What can we do, together?
Ashley Roehrman, RADM (Ret.) Ann Phillips, and Doug Beaver
Moderator: VADM (Ret.) Lee Gunn
Guest Seminar Participants and Panel Members
David Architzel
Vice Admiral (Retired), U.S. Navy, former Commander of the Naval Air Systems Command; Chairman Norfolk Military Economic Development Council, Chairman Maritime Industrial Base Ecosystem Hampton Roads
Doug Beaver
Chief Resilience Officer (CRO) implementing the Vision 2100 comprehensive resilience strategy for the City of Norfolk, and a member of the Technical Committee of the Norfolk and Virginia Beach Joint Land Use Study
Dr. Sweta Chakraborty
Policy and Communications Fellow, Center for Climate and Security, Member EcoHealth Alliance's Young Professionals Council and Board Directors Member Serendipity Foundation
Cameron Evans
Virginia Wesleyan University sophomore and a native of Tangier Island, a Virginia land mass at risk of disappearing due to erosion and rising sea levels. His photography captures life on Tangier Island for future generations.
Lee Gunn
Vice Admiral (Retired), U.S. Navy, former Inspector General of the Department of the Navy; retired President of the Institute for Public Research at CNA; now Chairman of the Gunn Group
Andrew Holland
American Security Project, Chief Operating Officer, Expertise: Energy, Climate Change, and Infrastructure Policy
Dr. Maureen McCarthy
National Security Forum of Northern Nevada, Director Programs and Commentary; Senior Research Faculty, Department of Physics, University of Nevada, Reno; Senior U.S. Intelligence Officer; member of the Senior Executive Service
Ann C. Phillips
Rear Admiral (Retired), U.S. Navy, former Director of Navy Surface Warfare; then Commander, Expeditionary Strike Group Two; now Special Assistant to the Governor of Virginia for Coastal Adaptation and Protection
Ashley Roehrman
Environmental Studies major at Virginia Wesleyan University, President of Marlins Go Green, student representative on the VWU Environmental Sustainability Council.
Dr. David Titley
Rear Admiral (Retired), U.S. Navy, Founding Director of the Center for Solutions to Weather and Climate Risk, Penn State University; former Oceanographer and Navigator of the Navy; Advisory Board Member of the Center for Climate Security