Goldyn Goes Global
Marlins softball alumna Jessica Goldyn continues her athletic career overseas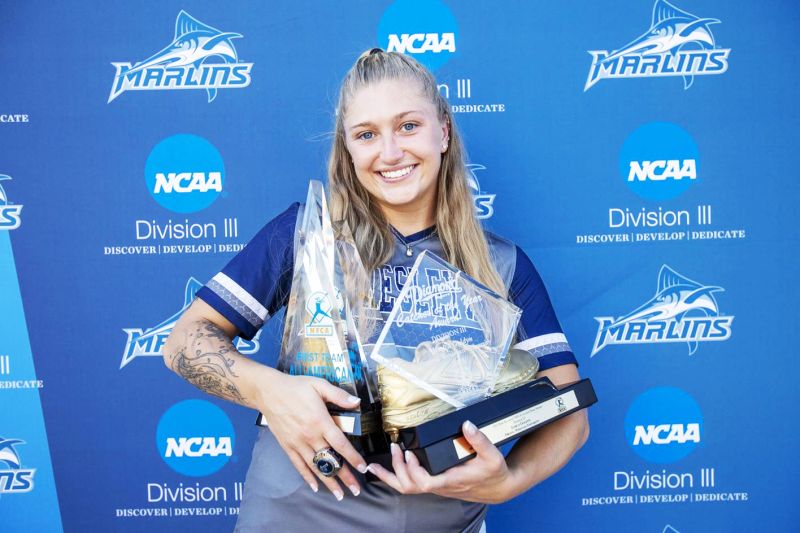 vwuathletics.com | July 22, 2022
Virginia Wesleyan softball alumna Jessica Goldyn received the news of a lifetime this spring—the opportunity to play professional softball.

Goldyn had one of the best seasons of her career, and one of the best amongst all collegiate softball players in 2021 as she helped guide the Marlins softball team to the NCAA Division III Championship Title. For her efforts on the field, Goldyn was selected as a Collegiate Women Sports Awards 2020-21 DIII Honda Athlete of the Year Finalist. She garnered numerous accolades including NFCA Division III National Player of the Year, was the NCAA Tournament Most Outstanding Player, and a member of the All-Tournament Team. Goldyn also earned the 2021 Diamond Sports/NFCA Division III Catcher of the Year honors, the 2021 New Balance/NFCA Golden Shoe honors, and was an NFCA 1st-Team All-American.

The catcher led the nation in stolen bases (73 on 75 attempts), stolen bases per game (1.38), doubles (23), hits (84), total bases (153), triples (11), and ranked third nationally in RBIs (54). In 2021 alone, she tied the second highest batting average in a single-season in team's history at .488. She broke the single-season hits record by 14 hits at 84. She also scored the most runs in a season by any Marlin ever with 69, en route to helping the Marlins win their 5th consecutive ODAC championship. In addition to her previously mentioned accolades, Goldyn won VaSID All-State Softball Player of the Year, ODAC Conference Player of the Year, as well as First-Team All-Region, All-State, and All-Conference honors. .

In April, the former Marlins softball catcher traveled to Germany, taking her talents on the field overseas to play for the Bonn Capitals. The whole process happened suddenly for her, she says, and was an absolute culture shock. Her team is 14-2 on the season, and she says she has embraced the change and is looking forward to the future.

The Bonn Capitals plays against other softball clubs around Germany as well as teams in other countries.
"We're in the south, so our league is the south league, and when we play finals at the end of my season, we will play against the northern teams," Goldyn said.
There's also a German national team and only women who have a German passport are permitted to play. Goldyn currently plays for a club softball team, but admires the German national team and has ambitions too. There's an under 22 German national team and then there's a women's German national team. Some girls might play in both leagues.

As one of the three Capitals with American descent, there are rules established in the league for players from out of the country. Goldyn says the rules for imports have taken some getting used to along with the coaching, different lifestyle, softball culture, and in-game pace.
"There are different imports, players from different countries, on every club team," she says, "but every game there's different rules for the imports, so only two imports can play in the first game. But both of those imports can't pitch, so a German pitcher has to pitch the first game. But the imports can play in the field or hit. Then in the second game, all imports can play and you can have up to three on the roster. They can also pitch. It's been really difficult to understand."
So far this hasn't been a huge factor, but she says it took some getting used to.

As of July 9, Goldyn leads the Capitals in stolen bases with 12 and has a .485 batting average, despite some limitations in playing.
"They use this rule as a fairness deal, I feel like they see it as it wouldn't be fair to let good American girls come in and dominate the entire league. The level of play is completely different from the states."

Goldyn had an all encompassing softball resume when she packed up her stuff and flew to Bonn, Germany. One of the first challenges one would presume an American would face in Germany would be the language barrier between English and German. Luckily, just about everyone speaks English.
"All [the players] speak English," she says. "Some of them speak a lot of broken English and some people are still learning. The older citizens didn't learn in school growing up. It was more so required for jobs as they got older. But now in Germany, they teach English in elementary school and middle school, so they learn right away."
As expected, learning a second language across the world is daunting, however Goldyn says she has been complimented on her German and wants to continue her progress.

The Bonn Capitals regularly work with kids, which Goldyn says has been an ideal place to practice her language skills.
"When our team works camps, little kids are speaking English and German, so it's nice to know that they know both languages. The social cues are a little bit hard to pick up on, especially on the ball field. When they call numbers for bases and other signals it's confusing. I always get told that I'm really good at speaking German, so I think I'm picking it up pretty quick. I don't think it was that hard, I would more so say speaking German at the grocery store, that's like the hardest thing to do. I go to the cashier and have them ring everything up super-duper fast and they're still talking to you in German and you're like, 'Whoa, what's going on?'"

Despite leaving Virginia Wesleyan Softball a year ago, Goldyn still maintains a close relationship with Head Coach Brandon Elliott and sees her former teammates as sisters. She says she loves coming back to VWU to visit and would do anything to come back and play.
"I miss it everyday. Every single day. I watch highlights, old interviews and all that type of stuff before my games. I missed my No. 2 jersey at home," she said.
She speaks highly of Coach Elliott and maintains a close relationship with his son as well.
"We still keep in contact. His son is like my best friend. Coach Elliott and I FaceTime about once a month and text here and there. Obviously that man is all over Twitter, so I talk to him on social media platforms as well. I would say we have a great relationship and when I come back, he knows that [VWU] is like one of the first places that I'm going to visit," Goldyn said.
Goldyn even went on to attribute a great deal of her success as a person to Coach Elliott. She not only speaks highly of her former coach but also her former softball team as well. Though coming to Germany alone was unnerving, she says, she feels as though she's knocked it out the park and feels independent.
"I've grown so much throughout college, but coming here and not having my girls to depend on has been eye opening and allowed me to realize just how independent I really can be," Goldyn said.

Through all the change she has gone through since April, Goldyn says she has remained on her toes. Embarking on her journey to Germany has added a new length to her softball career as she continues to grow. It's been tremendous for her former teammates and coaches to watch her play in a completely new environment as she represents not just America but Virginia Wesleyan University as well.

Originally posted on vwuathletics.com. Written by Athletic Communication Intern Joshua Heller.