Share this Story
Great Things Ahead for Gates Scholar
The educational sky's the limit for Gates Millennium Scholar and VWC environmental studies major Maurica Bynum '16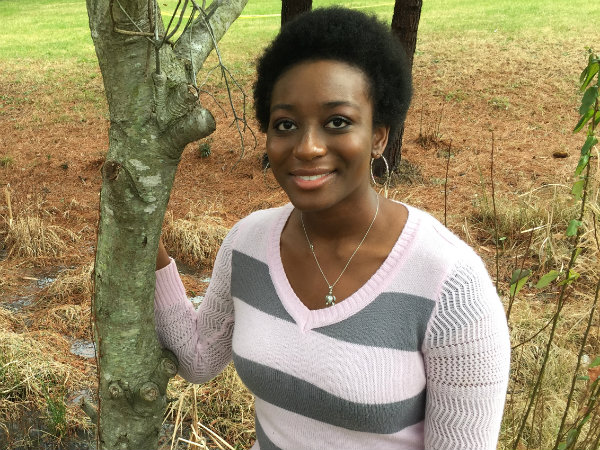 By Stephanie Smaglo | February 19, 2016
As a high school senior, Maurica Bynum spent nearly every day applying for college scholarships. So naturally when she heard about a generous grant program funded by the Bill & Melinda Gates Foundation, she went for it. The competitive need-based scholarship, offered through the United Negro College Fund, enables 1,000 students per year to attend the most selective private and public schools in the country—at no cost.
Twenty-two forms and nine essays later, Bynum was selected as a 2012 Gates Millennium Scholar and chose to attend Virginia Wesleyan.
"The process was very intense," says Bynum, now a senior environmental studies major and business minor at VWC. "Lots of revising. Lots of advice from friends, mentors, parents. I had the grades, but the hard part was articulating in the essays which areas I'd excelled in, where I hadn't been successful, and what had changed me."
She decided to write about realizing that there's no such thing as perfection.
"I had to be real with myself. I said, okay, I'm not the best in this subject, I'm not the best in that subject, but to make myself better, I study, I read more. That was the thing that changed me—the effort of pursuing my goals."
All that effort definitely paid off. The Gates Millennium Scholars Program covers tuition for up to five years of undergraduate study, two years of a master's program, and four years of doctoral school. And that's not all. It also pays for Bynum's room and board, travel expenses, and, yes, even text books.
"I'm really grateful. It's still surreal," she says.
Bynum has an enthusiastic energy about her, and it's clear that she puts it toward her education. She chose to pursue environmental studies at Virginia Wesleyan because, as she puts it, "why stop at the science?"
"Environmental studies focuses on philosophy, political science, policy, and science," she says. "It gives you a broader look at the environmental topic as a whole. It's not just studying the soil and the earth. It's also studying why we value it, why it's important, how to use it, and how to preserve it."
Bynum has completed two independent studies—one in environmental health, one in public health—and two undergraduate research projects: "Managed Aquifer Recharge Systems" and "Causes of Pollution: Three Factors." The latter she presented as part of the College's Undergraduate Research Symposium.
She hopes to attend Eastern Virginia Medical School's graduate program in global environmental health, but first, she'll take a year off.
"I want to collect some data and get some work experience, so when I go into the master's program, I'll be ahead of the curve," she says. "I want to go in with my research question in mind, my data collected, I just want to be prepared."
Ultimately, she plans to expand her parents' environmental consulting firm, P. D. & J. ENVIROCON, but not before becoming a Doctor of Public Health.
"I've always wanted to be a doctor. I want to grow up and be able to put Ph.D. behind my name and get a rubber signature stamp. I never want to sign anything again. That's always been a dream of mine, and my dreams are coming true right before my eyes."