Share this Story
Greer Environmental Sciences Center Earns LEED Gold Certification
Noted for high performance in energy efficiency, material choice, water efficiency/savings, and site enhancement
Featured News| January 10, 2018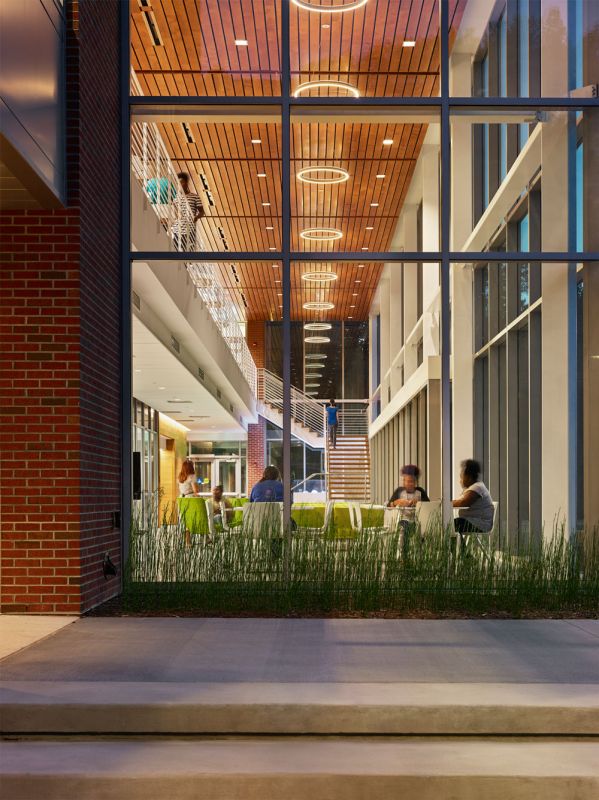 The accolades keep coming for Virginia Wesleyan's new state-of-the-art Greer Environmental Sciences Center (GESC). President Scott D. Miller recently shared information about the certification with the campus community.
"I am proud to share that the GESC has achieved LEED Gold Certification by the U.S. Green Building Council—an impressive honor that comes on the heels of our Conservationist of the Year Award notification from the Chesapeake Bay Foundation and our advancement to Model Level status in the Elizabeth River Project's River Star Business program," said Miller.

Leadership in Energy and Environmental Design (LEED) certification officially recognizes compliance within a rigorous rating system created by the U.S. Green Building Council (USGBC). The Greer Environmental Sciences Center achieved LEED Gold status by proving measurable strategies and solutions aimed at achieving high performance in energy efficiency, material choice, water efficiency and savings, and site enhancement. Some of the key strategies that helped achieve certification, based on an extensive point system, are as follows:
The GESC saves over 30,000 gallons of water annually by utilizing low-flow fixtures, waterless urinals, and native/adaptive landscaping. The sustainable practices contributed to Water Use Reduction by decreasing the potable water use by 44 percent.
Given its proximity to the Elizabeth River and Chesapeake Bay, the GESC's constructed wetland cells were critical not only to clean the stormwater using native plants as filters, but also to reduce storm surges in nearby waterways and direct the water flow away from the building.
The annual renewable energy generation from the photovoltaic system will offset 7.7 percent of the total energy costs for the Center, which earned points for On-Site Renewable Energy.
The combined energy efficiency strategies of the geothermal wells, energy recovery system, and photovoltaic system helped the Center achieve an energy cost savings of 39.45 percent.
20.08 percent of the total construction materials' content, by value, were manufactured using recycled materials. 22.53 percent of the total construction materials' value includes materials and products that have been manufactured and extracted within 500 miles of the project site.
Form and function were at the heart of the design and construction of the Greer Environmental Sciences Center, and LEED Gold Certification was the result. The GESC has now joined an exclusive group of innovative sustainable buildings that showcase commitment to sustainability.

President Miller acknowledged the many people responsible for this latest distinction.
"We are grateful to the campus planning team who outlined the possibilities, and faculty leaders Dr. Maynard Schaus, Dr. Soraya Bartol, and Dr. Chris Haley, whose vision identified suitable elements that could be used in teaching; VMDO Architects—Joe Atkins, Dade Van Der Werf, Jim Kovach, and Lorenzo Battistelli—who brought our vision from initial ideas to working conceptualization to final design; Hourigan Construction—Mark Hourigan, Chris Brandt, Clark Lambert, and Eric Harrison—a vital partner of Virginia Wesleyan, for their careful attention to detail, insistence on safety and excellence, and cooperation on countless "hard-hat tours" over the 15 months of construction; Sydney Covey, Virginia Wesleyan graduate and Sustainability Program Analyst for Hourigan Construction, for her meticulous record keeping and submission of the LEED certification application; Landscape architect Pete O'Shea/O'Shea Siteworks and our friends at Norfolk Botanical Garden—our partners in the care and educational use of the landscaping and plantings that surround the Center with a living laboratory of natural beauty and diversity. Finally, we are endlessly thankful to the donor who provided the funding to construct this outstanding addition to our campus. The donor's insight and passion for education and the environment will leave a lasting impact on this institution and the natural world for decades to come."