Hasbro President Eric Nyman Announced as Founders Day Speaker
The 1994 Virginia Wesleyan graduate will keynote Founders Day Convocation on October 4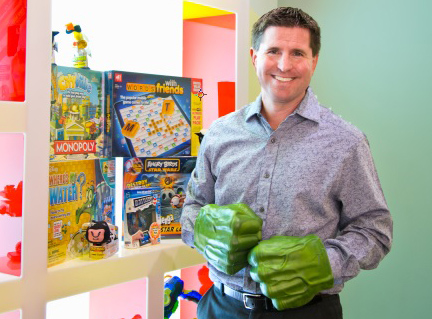 University News | July 29, 2019
Eric Nyman, a 1994 Virginia Wesleyan graduate and president of Hasbro North America, will serve as keynote speaker for Founders Day, President Scott D. Miller has announced. The Founders Day Convocation will take place on campus Friday, October 4, at 2:00 p.m. in the Joan and Macon Brock Theatre of the Susan S. Goode Fine and Performing Arts Center. The event will be livestreamed through the VWU Digital Broadcasting Network.
As president of Hasbro North America, Nyman is responsible for sales and marketing for the entire U.S. market. Prior to his role as president, he served as general manager and senior vice president of marketing at Hasbro, and also worked in brand management roles for Timberland and LEGO.
Nyman earned a bachelor's degree in history from Virginia Wesleyan in 1994. While at Wesleyan, he played basketball and tennis for the Marlins and completed an internship at the Virginia Beach Surf & Rescue Museum. He was the first Virginia Wesleyan student to apply for a Rhodes Scholarship, and went on to earn an MBA from the Boston College Carrol School of Management. He lives with his wife and two daughters in Providence, Rhode Island, and currently serves as a member of the Virginia Wesleyan University Board of Trustees.
Nyman will be honored on Saturday, October 5, with the Distinguished Alumnus Award. He joins fellow 2019 Alumni Awards recipients Candice E. Driskell '94 (Alumni Service Award), Wallace R. Driskell, Jr. '00 (Alumni Service Award), and Amari Agee '15 (Graduate of the Last Decade Award).
Founders Day was launched in 2016 as an annual event to honor the history and heritage of Virginia Wesleyan.
*Founders Day Convocation and the 2019 Alumni Awards were rescheduled from their original September date due to Hurricane Dorian.