Share this Story
Hon. Deborah M. Paxson '75 to Deliver Founders Day Keynote
Formal convocation and Alumni Awards presentation to be held on September 8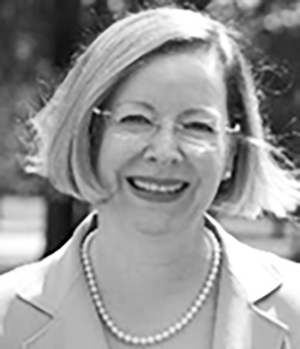 University News | August 30, 2022
At the beginning of each academic year, Virginia Wesleyan University celebrates the special tradition of Founders Day. This year's formal convocation ceremony and presentation of the annual Alumni Awards will be held on Thursday, September 8 at 11:00 a.m. in the Joan and Macon Brock Theatre of the Susan S. Goode Fine and Performing Arts Center. The event will also be livestreamed and archived for later viewing on the VWU Digital Broadcasting Network.
"We look forward to once again paying tribute to our roots, recognizing key individuals that helped to shape our history, and celebrating the institution's bright future," says Dr. Scott D. Miller, President of the University.
This year's Founders Day keynote speaker will be the Honorable Deborah M. Paxson '75, a retired district court judge and member of the VWU Board of Trustees. Paxson served as a judge on the Virginia Beach Juvenile and Domestic Relations District Court from 2000-2018, including a term as chief judge. During that time, she was a co-chair for the Virginia Supreme Court's Commission on Mental Health Law Reform Subcommittee: Children and Adolescents. She also participated in the Virginia Beach Circuit Court's third grade mentorship program at Seatack Elementary School from 2001-2005. She retired in 2018 but still works as a substitute judge in Hampton Roads.
Prior to becoming a District Court Judge, Paxson worked as a supervising prosecutor for the Virginia Beach Commonwealth Attorney's Office, also serving as adjunct faculty at the National District Attorney's College in Columbia, South Carolina. She was a founder of and instructor for the Top Gun Drug Prosecution program in Williamsburg, Virginia.
Paxson's awards and recognitions include: Who's Who in American Colleges and Universities (1973-74); Virginia Wesleyan College Achievement in English Award (1975); Virginia Wesleyan College Outstanding Alumni Academic Achievement Award (1990); Virginia Foundation for Independent Colleges Outstanding Lifetime Achievement Award (2002); and Regent University Law School Judicial Internship Program Judge of the Year (2015).
A Hampton Roads native, Paxson graduated from Indian River High School in 1971 and from Virginia Wesleyan University, summa cum laude, with a bachelor's degree in English in 1975. She obtained a master's degree in English from the University of Vermont on a fellowship in 1981. After working eight years in sales and marketing, she obtained a Juris Doctor degree from the University of Virginia School of Law in 1987.
Paxson is also on the board of the Norfolk County Historical Society. She is past Regent of the Princess Anne County Chapter NSDAR. Her hobbies include genealogical research, cooking, traveling, and reading.
Founders Day was launched in 2016 as an annual event to honor the history and heritage of Virginia Wesleyan. The convocation will also celebrate the University's 2022 Alumni Awards recipients—Michael J. White '81 (Distinguished Alumnus Award), Brandon L. Adair '12, (Alumni Service Award), and Jessie K. Dawe '08 (The Beacon Award).
The 2022 Founders Day Convocation will be livestreamed on the VWU Digital Broadcasting Network and archived for later viewing.