In Honor of Veterans
Gavin Steel '19, Second Lieutenant in the Army National Guard, delivered VWU's annual Veterans Day Ceremony keynote speech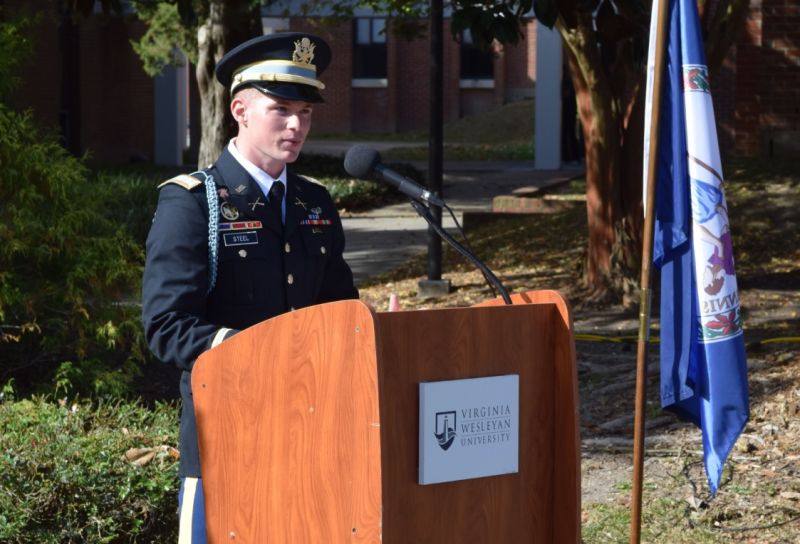 University News | November 11, 2021
Photo Gallery: Veterans Day Ceremony 2021
"Those who are currently serving and those who have served will attest to this…no matter if we still don the uniform or we have taken it off for the last time, we still share the same title—being a veteran," Second Lieutenant Gavin Steel, a 2019 alumnus, told guests at Virginia Wesleyan's annual Veterans Day Ceremony on November 11 at the Veterans Memorial Monument behind Godwin Hall.
"[Veterans Day] is a day that I see a nation come together to show appreciation to those who have fought to keep our way of life," Steel said. "It is no secret that our nation is divided, but I see a day like this and how it brings us together for a common cause no matter our views. We all show our veterans love and respect."
Steel earned a B.A. in environmental science from VWU and was commissioned as a second lieutenant in the United States Army through the ROTC Marlin Company. He went on to graduate Basic Combat Training, Air Assault School, Infantry Basic Officer Leader Course, and Ranger School. He currently serves as a platoon leader for the Virginia Army National Guard and will soon deploy overseas. He's also an eighth grade science teacher and is pursuing a master's degree in school counseling—in addition to his favorite role, being a father.
Steel chose to emancipate himself as a junior in high school at the age of 17. He was taken in by a family that led him to Virginia Wesleyan, a decision that he says changed his life's direction.
"This is a place where I learned and grew both personally, and academically," he said, "It is a place that is forgiving and accepting of all peoples no matter what their walk of life is. The people and programs like ROTC here on this campus are what have set me on the path that I am on today. I credit all my current successes and future ones to the lessons learned and experience I had here at Virginia Wesleyan."
During his time at VWU, Steel wore many hats: commander of the ROTC Marlin Company; president of the Student Athletic Advisory Committee; a member of the President's Council; a Peer Advisor; a Student Ambassador; a Resident Assistant; and captain of the men's cross country and track and field team.
"We at Virginia Wesleyan are exceptionally proud of our Marlin veterans," said VWU President Scott D. Miller, "a vital component of our community made up of current students, faculty, staff, and hundreds of alumni. You have gone above and beyond your citizens' duty by volunteering your lives and answering when your country has called."
The ceremony also featured Entrance of the Color Guard; a performance of "The Star-Spangled Banner" by Virginia Wesleyan Vox Vera; an invocation by adjunct faculty member Allison Hammer, who served in the United States Navy from 2002-2006; welcome remarks from VWU President Scott D. Miller; the "Prayer of Thanksgiving" by adjunct faculty member Raymond Duffy, a captain in the United States Navy from 1970-1998; and bagpipe performances of "Taps" and "Amazing Grace" by Luke Dobrin of Boy Scout Troop 259 in Chesapeake.
Learn more about the Army ROTC program and Veterans Support Services at Virginia Wesleyan University.