Share this Story
Learning in (and on) the Field
Sport and recreation students experience 'first taste' of the profession
University News | November 10, 2022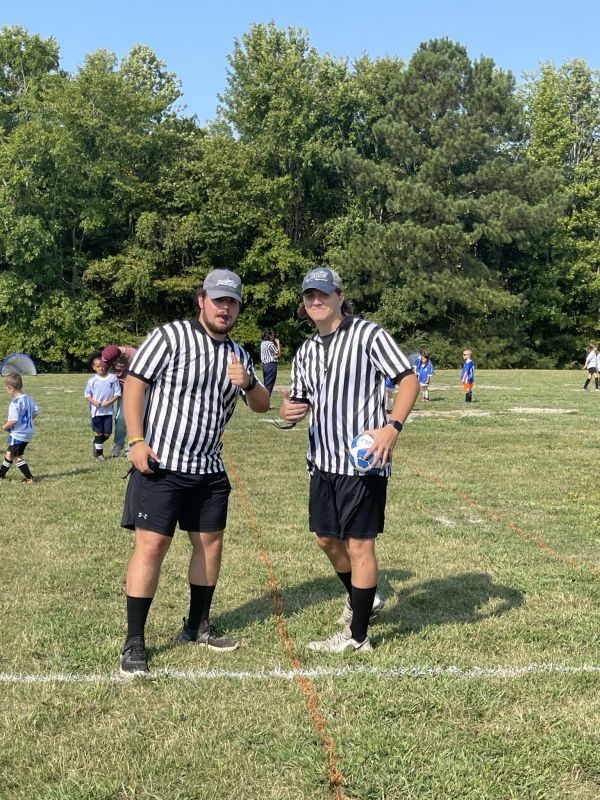 Each Saturday for the past eight weeks, from September through November, 11 students in Professor Doug Kennedy's "Leadership and Management of Sport and Recreation" class have been learning in (and on) the field. The soccer field, that is, while officiating youth soccer at the Great Bridge YMCA Family Center in Chesapeake, Virginia. The experience is part of their work for the course.
"This is designed to be their 'first taste' of our profession," says Kennedy, "so they understand the importance of dynamic leadership, organization, and interacting with the public."
Kennedy notes that the students organize themselves as a team, breaking into smaller units to complete functions such as scheduling, uniforms, and evaluation by parents. He explains that the project is essentially run as a business and students are graded based on the percentage of goals they complete.
"It is also a part of our 'Send a Kid to Camp Fund' activities," explains Kennedy. "This is a fund run through VWU that started in 2003 to support the YMCA Camp Silver Beach (CSB) to support youth in financial need who wanted to attend camp. When CSB got to a point that its fundraising had matured to a level where our support was less critical we then partnered with the Kipahulu Ohana in Maui to support its programs for local youth. To date 27 classes have raised over $93,000!"
This isn't the first collaboration between VWU and the YMCA by any means. The University has partnered with the Y for decades. The campus has been home to the YMCA's Camp Red Feather since 2005, each summer welcoming nearly 2,000 campers ages five to 17 to play, discover and grow at VWU. The relationship has also led to additional types of recreation on campus, including a treehouse and dock near Lake Taylor, the Alpine Tower (a 50-foot structure designed for climbing and teambuilding exercises), and construction of the Frank Blocker Youth Center. VWU students also intern for the YMCA and work at their camps each summer.
To prepare the students for their role as soccer officials, YMCA staff came to the University to conduct training. For sophomore Grace McGhee, officiating has been a new experience in a sport she knows well.
"While I haven't officiated soccer before, I have played the game since I was 10 and coached the game since 13," says McGhee. "I love soccer, know the rules, and find the environment to be rewarding, challenging, and satisfying."
The sport and recreation management major from Norfolk says she was very excited for this project, as she hopes to work part time as a soccer coach in the future.
"This has made me appreciate the game and the opportunity to share my skills and knowledge with younger players," she says. "I have enjoyed seeing the smiles on kids' faces when they are on and off the field. One reason I want to be a soccer coach is not just to teach younger players and watch them develop, but also to find satisfaction in seeing them put their little hearts and souls into something fun they'll remember."
McGhee, who is a member of the women's tennis team at VWU, also has career aspirations as an athletic director at a high school or college or as a director of a sports program for a local facility. After graduating from Virginia Wesleyan, she also hopes to start her own photography business.
"Grace has done a great job in leading this group," says Kennedy. "I am just so proud of this class for representing VWU so well. They are enthusiastic and have shown incredible flexibility and drive."
Learn more about Sport and Recreation Professions at VWU.