Living the Text
Summer study on environmental and cultural sustainability in Alaska engages students in transformative experiences
University News | August 14, 2019
By Laynee H. Timlin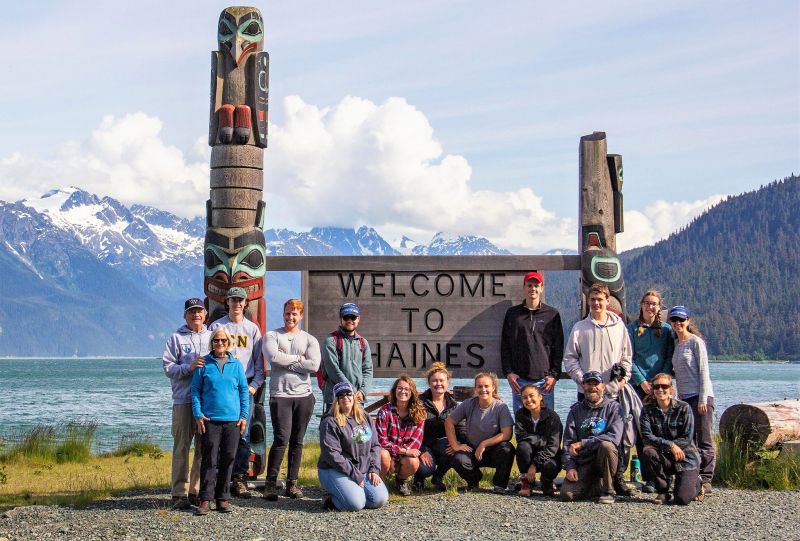 Eleven students, mostly rising sophomores enrolled in the Honors 200 summer course "Environmental and Cultural Sustainability in Haines, Alaska," were immersed in nature this summer—on a novel adventure, in a new place—that stimulated their curiosity, wonder and awe about the world.
The students, members of the Batten Honors College, first prepared for their travel online, completing assignments to ready them for their wilderness adventures. They then traveled with course instructors, Professor of Philosophy Larry Hultgren and Professor of Ocean and Atmospheric Sciences Elizabeth Malcolm to Juneau and Haines for two weeks in Alaska.
Students described the hybrid course with superlatives such as "life-awakening," and "one of the most profound personal and academic experiences of my life thus far."
"It was breathtaking to take in, and life-changing when it comes to how I see the world and my part in it," said Emily Smith '22. "I learned more in two days of our hands-on experiences in Alaska than I did across my semester-long course."
Hultgren noted that students could "live the text" as they learned about climate change while walking near a retreating glacier; studied the life cycle of a salmon while rafting the Chilkat River; identified flora and fauna during a hike in the largest temperate rainforest in the world, and discussed ancient and contemporary concepts and practices of sustainability with native Tlingit people.
"At its best, a liberal arts education should be transformative—change lives—and this course has been transformative for many of our students," said Hultgren. "Obviously, the majestic landscape of southeast Alaska and our partner, the Alaska Outdoor Science School (AOSS) and its director, VWU alumnus Scott Ramsey '90, allowed us to transform the classroom into an active, student-centered learning space where together we learned how to learn."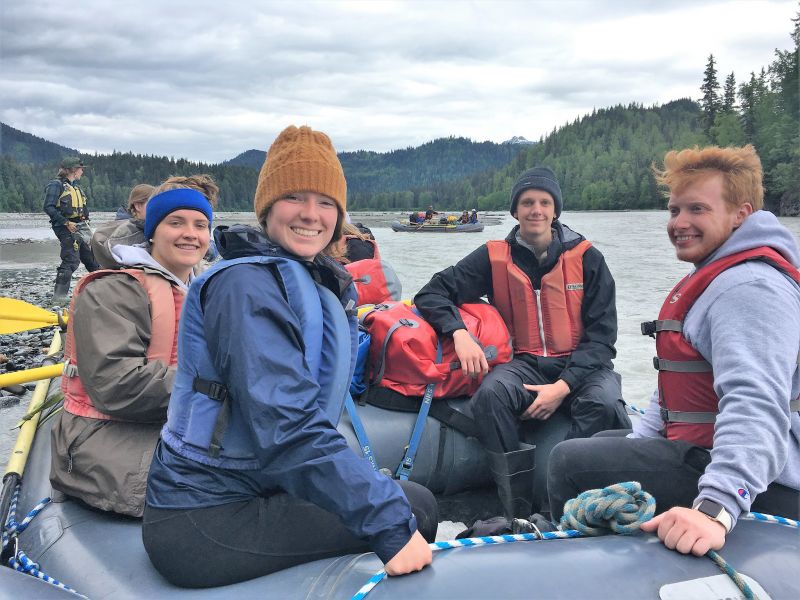 Malcolm explained that the transformative experience also connected students to local experts who served as guest speakers on topics of geology, ecology, fisheries, and the indigenous Tlingit culture.
"We learned about hydrology and plate tectonics from a local geologist while standing next to a fault line at a natural spring. Tlingit elders described their struggle to maintain their culture as we sat in a newly built longhouse surrounded by totem poles that told their history. We learned about salmon and local conservation efforts while rafting, surrounded by mountains, forests, and eagles."
When they returned from their Alaskan adventures, students were asked to reflect on their experiences and explain how it had changed their perspectives.
"Just by having outdoor classroom sessions and meaningful discussions in wild settings provided me the simplest pleasures," reflected Sophia Gonzales '22. "I am so happy to say that my 'blue-mindedness' emerged out of this experience."
Malcolm shared that students also completed research projects on an aspect of the Alaskan environment or sustainability that intrigued them, allowing them to explore a topic in greater depth.
Gonzales embarked on a case study entitled, "Biophilic Design and Permaculture Design in Haines, AK." After touring Scott Ramsey's sustainable house in Haines, she was curious about the process for designing a tiny house and garden in Southeast Alaska. Ramsey introduced her to Haines resident, Rebecca Brewer, who had built her own tiny house and permaculture garden. Gonzales' interview with Brewer provided the content for her case study.
"I explored how applying biophilic design and sustainable agriculture techniques on a small scale can provide solutions toward the growing climate crisis," shared Gonzales. "Due to the decrease in available space, tiny home inhabitants can spend less money on unnecessary items and are often more aware consumers."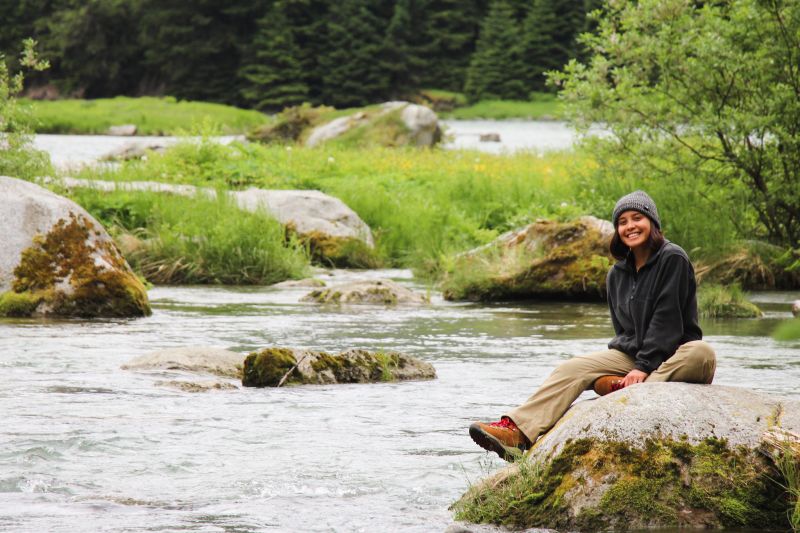 She concluded that tiny homes have many benefits to humans and the environment, allowing for nature to become a part of daily life. Knowing the context of the land is essential, she says, for developing self-sufficiency and sustainability. Insulation was a big part of Brewer's construction and solutions like adding a root cellar enabled her to store onions, garlic, squash, potatoes, canned salmon, and berries year round. Brewer's simple philosophies such as "grow what you eat" and "form an intimate relationship with the land you're on" inspired Gonzales to invite the outdoors into her daily life.
"I plan to take what I have learned in Haines and apply it to Virginia Beach through furthering my project by developing the ideal tiny home suited for Virginia Beach's climate. Nature is my calling and I am always on the quest to find more on how humans can have a regenerative relationship to the natural world. Appreciation for, awareness of, and complete awe of my surroundings are what I constantly felt throughout this trip."
For Ryan Westpfahl '22, the course was "a reminder of what learning should feel like—dramatic!"
The Batten Honors College of Virginia Wesleyan inspires, engages, and prepares academically talented students to become impactful leaders, and environmental stewards in the global community. Through small classes, personalized instruction, and especially purposeful, faculty-student interaction, the Batten Honors College equips students with the knowledge, skills, and attitudes of an ethical and influential global citizen who understands the interdependence of society, culture, and the natural world.