Virginia Wesleyan Esports to Add Fortnite
Fortnite will join VWU's existing lineup of League of Legends, Overwatch, and Rocket League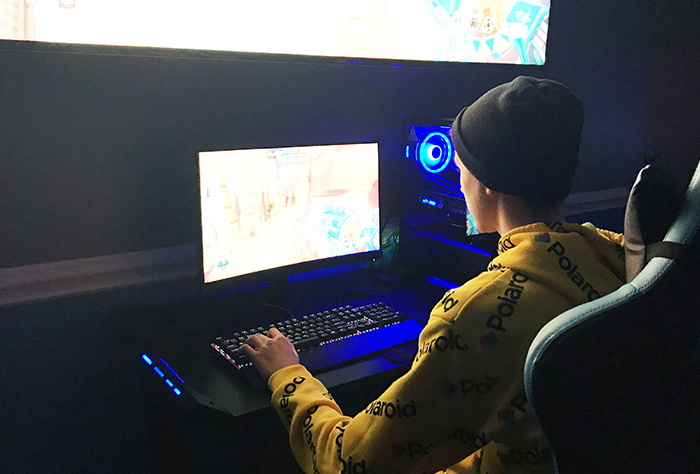 University News | September 20, 2021
Get ready, Fortnite fans. The Virginia Wesleyan Esports program is adding the battle royale game to its lineup starting in the spring of 2022.
VWU Esports Director and Coach Glenn Johnson intends to recruit between six and nine Fortnite players for solo and team play. Tryouts will take place on Thursday, September 30 at 6 p.m. in the Marlin Esports Arena in the Jane P. Batten Student Center on campus. Interested players can contact Coach Johnson at gcjohnson@vwu.edu.
The Fortnite team will share the arena with Virginia Wesleyan's existing squads—League of Legends, Overwatch, and Rocket League. The impressive space is equipped with 17 high-end gaming PCs featuring ASUS Prime Z390-P motherboards, Intel 9th Gen i7 processors, 16GB ADATA Gammix RAM, MSI GeForce RTX 2070 Armor GPUs, and MSI Optix 24-inch gaming monitors.
Today's fastest growing global sport and a billion-dollar industry, esports is quickly expanding to college campuses across the country. Leagues and teams face off in competitive, organized video gaming as fans watch from all over the world. Virginia Wesleyan is a member of the National Association of Collegiate Esports (NACE) and currently competes as a co-ed club sport, though plans are in motion to expand to varsity play and to potentially introduce an associated academic program.
Those interested in pursuing esports competitively at Virginia Wesleyan are encouraged to visit vwu.edu/esports and to contact Coach Glenn Johnson at gcjohnson@vwu.edu.
Watch Marlin Esports compete live at twitch.tv/vwu_esports.