Marlins Give Thanks
Students and faculty share their thoughts on gratitude in time for Thanksgiving
Featured News | November 22, 2016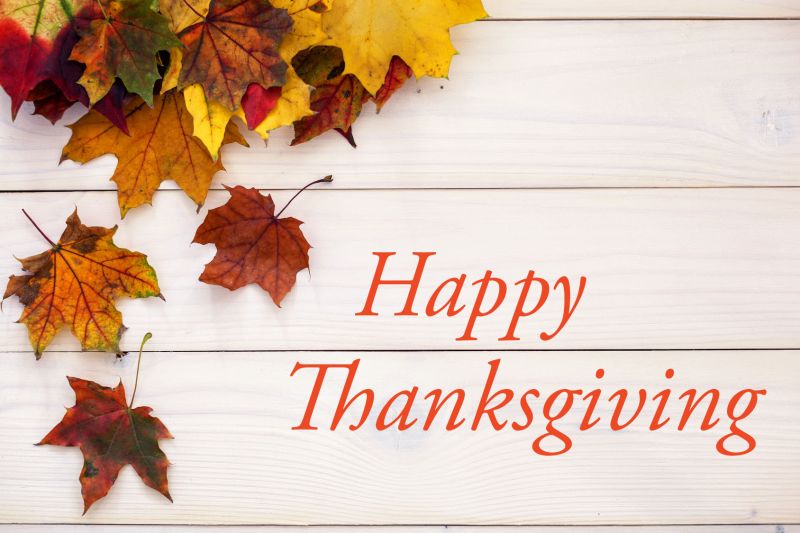 As Virginia Wesleyan College students and professors finish up classes in time for a long holiday weekend, we asked for some thoughts on this season of gratitude. Thanksgiving Day, celebrated primarily in the United States and Canada but also in various forms in other parts of the world, was originally established as a way of giving thanks for the blessing of a bountiful harvest. It has endured as both a secular and a religious tradition dedicated to gratitude in its many forms.
"Thanksgiving itself is the spilling over of joy," writes Terry Lindvall, C.S. Lewis Endowed Chair in Communication and Christian Thought and Professor of Communication at VWC, in his book Surprised by Laughter: The Comic World of C. S. Lewis. "Often, all we need is a gentle twist of perspective to turn our hearts from grumbling to gladness."
For many of us that gladness is most profoundly evident in the relationships we share with family and friends. There is a certain power in simply taking the time to acknowledge those relationships and all of the gifts life has to offer, notes Lindvall. "The mere muttering of praise will yet turn our hearts toward the sun and the heavens. Gratitude will turn our hearts into a celebration of the grace and gladness that God wants to give us."
From a sociological perspective, gratitude represents "our very humanity in action," says Kathy Stolley, VWC Professor of Sociology. "Gratitude is crucial to how our social world operates. If we cease to practice gratefulness to each other, we cease to exist as a cohesive society. Sociologist Georg Simmel called gratitude 'the moral memory of mankind.' The reciprocity of giving and receiving gratitude draws us closer together. It helps us experience and appreciate each other; it reminds us that we need each other and we are not alone."
Current VWC students also shared some thoughts on the notion of gratitude, telling us what they are thankful for this year. Not surprisingly, relationships—both human and divine—and learning opportunities were common themes. You can read some of their responses below. Whatever you are thankful for this season, we wish you a safe and happy holiday.
Grateful Marlins
Virginia Wesleyan College students tell us what they are thankful for.
"I am thankful that even though my family is 1000 miles away, I have a place that feels like home at VWC."—Jordyn Aysanoa '20
"I'm thankful for: being able to call myself a Marlin, thankful for the intersectional pedagogy that VWC provides to its students, and not just a one sided opinion on academic, which helps students achieve a well-rounded education. For that I will forever be grateful. #GDTBAM"—John Provine '19
"I'm so thankful for the opportunity to receive a college education. Studies may be hard sometimes - but taking a look at the outside world grounds me and reminds me of the incredible blessings I've been afforded."—Liz Brisson '18
"I'm thankful for professors who have a passion for what they teach and they know me by name."—Deanna Chandler '18
"I am thankful for the moments I spend with the best people in my life and the ones yet to come. I am also thankful for the numerous cultures that we can learn about and that we even have the opportunity to visit all around the world. I was born and raised on the island of Guam and we have such a diverse culture from Virginia. It made me very eager to travel and see all the various places in the world and especially meet people of different backgrounds." —Alisha Milliosa '19
"I'm thankful that I have good health, since I recovered well from a surgery. I am glad that I was able to replace my car with insurance money after Hurricane Matthew flooded it! I am grateful for my awesome family who have supported me throughout college, and for the many friends I've made my four years. I'm grateful I get to be a part of the cross country and track and field team. Most of all, I thank my Savior and Lord, Jesus Christ, for giving me the many things I enjoy every day."—Seth Antozzi '17
"I'm thankful for God and all of the amazing blessings he has placed into my life. I am also thankful for my family and their never ending love as well as for my friends, for thier encouragement. With them, there's always a 'turnip' I'm thankful for VWC because here is where I am following my dream of going to college, being the first in my family to do so."—Gabriela Ayala '17
"I am thankful for the gracious and loving community I've had the privilege of being a part of here at VWC! Also, I'm super thankful for the joke of the day at the Hub."—Katie Brooks '17
"I thankful for the chance to finish school and to show people that you can overcome setbacks no matter how minor or major."—Bobbie Graham '17
"I am thankful and blessed to have an amazing support system in my family and friends. I am thankful to the opportunities that VWC has created for non-traditional adult students and the ASP staff that goes above and beyond to help us make it through the stress of working fulltime while obtaining a degree."—Lisa Luck '17
"I'm thankful for the possessing the ability to love and be love. I'm also thankful for being able to be my true self without restrictions or regard of what others think."— Tia Bethea-Santiago '17
"I am thankful that students are accepting and kind, professors want me to succeed, and all my courses have been worthwhile."—Stephanie Singer '17
"I am thankful for being able to go to school and get an education. A lot of people don't have the same opportunity that I do. Thank God for loans."—Tiye Johnson '18