Marlins Softball Wins 2022 ODAC Championship
The win marks the sixth consecutive ODAC title for the program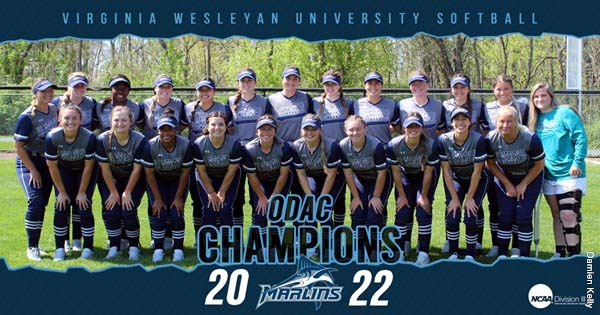 vwuathletics.com | May 2, 2022
The No. 14 ranked, third-seeded Virginia Wesleyan softball team defeated the No. 17 ranked, fourth-seeded Maroons of Roanoke College 1-0 on May 3 in the 2022 Old Dominion Athletic Conference (ODAC) Softball Tournament championship game at the James I. Moyer Sports Complex in Salem, Virginia. The Marlins and Maroons squared off again for a winner-take-all "if" game to determine the ODAC Champion and who receives the automatic bid to the NCAA Tournament.
GAME INFORMATION
Score: No. 14 Virginia Wesleyan 1 - No. 17 Roanoke 0
Record: No. 14 Virginia Wesleyan 33-11 | No. 17 Roanoke 30-12
Location: James I. Moyer Sports Complex | Salem, VA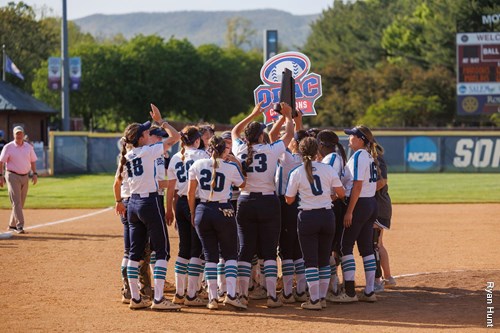 INSIDE THE SCORE
Neither team managed to score through the opening three innings with Roanoke leaving three runners on the base paths. The Maroons left two on the bags in the top of the fourth with the score still knotted at zero heading into the bottom of the fourth.

Ariana Rolle led off the inning with a double down the left line and advanced to third on Maria Weddle's ground out to second. Rolle came home scoring the first, and only, run of the game as Julia Sinnett grounded out the the second baseman for the RBI.

The Marlins held the Maroons off the scoreboard in the top halves of the fifth, sixth, and seventh innings while Roanoke left five runners on the bases the claim the 1-0 victory.
The Marlins won their sixth consecutive ODAC Softball Championship Title, and the 14th in program history.
Coach Elliott collected his 540th career win with the championship title.
Emily Seale has 99 strikeouts with a 19-4 win/loss record on the season.

2022 ODAC Softball Championship All-Tournament Team
Julia Sinnett, VWU --- MOP
Emily Seale, VWU
Ariana Rolle, VWU
Caitlin Myers, VWU
Madison Hudson, VWU

Originally published on vwuathletics.com