Marlins Teach Tech
Grant provides students with resources to teach cyber security to older adults
University News | April 25, 2019
By Laynee H. Timlin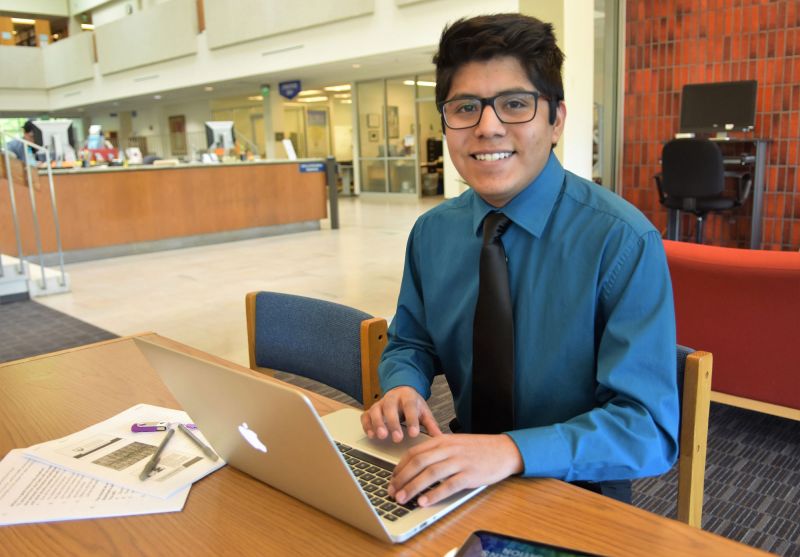 Celvin Pelaez-Gonzalez '21 is preparing for his next presentation on cyber security. Through Marlins Teach Tech, an intergenerational connections initiative that provides VWU students with the training and resources to help older adults, the VWU sophomore has the opportunity to interact with seniors at Ebenezer Baptist Church on April 30 to teach them about developing safe habits while online.
His presentation is one of many scheduled during the 2018-19 academic year, thanks to a grant from the Council of Independent Colleges (CIC) with support from the AARP Foundation: "Intergenerational Connections: Students Serving Older Adults." The grant is intended to not only serve the unique needs of older adults, but also help college students develop new skills and knowledge while promoting the development of intergenerational connections.
"I'll give the participants a pre-test before the training to see what they already know about cyber security," said Pelaez-Gonzalez, who is majoring in business with a concentration in accounting. "Then I'll share information with them about internet use, identity theft, fraud, phishing and online scams. Our program also provides them with security tips for staying safe online and resources they can use afterward."
One of 12 students engaged in Marlins Teach Tech, Pelaez-Gonzalez first became involved with the project last summer when he was encouraged by one of his professors to apply for a position funded through the grant. So far, he has presented on cyber security at multiple sites with other members of the program. He has even helped to create new content for the training.
Marlins Teach Tech is coordinated by Brian Kurisky, Director of Wesleyan Engaged: Center for Civic Leadership and Service Learning. Kurisky says that VWU's project focuses on a need identified nationally in 2009, cyber security training for older adults, which tasked the Department of Homeland Security with creating an ongoing awareness campaign titled Stop.Think.Connect.™
"According to the federal government, malicious cyber activity cost the U.S. economy between $57 billion and $109 billion in 2016," said Kurisky. "Outside of businesses, older Americans are the next most targeted population. The program created by VWU helps this population understand why cyber security is important and how to protect themselves, and their money, from these vicious attacks."
Students selected to participate in Marlins Teach Tech received training through VWU's Information Technology Services. Marcia Williams, Information Security Officer and Network Administrator at VWU, was instrumental in training students and assisting them with developing materials, using resources from the CIC/AARP Intergenerational Grant to implement the program throughout the community.
How will Pelaez-Gonzalez benefit from this experience in the future? He has plans to attend graduate school to earn his Master's degree after he graduates from VWU. And then he says he'll pursue a Ph.D. in accounting and teach at a university, maybe Virginia Wesleyan!
Wesleyan Engaged: Center for Civic Leadership and Service Learning welcomes the opportunity to present to local civic groups, churches, and retirement communities. Interested organizations should contact Wesleyan Engaged (wesleyanengaged@vwu.edu) to schedule a presentation.