Marlins Win 2021 National Softball Championship
VWU softball wins the NCAA Division III Championship 9-1 over Texas Lutheran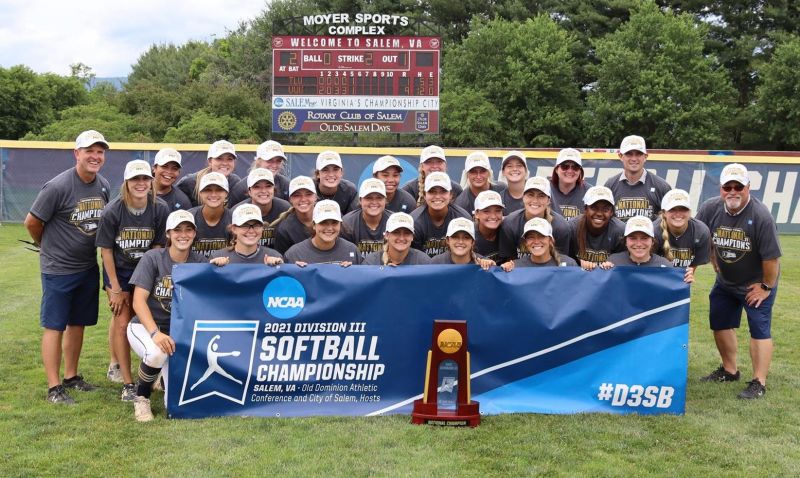 vwuathletics.com | June 1, 2021
The No. 2 Virginia Wesleyan University Softball Marlins won the 2021 NCAA Division III Championship 9-1 over the No. 4 Texas Lutheran Bulldogs on June 1.
GAME INFORMATION
Score: No. 2 Virginia Wesleyan 9 - No. 4 Texas Lutheran 1 (5 innings)
Record: No. 2 Virginia Wesleyan 46-6-1 - No. 4 Texas Lutheran 36-6
Location: Moyer Park | Salem, VA
INSIDE THE SCORE
The Marlins scored two runs in the bottom of the first to take a 2-0 lead over the Bulldogs. The first of two runs came on a solo shot over the left field fence by Jessica Goldyn, while Madison Glaubke scored the second on a throwing error by the shortstop.

After a scoreless second inning, the Marlins found a trio of runs in the bottom of the third and fourth innings to go ahead by eight runs heading into the top of the fifth.

Two of VWU's three runs in the third came off the bat of Katelyn Biando who singled up the middle to drive in Goldyn and Julia Sinnett, while Biando came home a few batters later on a single to left from Julie Fassl putting the score at 5-0.

Ariana Rolle scored the first of the three runs in the fourth inning after Sinnett reached on a fielders choice as the Bulldogs tried to get Rolle out at home but the catcher bobbled the ball. The other two runs scored on a Danielle Stewart homer to left center field that scored Goldyn on the play.

TLU broke the eight run lead by VWU scoring a single run in the top of the fifth on a sac fly, but Virginia Wesleyan responded in the bottom of the fifth with a walk off single to right field by Rolle that scored Krissy D'Arco putting the Marlins ahead 9-1 to win the 2021 NCAA Division III Championship.

KEY STATS
The National Championship victory is the third in the last four (complete) seasons by the Marlins who won it in 2017 and 2018.
The Marlins came back after dropping game one 3-2 to winning game two 9-1 in five innings. The last time VWU lost back to back games was May 1, 2019 when the University of Lynchburg knocked them out of the 2019 NCAA Regional tournament in Virginia Beach, VA.
Hanna Hull ends her college career with 132 career pitching wins and is the All-Time leader in the NCAA record books.
Jessica Goldyn is the NCAA single season stolen bases record holder with 73 stolen bases on 75 attempts.
Madison Glaubke holds the NCAA career games played record with 221 career games played, and starting in nearly all of them with 215 starts.
Coach Brandon Elliott ends the season with a coaching record of 507-116-1 and a career winning percentage of .813.
2021 NCAA CHAMPIONSHIP ALL-TOURNAMENT TEAM
Katelyn Biando - 2B
Ariana Rolle - OF
Julia Sinnett - 3B
Jessica Goldyn - C - Most Outstanding Player
Hanna Hull - P - Most Outstanding Pitcher

Originally posted on vwuathletics.com