Matthew Nusbaum Elected to VWU Board of Trustees
Appointment continues long and meaningful relationship with the University and Nusbaum family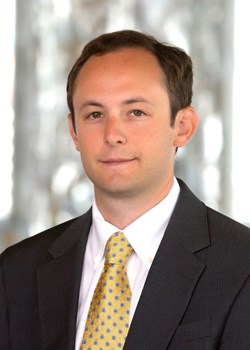 University News | March 29, 2021
Matthew Nusbaum has been elected to the Virginia Wesleyan University Board of Trustees, according to John F. Malbon, Chair of the Board. Nusbaum is a partner in the commercial division of S.L. Nusbaum Realty Co.
Nusbaum first joined S.L. Nusbaum Realty Co. in 2010, marking five generations of Nusbaums to join the firm. His property portfolio spans Virginia Beach, Norfolk, Newport News, Williamsburg, and Richmond, and he is part of the management team of the Wells Fargo Center in downtown Norfolk. He is a partner in the firm and serves on the Board of Directors and Executive Committee.
Professionally, Nusbaum is a member of International Council of Shopping Centers (ICSC) and ICSC Next Generation. He is also a licensed real estate agent in the Commonwealth of Virginia. He currently serves the community as a member or director on the following boards: American Red Cross, Bayville Golf Club, ODAF Next Generation, Children's Hospital Foundation, Festevents, and Small Business Commission of Virginia. He previously served as an Advisory Board Member at Southern Bank and on the Board of Directors at Heritage Bank. He holds a Bachelor of Science in history from the University of Alabama.
The Robert Nusbaum Center on campus is a tribute to Matt Nusbaum's great uncle, who was the visionary and driving force for the founding of the Center in 1996. His sister, Lindsay Nusbaum Davenport, is a member of the VWU Class of 2006, and his late father, Alan, was also a faithful supporter of Virginia Wesleyan. His appointment to the VWU Board of Trustees continues the long and meaningful relationship the University has with the Nusbaum family.