Alumna Mavis McKenley to Serve as December Commencement Speaker
The mid-year ceremony will be held on campus December 18 in TowneBank Arena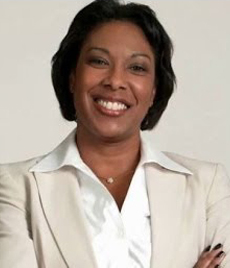 University News | October 15, 2021
Mavis McKenley, a 2011 adult studies graduate, former Alumni Council Chair, and current Board of Trustees member, will serve as keynote speaker for the mid-year Virginia Wesleyan University Global Campus Commencement, President Scott D. Miller has announced.
The ceremony will be held Saturday, December 18, at 10:00 a.m. in TowneBank Arena of the Jane P. Batten Student Center and will be livestreamed on the VWU Digital Broadcasting Network.
A native of Teaneck, New Jersey, McKenley is vice president and senior trust officer at AMG National Trust Bank, and is also certified as an Accredited Estate Planner (AEP), Certified Trust and Financial Advisor (CTFA) and a Certified Financial Planner (CFP).
Prior to joining Virginia Wesleyan's Board of Trustees in 2020, McKenley was a member of the University's Alumni Council from 2015-2019 and served as chair of the council from 2016-2018. She also serves on the board of trustees for the Norfolk Public Library and previously served as president for her local estate planning council and as board president for Samaritan House, an area nonprofit that provides advocacy and services to victims of domestic violence and homeless families. In addition to those roles, she now serves as secretary of the VWU Board of Trustees. She earned a B.A. in business from Virginia Wesleyan's Adult Studies Program in 2011.
In early 2021, the University named its annual Martin Luther King Jr. award in McKenley's honor. The Mavis McKenley '11 Award is presented each year on Martin Luther King Jr. Day to a student who practices the ideals set forth by Dr. King—courage and conviction in valuing differences, commitment to seeing beyond borders by building inclusion, compassion for humanity, and/or commitment to social change.
This is the first formal Commencement Ceremony Virginia Wesleyan has held at mid-year. As a college, the institution offered a reception for students completing degree requirements in December. The idea to formalize the program was first discussed when graduate and online programs were added and the institution moved to University status in 2017. With multiple start/finish points and growing enrollments, the event will now be billed as a VWU Global Campus event, but any student having fulfilled graduation requirements since the preceding May will be able to participate.
The Virginia Wesleyan University Global Campus Commencement will be livestreamed on the VWU Digital Broadcasting Network. More information will soon be available on the University's Commencement webpage.