Mazur Awarded 2022 Mednick Memorial Fellowship
Professor of Judaic Studies Eric Mazur receives support from VFIC for scholarly research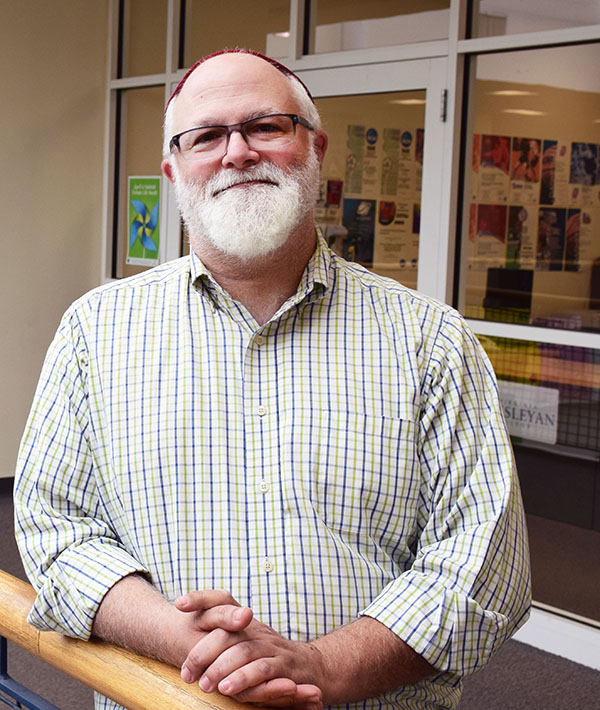 University News | April 20, 2022
Virginia Wesleyan's Gloria and David Furman Professor of Judaic Studies and Robert Nusbaum Center Fellow, Eric Mazur, has been awarded a 2022 Maurice L. Mednick Memorial Fellowship from the Virginia Foundation for Independent Colleges (VFIC) for his research project, "Clergy Cartoons and the Transformation of American Catholicism."
The 2022 award will provide resources for Dr. Mazur's current research which is an analysis of cartoons by Catholic artists depicting Catholic clergy, published in secular and diocesan newspapers from the mid-1940s to the early 1970s.
"Almost by definition the objects of popular culture being analyzed are not in libraries, archives, or museums, but can be found – with a little digging – in the marketplace," noted Mazur. "The Mednick Grant not only will enable me to spend time conducting research at the Library of Congress but also will permit me to locate and obtain materials from the 1950s and 1960s that cannot be found or borrowed in the academic world."
Dr. Mazur is one of 13 faculty recipients from VFIC-member institutions to receive an award this year through the Mednick Faculty Fellowship Program. This is the second research award for Mazur, who also received a Mednick Fellowship in 2017 for his project, "Portugal & American Jewish History."
Mazur, who has been on the VWU faculty since 2007, has a bachelor's and a master's degree from the University of Virginia and a doctorate degree from the University of California, Santa Barbara. He teaches courses on Judaism, religion in American culture and the academic study of religion. His specific interests include religion and American law, religion and popular culture, and Judaism in the American South. In 2014, he joined the Robert Nusbaum Center at VWU as the fellow for religion, law and politics and received VWU's annual Frank and Jane P. Batten Distinguished Scholar Faculty Award.
The Maurice L. Mednick Memorial Fund was created in 1967 in honor of a young Norfolk industrialist who died from accidental causes and whose family and business associates wished to perpetuate his name by establishing a memorial that would emphasize his and the donors' strong interest in higher education. Administration of the Mednick Memorial Fund is vested in the Virginia Foundation for Independent Colleges to encourage the professional development of college professors and improve their academic competence through fellowships for research and advanced study.
Learn more about VFIC's Maurice L. Mednick Memorial Fund.