Meet the Faculty: Dr. Benjamin Dobrin
This volunteer extraordinaire puts his life on the line, rescuing individuals during Tropical Storm Hannah and assisting the Chesapeake Police Department.
By Megan Z. Shearin | February 10, 2010
Maura Bradley '11
Benjamin Dobrin, Ph.D.
Professor of Health and Human Services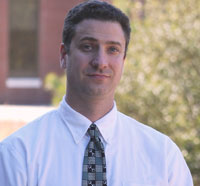 While most people try to squeeze volunteer work into their life, Dr. Benjamin Dobrin takes a different approach.
"Outside of work, my time goes to volunteering in the local community," he said.
Dobrin is an active member in Virginia Beach's Emergency Medical Services (EMS). He is a member of the EMS Marine Dive Team and the EMS Search and Rescue Team, and is currently a training officer teaching diving, swimming and boat operation to other volunteers.
In February 2009, Dobrin was awarded the Meritorious Act Award by the United States Lifesaving Association for his lifesaving efforts during Tropical Storm Hannah. Dobrin and other members of the EMS Marine Rescue Unit rescued four individuals trapped on the south jetty at Rudee Inlet, a very dangerous location in light of the strong storm surf.
When he's not on a boat or underwater, Dobrin volunteers with the Chesapeake Police Auxiliary. Classified as a volunteer, he is fully certified, can answer calls and rides along in a police cruiser.Ph.D., University of South Florida
M.S.W., University of Pennsylvania
B.A., The College of William & Mary
When the College was closed for two days during the November nor'easter, Dobrin went to work.
"When Virginia Wesleyan was closed, I was in a police car," he said. This full-time professor directed cars due to down traffic lights and assisted people from their cars through rising flood waters. In January 2009, he was awarded the Presidential Volunteer Service Award by the City of Chesapeake.
His volunteer work can be challenging, intense and dangerous at times. Most recently, he was put in a life-threatening position when an intoxicated man pointed a gun at him during his shift with the Chesapeake Police Auxiliary.
"The conflict was resolved peacefully and my partner [a Chesapeake Police Officer] and I handled the situation with grace," said Dobrin, who has learned kung fu and has taught Israeli self-defense at the College.
"Outside of work, my time goes to volunteering in the local community." Pursuing new hobbies and attending increased training workshops for his volunteer work has led him to cut back on other things to "recharge the family batteries," said Dobrin, who has a wife and three-year-old son. He recently retired from triathlons to make time to train for the 300 mile police memorial bike ride from Chesapeake to Washington D.C.
"There are 24 hours in a day," said Dobrin. "The more time you waste, the less time you have to do things."