Share this Story
New Agreement Between VWU and Richard Bland College
Reciprocal partnership enhances opportunities for students in study of Supply Chain Management and Logistics
News Release | December 15, 2017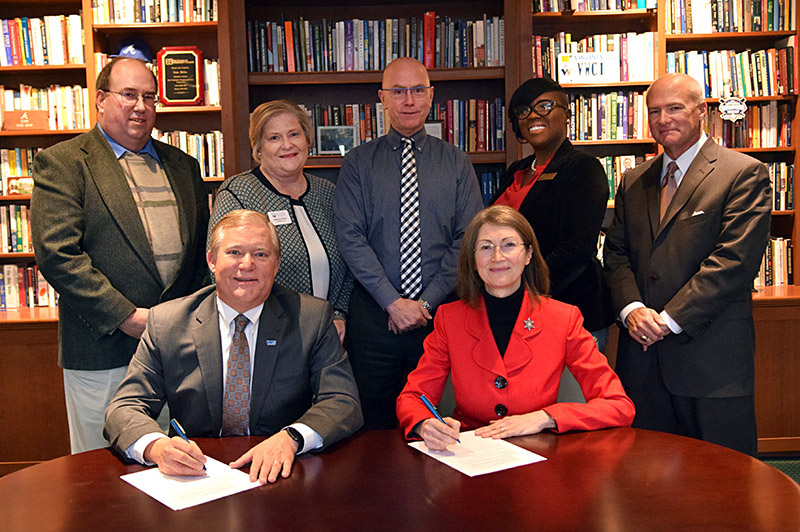 Home to one of the largest commercial ports on the East Coast, Hampton Roads provides ample opportunities for internships and jobs in the areas of transportation, manufacturing, distribution, and other allied fields. To help prepare students for success in this dynamic field, Virginia Wesleyan University (VWU) and Richard Bland College of William & Mary (RBC) signed a new agreement this week that builds upon supply chain management and logistics tracts at both schools.
Virginia Wesleyan University President Scott D. Miller and Richard Bland College President Debbie L. Sydow signed the initial five-year agreement on December 13. The partnership allows Richard Bland students who have completed both an Associate of Science (A.S.) in business and an existing RBC logistics management certificate to transfer to Virginia Wesleyan to complete their four-year degree and pursue the University's Certificate Program in Supply Chain Management and Logistics. Based on the fulfillment of several requirements, RBC graduates will be granted waivers for a number of VWU courses needed to complete their bachelor's and the University certificate.
As part of the reciprocal agreement, Virginia Wesleyan students pursuing a Bachelor of Arts in business may enroll in online courses through Richard Bland that would be put toward RBC's Logistics Management Certificate. Completion of the RBC courses will satisfy several components needed to earn a bachelor's in business from VWU.
This is the second agreement signed between Virginia Wesleyan University and Richard Bland College of William & Mary. The institutions formalized a Guaranteed Admission Agreement in 2013 facilitating the transfer of students from associate degree programs at RBC to programs for degree completion at Virginia Wesleyan. Admission is guaranteed for any RBC student who meets the articulated criteria, and merit scholarships are awarded to transferring students based on cumulative grade point average.
"Special thanks to all who made this collaborative effort possible," said President Miller. "This is yet another example of what makes Virginia Wesleyan Coastal Virginia's premier university of the liberal arts and sciences."
Virginia Wesleyan University offers several other accelerated degree options. Among the participating colleges and universities are Eastern Virginia Medical School, Duke University, Shenandoah University, Washington University, Tidewater Community College and Thomas Nelson Community College. Learn more at www.vwu.edu/admissions.