New Dining Experience Coming Soon to Virginia Wesleyan
Boyd Dining Center redesign, Marlin Grille updates, new convenience store on the menu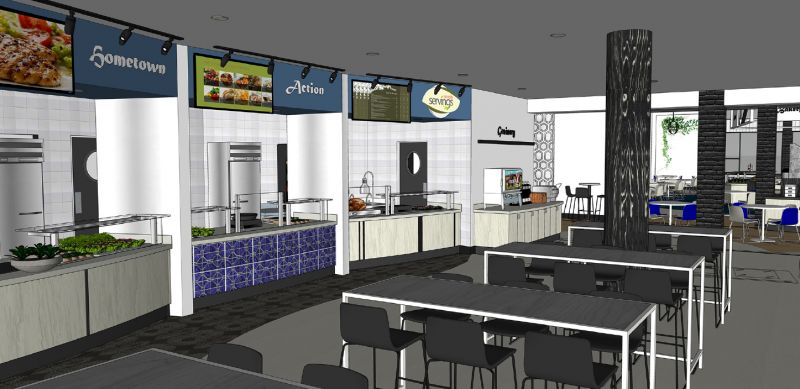 University News | October 21, 2019
A brand new dining experience is coming to Virginia Wesleyan University next fall, with a complete redesign of Boyd Dining Center, updates to the Marlin Grille, and the addition of a convenience store on the menu.
"On college campuses, dining facilities have come to serve as a 'Third Place' for students," said VWU President Scott D. Miller. "A concept first presented by sociologist Ray Oldenberg, 'Third Place' focuses on the importance of welcoming space that cultivates essential social experiences…typically areas separate from where you sleep and work. Recognizing the impact and importance of this philosophy, we are pleased that this new project will support the development and well-being of our students."
Improvements to Boyd Dining Center will feature modernized and contemporary seating with service areas intended to enhance the campus community's dining experience (view renderings). The project is scheduled to get underway this summer with expected completion in fall 2020.
The Marlin Grille, located in the Jane P. Batten Student Center, will undergo updates even sooner. Improvements are expected in January 2020 and will include a fully updated appearance as well as new and in-demand dining options.
Finally, plans are in motion to add a convenience store within the Batten Student Center.
"This will meet the needs of many on campus," said Dr. Miller, "especially students—our number-one priority."