Share this Story
Batten Honors College Symposium and Prize to Encourage Environmental Exploration
The Louis and Prudence Ryan Research Symposium and its corresponding award will debut in spring 2023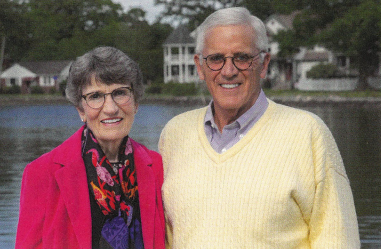 University News |
December 22, 2021
Virginia Wesleyan University President Scott D. Miller has announced the formation of two new initiatives for scholars in the University's Batten Honors College—the Louis and Prudence Ryan Research Symposium and a corresponding award, the Louis and Prudence Ryan Prize for Excellence in Research.
The iniatives are gratefully named for longtime Virginia Wesleyan friends and benefactors. Louis Ryan, a member of the VWU Board of Trustees since 2007, said in a
March 2021
Virginian-Pilot
article
, "We had decided a number of years ago to support our primary areas of interest—the environment and education." Along with serving on the VWU Board of Trustees, Mr. Ryan has served since 2006 on the board of directors of the Elizabeth River Project, an important partner of VWU and the Batten Honors College.
Under the mentorship of VWU faculty and community leaders, student scholarship presented in the Ryan Research Symposium will explore complex environmental challenges in a global context. Starting in 2023, students from the Batten Honors College will apply to present in the symposium each spring. A committee of Batten Professors and student representatives will select the best projects from the application pool to present their research at a poster session during the symposium.
The top three students will be selected to present their work in a premier public event that brings together scholars, mentors, and community leaders. One student presenting at the event will be awarded the Louis and Prudence Ryan Prize for Excellence in Research, which will include a cash prize.
"My special thanks to the Ryans," said Dr. Miller. "We're thrilled for this development within the Batten Honors College program."
Dr. Miller also recognized Dr. Travis Malone, Dean of the Batten Honors College, and Dr. David Black, VWU Executive-in-Residence, for their assistance in making this senior capstone symposium and prize a reality.