On Broadway
Winter Session course takes Virginia Wesleyan students behind the scenes of theatre industry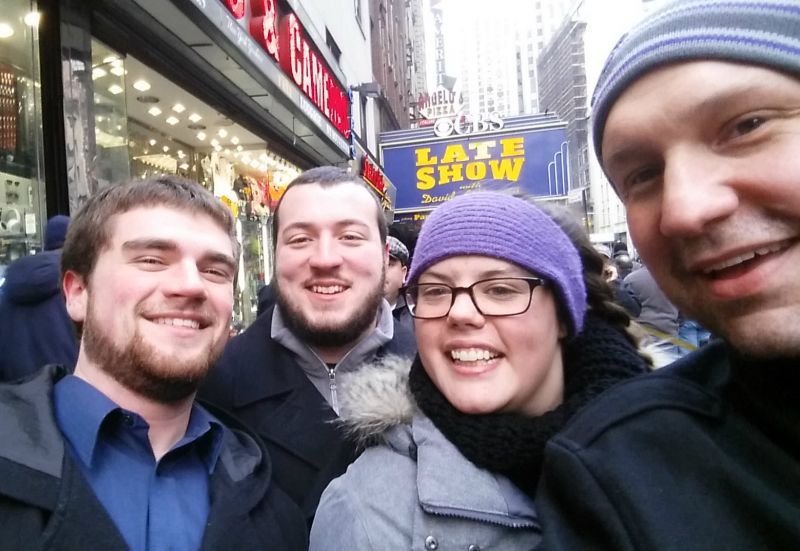 By Stephanie Smaglo | February 12, 2015
A chance to be in the same room with Oscar-nominated actress Emma Stone was more than enough to convince Virginia Wesleyan sophomore Trey DelPo to enroll in the Winter Session course, "Business of Broadway." The three-week seminar—a week of which was spent in New York City (Jan. 13-18)—featured a constellation of star-gazing opportunities for VWC students, but ultimately it shined a spotlight behind the scenes at the practical and theoretical aspects of contemporary theatre production.
"The goal is to give students an opportunity to see some of the inner workings and culture created by Broadway," says VWC Professor of Theatre Travis Malone, who first taught the course in 2009. "We really sort of pull the veil off the multi-billion dollar industry, giving students a sense of the magnitude of employment opportunities that exist in professional theatre besides acting."
Prior to their travel, the course's nine students learned about Broadway's history, theatre entrepreneurship and the casting and creation process through a variety of reading materials and documentaries.
"They get the sense of what it's all about," Malone says. "These are the ways things happen; this is how shows are made; this is why some shows become popular and others don't; the brutal nature of the business—and then we go see it."
And see it they did. In true New York fashion, the group hopped on a train to Manhattan, where they stayed within walking distance of Times Square and the Theater District. Their itinerary included the shows Sleep No More; Aladdin; You Can't Take it With You; Cabaret; and a performance by Blue Man Group.
Students also had the chance to go backstage, meet some of the actors—James Earl Jones, Alan Cumming and a member of Blue Man Group, to name a few—speak with directors, production staff, and generally get a sense for what happens behind the curtain.
"It gave me the opportunity to see that there's so much more to theatre than just acting, singing and dancing on stage," says Trey DelPo '17, a political science major and theatre minor. "It was great for the theatre majors because they got to see where they could go with their career and had a chance to network."
This is the second time DelPo has participated in Winter Session, a special three week academic term held each January at the College.
"It gives everyone a chance to take advantage of the liberal arts," he says. "You can take cool courses that you wouldn't normally be able to fit in due to extensive majors, double majors and minors."
As part of this particular cool course, students kept blogs about their experience. In one post, Delpo shared a personal account of what he calls "the best day of my entire life"—the day he got to meet Emma Stone.
"We got to tour backstage of Cabaret," he wrote. "I got so excited when I met Emma Stone that I was jumping up and down. I jumped into a fire hydrant and have a huge bruise on my leg…My life is pretty much complete."