Outstanding Students Honored
Alexis Bailey '25 and Maya Hunter-Holmes '23 are the first VWU students to receive awards from the Danicas Foundation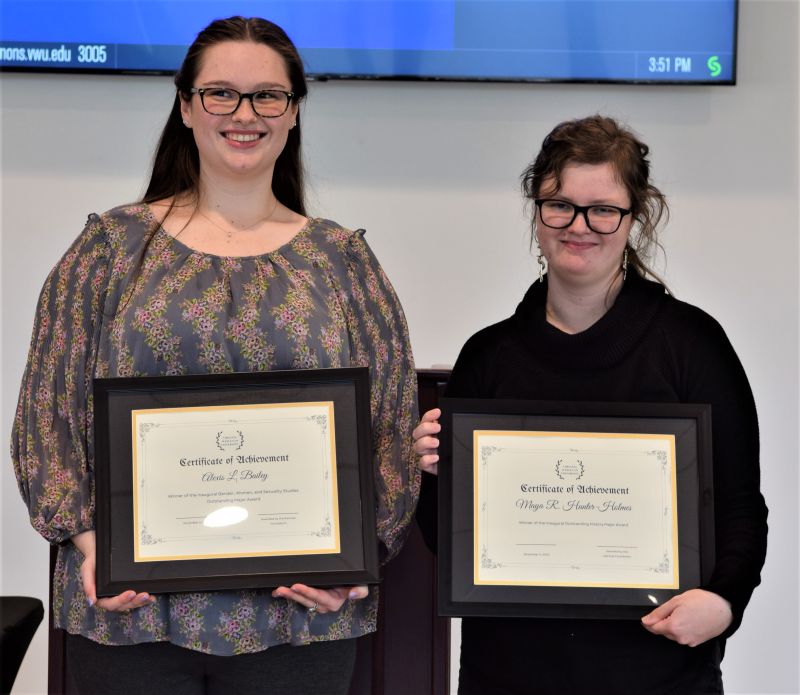 University News | November 11, 2022
Members of the campus community gathered in Brock Commons earlier this month to honor two students who received inaugural "outstanding student" accolades from the Danicas Foundation.
The Danicas Foundation is a 501(3)c independent foundation created in 1984 with a mission to support the education and development of students in the fields of health and medical sciences, literary arts, the social sciences, and humanities through financial support of undergraduate and graduate students and programs. Primarily, the foundation is committed to supporting students who have demonstrated exceptional potential to achieve success in their chosen areas of academic pursuit and in improving society.
VWU sophomore Alexis Bailey was recognized as Outstanding Gender, Women, and Sexuality Studies Major and senior Maya Hunter-Holmes as Outstanding History Major. Each student was awarded $2,500 to use for academic-related expenses.
Bailey, a gender, women, and sexuality studies and political science double major from Virginia Beach, plans to work on political campaigns in the future and to one day go into politics herself. She is active on campus as a Wesleyan Ambassador for the Center for Enrollment. She's also a member of the National Society of Leadership and Success and will be a part of VWU's Model United Nations team in the spring of 2023.
"This award is a recognition of my hard work and dedication to the gender, women, and sexuality studies major," noted Bailey. "It validates to me that I'm in the right major."
She says she will use the funds to help offset her student loan debt.
Hunter-Holmes, a history major from Chesapeake, Virginia, has plans to attend graduate school and become an archivist or librarian after graduation. She's a member of the National History Honor Society (Phi Alpha Theta) and the current treasurer of the VWU chapter.
"I am honored to be the recipient of this inaugural award and humbled that my professors thought that my academic achievements were high enough to qualify," said Hunter-Holmes. "I'm incredibly grateful that they nominated me and I am sure that I would never have qualified without their instruction."
She plans to use the funds to help pay for her tuition for the upcoming semester.
Coordinator for Gender, Women, and Sexuality Studies and Associate Professor of History Kathleen Casey served as the emcee for the recognition event.
"We are proud of our students and their accomplishments," said Casey. "Though it is a first for Virginia Wesleyan, the Danicas Foundation awards have been given annually for the last 37 years."
She noted that past winners have included students who have become physicians, dentists, geneticists, optometrists, veterinarians, authors, engineers, business executives, and even an Academy Award winner for a children's animated movie.
"We are hoping to make these awards annual, pending the availability of funds from the donor. We will definitely be awarding them again in spring 2023 at Honors Convocation."