VWC Establishes Partnership with The Learning House
President Miller announces partnership to enhance enrollment management and marketing efforts for new online programs
News Release | January 31, 2017
President Scott D. Miller has announced a partnership with The Learning House to enhance enrollment management and marketing efforts for the College's new online programs. The announcement follows approval from the Southern Association of Colleges and Schools Commission on Colleges (SACSCOC) in December to move from a Level II to Level III institution. The classification to this level enables the College to offer the master's degree as the highest degree. As a result, Virginia Wesleyan will soon expand its academic program to include a Master of Arts in Education (M.A. Ed.), an online Master of Business Administration (M.B.A.), and online degree-completion programs at the undergraduate level.
"The addition of these programs marks a pivotal moment in the history of Virginia Wesleyan College and underscores our reputation and competitiveness as a leader in American higher education—indeed, as Coastal Virginia's premier private, national liberal arts college," Dr. Miller said.
The partnership with The Learning House was announced at a ceremony on campus last week. Members of the College community and The Learning House officials were on hand to celebrate the occasion. Through the partnership, The Learning House will meet recruitment performance goals, invest in marketing and implement best practices for Virginia Wesleyan's online programs.

The Learning House, a Louisville, Kentucky, based company, will begin marketing initiatives for Virginia Wesleyan's online programs in the coming weeks. The partnership reflects the changing landscape of higher education while remaining consistent with the College's core values as a liberal arts institution.
"I am proud to formally mark our partnership with The Learning House," Dr. Miller noted. "They are the premier provider among private colleges nationwide for enrollment management and marketing support services of online programs."
The College will begin offering an online Master of Business Administration in the summer of 2017 and two online bachelor's degree-completion programs for adult students in the fall of 2017. These flexible online programs will introduce an unprecedent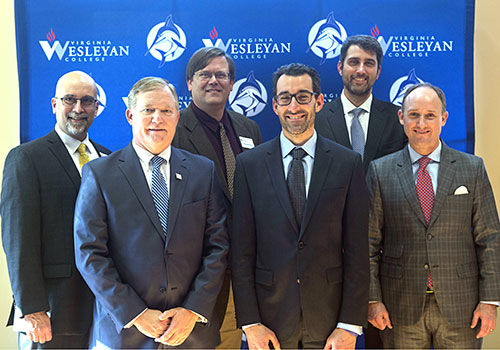 ed level of convenience for students and have the potential for significant growth, Dr. Miller added.
A traditionally delivered Master of Arts in Education is also scheduled to begin in summer 2017. It will be a 4+1 program in which students complete an undergraduate degree in four years focused on a content major related to secondary education, and then complete a year of graduate study devoted to preparation for teaching.

"Online learning no longer plays a supporting role in higher education—it plays a leading role," President Miller said. "And though it will never replace our residential, campus life experience, online options will be increasingly valuable as we reach out to new audiences seeking a distinctive, affordable, and convenient way to take courses."
"Learning House is a mission-based organization," Todd Zipper, President of The Learning House, said, "and this opportunity with Virginia Wesleyan College fits exactly into our mission of helping people improve their lives through education."