Share this Story
Passing of Sue Birdsong
Longtime friend of Virginia Wesleyan leaves a lasting legacy of support and guidance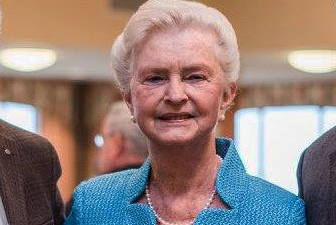 University News | March 26, 2020
With extremely heavy hearts the Virginia Wesleyan community shares the passing of Sue Birdsong, who passed away in the early morning of March 25. Sue and George Birdsong and the Birdsong family have been dear friends to the University since its founding.
George and Sue trace their connection back to the July 1965 groundbreaking for Bray Village (Village I). Both only 26 years old at the time, they were in attendance along with Sue's father, Major T. Benton, then Mayor of Suffolk, and George's Uncle, Harvard R. Birdsong, a charter member of Virginia Wesleyan's Board of Trustees. Ever since, through their dedicated service and unwavering support, the Birdsongs have enriched campus life in so many ways.
Sue Birdsong attended Longwood College and earned her degree from Pan-American Business School in Richmond. She worked for Mills Godwin in his law office and while he served as Lt. Governor and Speaker Pro-Tem of the Senate for the State of Virginia. She also served for 10 years on the Board of Nansemond-Suffolk Academy.
Mrs. Birdsong served on the Westminster-Canterbury Foundation Board and, with George, made possible the Birdsong Initiative, a study examining the positive impact of bedside computers among dementia patients. The award-winning study was conducted in 2015 by researchers at Eastern Virginia Medical School with support from students in Virginia Wesleyan's Recreational Therapy program. The Birdsong Initiative later received the Excellence in Research and Education Award from LeadingAge, a Washington, D.C.-based association representing non-profit aging services organizations throughout the U.S.
The Birdsongs are known on campus through the numerous landmarks and programs that pay tribute to and were made possible by their family. These include Birdsong Hall, an original building in Bray Village, which was dedicated to the Birdsong Family in 1968. Birdsong Peanuts and the Birdsongs have made a number of significant gifts throughout the University's history. The Birdsong Community Services Endowment Fund was established in 1995 to provide support for Virginia Wesleyan's acclaimed community services program. They also established the Birdsong Corporation/George and Sue Birdsong Endowed Scholarship that provides assistance to deserving students. Their generous commitment to Birdsong Field, VWU's multi-purpose outdoor synthetic turf athletic field, enabled the University to dedicate this greatly needed facility in honor of the family in 2015.
The strength of Virginia Wesleyan today can be traced in significant ways to the Birdsongs, and the University has benefited tremendously from their genuine interest in student success. To honor their continued guidance and support, in 2016 the University announced the formation of the Birdsong School of Social Science. And just this past February, Sue and George and the Birdsong families were inducted into the Virginia Wesleyan Athletic Hall of Fame for their contributions to the Marlins intercollegiate athletics program. A portrait of Sue and George hangs in Founders Foyer, among the University's greatest benefactors, and will forever cement the importance of the family in Virginia Wesleyan history.
The Virginia Wesleyan community is deeply saddened by Sue's passing and will miss her dearly. We are grateful for her numerous contributions to our community and to our institution, which she served so faithfully, and extend sincerest sympathy to George, their three children, and eight grandchildren.
The obituary for Sue Birdsong may be viewed at legacy.com.