Share this Story
Passing of Trustee Emerita Susan T. Beverly
A proud alumna and philanthropist, Beverly helped grow the University while remaining true to its mission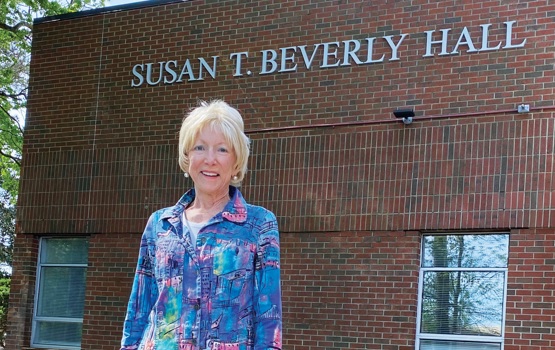 University News | March 15, 2023
Susan Torma Beverly, Virginia Wesleyan University Trustee Emerita and alumna of the Class of 1972, has passed away after a long and valiant battle with cancer.
Susan graduated from Virginia Wesleyan with a Bachelor of Arts and earned a Master of Science degree from Old Dominion University in 1975, a Certificate of Advanced Study from Old Dominion in 1978, and a doctorate in education administration from Virginia Tech in 1998. Most of her professional career was spent in elementary education, where she served as principal of White Oaks Elementary School before her retirement from Virginia Beach City Public Schools. Susan also earned certification as a nurse assistant (CNA) and had worked part-time at Westminster Canterbury. She was active in the community, serving on the Broad Bay Point Greens Garden Club, her civic league, and as a volunteer at Virginia Beach Sentara General Hospital and Virginia Beach United Methodist Church.
Virginia Wesleyan University has been the recipient of Susan's wisdom and philanthropic generosity as she served on the Virginia Wesleyan University Board of Trustees with distinction for three terms. In 2011, she was inducted as an honorary member of the VWU Chapter of Omicron Delta Kappa (ODK), the National Leadership Honor Society. In 2021, she was awarded a Doctorate of Humane Letters, honoris causa, for her steadfast friendship and support of the University for many years.
Her legacy as a fierce lover of the arts and arts education is assured on our campus. The original fine arts building was renovated in 2020-21 and formally dedicated as Susan T. Beverly Hall in gratitude for her generous support of the project. The Susan Beverly Grand Terrace and Pond, a serene space for outdoor programming, is outside of the Susan S. Goode Fine and Performing Arts Center.
Dr. Lambuth M. Clarke, the second president of Virginia Wesleyan, called the early graduates of Virginia Wesleyan "pioneers," as they charted their own course to help create the robust multi-versity we know today. Susan was very much a part of these pioneers, first as a student, and then as a proud alumna, trustee and philanthropist, helping to guide the University to grow while remaining true to its mission. Susan loved Virginia Wesleyan and believed in its students. That love and belief will live on wherever Marlins create, imagine, delight, and inspire.
Susan lived in Virginia Beach with her husband, Tom. A celebration of life will be held in April. Read more about Susan's life and legacy.