Passing of Trustee Emeritus Bob DeFord
DeFord led the Board of Trustees through the University's formative years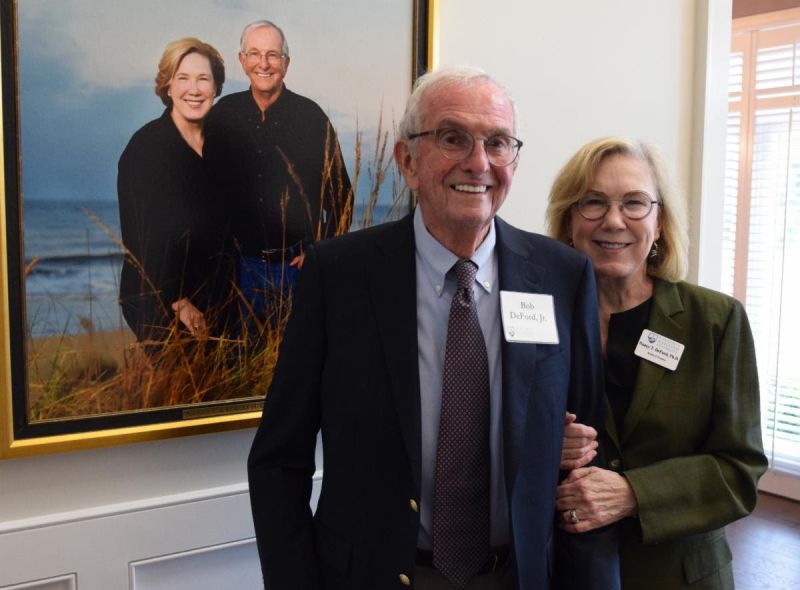 University News | October 30, 2022
With great sadness, the Virginia Wesleyan University community shares the passing of Trustee Emeritus Robert "Bob" H. DeFord, Jr. on October 29 at the age of 89.

Involved with Virginia Wesleyan since 1972, Bob began his distinguished service to the Board of Trustees in 1977. He served as chair of the Buildings and Grounds Committee during Virginia Wesleyan's formative construction years on campus and later on the Board Executive Committee. Bob remained unwavering in his support of VWU and continued to serve as a Trustee Emeritus until his passing.
Bob graduated from Virginia Tech and owned a number of businesses, including farming operations and auto dealerships. In 1987, Bob formed, and was President of the DeFord Companies, a construction and development company. His wife, Nancy, became vice president of DeFord Companies upon retiring from a distinguished career in education. Nancy joined the VWU Board of Trustees in 2016 and currently serves as vice chair.
Bob and Nancy have been generous supporters of education and great believers in its importance. The University has benefitted from their guidance and significant contributions—the establishment of the Robert H. and Nancy DeFord Endowed Scholarship providing merit and need-based assistance for students, DeFord Gatehouse, DeFord Hall in the Honors Village (IV), and most recently, DeFord Manor.
A memorial service will be held at 11 a.m. Saturday, November 12, at Baylake United Methodist Church (4300 Shore Dr., Virginia Beach), followed by a reception in the church fellowship hall. In lieu of flowers, the family encourages donations to Virginia Wesleyan University, the Virginia Aquarium, Virginia Tech, Baylake Methodist Church, or a charity of your choice.
Bob DeFord will be missed dearly by the Virginia Wesleyan community. Deepest sympathies are extended to Nancy and the DeFord family during this difficult time.