Professor Honored by VFIC
Thomas Brown Selected to Receive Excellence in Instructional Technology Award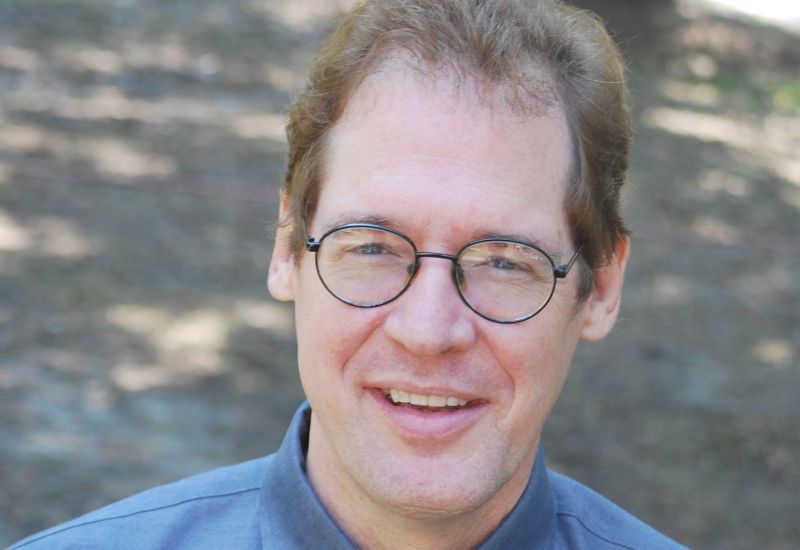 News Release | October 24, 2016
By Laynee H. Timlin
Thomas Brown, VWC Associate Professor of Criminal Justice/Sociology is the recipient of the Virginia Foundation for Independent Colleges' (VFIC) 2016 H. Hiter Harris, III Excellence in Teaching with Technology Award. Dr. Brown is the second VWC faculty member to win a VFIC teaching award. Professor of Philosophy Lawrence Hultgren received VFIC's H. Hiter Harris, Jr. Award for Excellence in Undergraduate Teaching Award in 2009. Brown is the inaugural recipient of the Excellence in Instructional Technology Award.
Brown has developed a teaching technique that includes pre-recording a short lecture, or video segment, on his office computer, embedding videos, Prezis and PowerPoint presentations into the lectures. He includes quiz questions and reflection prompts within the lecture as well. For each lecture, he also prepares guided notes in Google Docs that comprise a detailed lecture outline with underlined blanks and other open fields. Then, via Google Classroom, he distributes an individual copy to each of his students. During regular class periods in the physical classroom, students watch the short lecture at their individual workstations using earphones.
"The main benefit of a pre-recorded lecture is that a student can re-watch segments as needed and the embedded quiz questions give each student formative feedback on how well each section is understood," says Brown. "My software gives me data on how many times each student watched each segment of the lecture, and records their scores on the quiz sections. Students are also taking notes in the Google Doc provided and I circulate the classroom answering questions and monitoring student work. I am no longer the sage on the stage, now I am the sage on video and guide on the side—simultaneously."
Brown indicates that he's achieved a significant boost in student engagement with the lectures in this mode. He says that students are staying on task and are more focused on the course material: "No more Facebooking or shopping for shoes during class!"
Since the video lectures are in short chunks, he has time in class to switch from lecture mode to student-to student interaction. He uses Quizlet Live to guide student discussion of the lecture material in a gamified environment while also giving formative assessment on each student's understanding. Quizlet Live randomly assigns students to small groups and gives each student a different set of the concepts being quizzed. Students must confer to find out who has the best answer and if they disagree, they must debate.
According to Brown, "Playing against other teams creates a sense of urgency and keeps students on task and not texting during the game—even though they are playing on their phones. Student are moving around the classroom with each game as new teams form, working on the course material in different parts of the room, thus increasing the sense of a shared learning environment."
Technology-enhanced engagement and collaboration are also built into Brown's research assignments. Students write about their research in a Google Docs template he provides. He reviews each student's document and makes comments in the margins, making him a collaborator in the process of student research, instead of simply a judge of the final product. Finally, each student uploads their document to Office Sway to easily create an online presentation. Brown says plans for evaluation research, in collaboration with Assistant Professor of Education Bill McConnell, are underway.
Provost and Vice President for Academic Affairs Timothy O'Rourke said, "We are extremely proud of Dr. Brown's outstanding accomplishment and the prestigious recognition his award brings to Virginia Wesleyan College. Dr. Brown has promoted the integration of technology into our College curriculum in a variety of ways, both through his innovative use of technology in his courses, and as a founding member and active participant in the campus Digital Pedagogy Working Group."
Brown came to Virginia Wesleyan College in 2011. He holds a B.A. from the University of California, Santa Cruz, a M.S. from Texas A & M International University and a M.A. and Ph.D. from Johns Hopkins University. He will be formally recognized at a VFIC luncheon in Richmond in November.