Share this Story
Project Promotes Interdisciplinary Partnership
The Downstream Collaborative Project brings elementary and university students together for environmental science education
University News | May 8, 2019
By Laynee H. Timlin
How do our choices and behaviors impact our shared watershed? That driving question presents the catalyst for the Downstream Collaborative Project, an initiative that brings elementary students from Virginia Beach City Public Schools and university students at Virginia Wesleyan together for field-based experiences focused on environmental science education, specifically Meaningful Watershed Educational Experiences (MWEE) that also align with the K-12 Virginia Standards of Learning.
The project, which began in 2017, includes an introductory video created by VWU students, information sharing through a collaborative blog, and a website that houses all digital content. The Collaborative originated at VWU in Assistant Professor of Education Bill McConnell's "Applied Technology for Innovative Instruction" class (INST 203) and culminates with structured learning activities that bring all participants together on Virginia Wesleyan's campus each semester.
During this academic year, more than 100 fourth-graders from Alanton and Kempsville Meadows Elementary Schools came to campus to participate in stations-- environmental learning activities –designed and facilitated by VWU students majoring in science, education and recreation and leisure studies.
As in semesters past, the VWU science and education majors led stations in the Greer Environmental Sciences Center and Blocker Hall under the direction of VWU Professors Maury Howard, Elizabeth Malcolm, Katrina Henry, and Bill McConnell, with project support from Associate Professor Jayne Sullivan and Coordinator Sandra Ewell in the Education Department. Students rotated through stations that encouraged them to think critically about topics such as the chemical analysis of water quality, algae identification, and the geographical and geological elements that make up our shared watershed.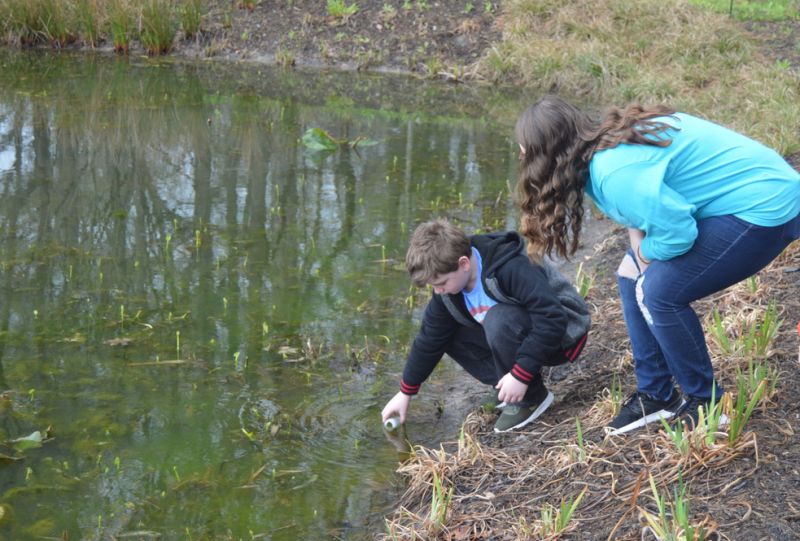 For the first time, this spring, 17 VWU students enrolled in the course "Leadership and Analysis in Recreation" (REC 204) were also involved in the Collaborative. Assistant Professor of Recreation and Leisure Studies Jill Sturts recognized the project as an ideal fit for her students because it gave them an opportunity to develop and facilitate activities for elementary students –a task similar to what they'll do when coordinating and implementing programs and events as recreation providers.
"We explore content within a course, but when students have an opportunity to implement what they are learning in a practical way, it builds their confidence and improves their skills," said Sturts. "My students were able to facilitate their activities five times, each time with a different group of fourth-graders, and they could quickly identify areas to improve on with the next group. By the end of the day, they were much more experienced and confident in their leadership skills."
McConnell believes that the interdisciplinary nature of the project is one of its many strengths, as students and faculty from different majors and departments worked together to make it a success. In addition, both groups of students were able to collaborate through the use of instructional technologies prior to the culminating event.
"Because the fourth-graders had been interacting virtually with VWU students prior to the culminating activity, they recognized our students as soon as they stepped off of the busses. One fourth-grader walked up to Betty Michels, an education student in INST 203, to say, 'I remember you from the video. We are really big fans of yours.'"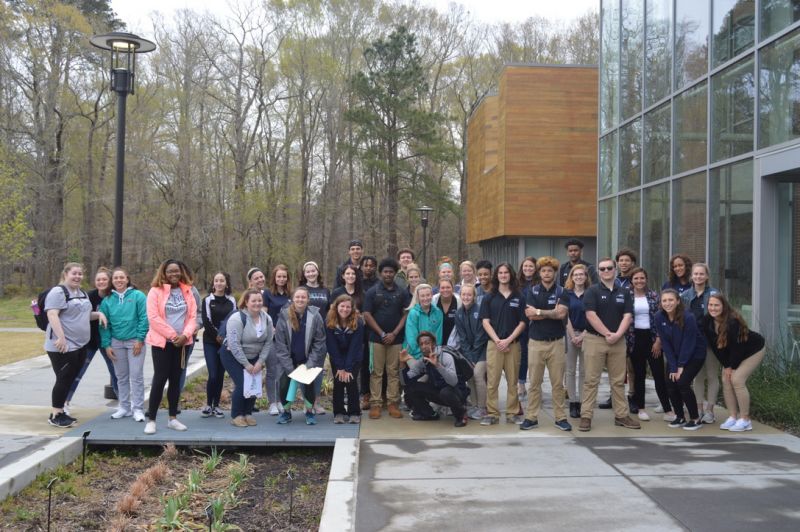 McConnell says that whenever education majors have opportunities to work with actual children they put a lot of effort into their work and performance.
"The fourth-grade students brought meaning to this assignment and to the course as a whole," McConnell continued. "As I walked one group back to the busses, a fourth-grader stated excitedly, 'I am coming back here for college!' Many from the group echoed this sentiment."
The 56 VWU students involved were just as enthusiastic about working with the younger students and connecting theory learned in class to practical learning adventures in the field. Together, both groups benefitted from discovering how our choices and behaviors impact our watershed.