Researching the Mystery of Mercury
Dr. Elizabeth Malcolm is the sixth recipient of the Frank and Jane P. Batten Distinguished Scholar Award.

By Megan Z. Shearin '06 | June 17, 2009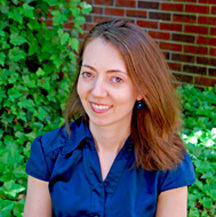 Virginia Wesleyan College's Assistant Professor of Ocean and Atmospheric Sciences, Dr. Elizabeth Malcolm, has always been fascinated with science.

In elementary school, she aspired to be an archeologist. In high school, she volunteered with an environmental center in New Jersey, testing the levels of pollution in the wetlands surrounding the complex.

During her college years, Malcolm conducted research on the transport and deposition of environmental mercury - a topic she continues to research and has also involved the participation of Wesleyan students. In fact, three of her students have gone on to graduate school in related work.

Specifically, Malcolm's scholarly work traces the path of mercury from an air pollution source to uptake in fish, with the goal of understanding the impacts of pollution and how mercury gets into the food we eat.

"The regulations for safety have to be informed by the science," she said. "Mercury pollution threatens the health of humans, fish and wildlife."

Recipient of the sixth annual Frank and Jane P. Batten Distinguished Scholar Award, selected by vote of the faculty from among nominees put forward by faculty members, Malcolm believes that teaching and research go hand-in-hand when it comes to the learning experience for students.

When students participate in real-world research, they become more engaged, learn independence and planning, which are useful skills for future careers, and gain experience for graduate school, said Malcolm.
"Science itself is engaging and dynamic, and people are doing research and learning new things everyday… it's something our students can be a part of."
-- Dr. Elizabeth Malcolm
"Science, in a textbook, is facts," she said. "Science itself is engaging and dynamic, and people are doing research and learning new things everyday… it's something our students can be a part of."

Vice President for Academic Affairs and Kenneth R. Perry Dean of the College Dr. Timothy O'Rourke said Malcolm is most worthy of the Batten Award.

"Dr. Malcolm maintains an active research agenda on sustainability and other environmental issues, publishes regularly, attracts grants support for her work and promotes student scholarship," said O'Rourke.

Malcolm has received numerous competitive grants for her research, including funding from the Environmental Protection Agency (EPA), the Jeffress Memorial Trust and the Mednick Memorial Fellowship.

For the Green Roof Project, Wesleyan's premier research project on the quality and levels of pollutants in runoff water, Malcolm serves as a faculty mentor for Wesleyan students.

Ivy Ozman '07, Wesleyan's first recipient of a GRO (Great Research Opportunities) Undergraduate Fellowship from the EPA, said having Dr. Malcolm as a faculty mentor made her research experience much less intimidating.

"She made herself available whenever I had questions, guided me through the methods, and taught me everything I needed to know from the proper way to clean all of our materials and equipment to the actual chemical analysis used for the project," said Ozman. "Dr. Malcolm is one of the most influential people to come into my life to date, and she helped me realize my potential."

Malcolm admits that in addition to the academic rewards of undergraduate research, the interaction with students gives her the opportunity to make a special bond with them.

"I get to see them grow intellectually while in college and witness their successes after they graduate," she said. "My students are my number one priority - not publishing, not research and not getting grant money. That all comes with it."

Since arriving at Virginia Wesleyan in 2004, Malcolm has had a profound impact on the Earth and Environmental Science program. She has developed courses in biogeochemistry, climatology and meteorology.

Ph.D. and M.S., University of Michigan
B.A., Earlham College.Most recently, her suggestion for Virginia Wesleyan to offer students a Marine Science minor will be implemented this fall. Part of the course will utilize the College's 46-foot research vessel, a shared watercraft with the Virginia Aquarium & Marine Science Center.

"This minor and research vessel will set Virginia Wesleyan apart from the competition in attracting students in the sciences," said Malcolm. "I think it will help us get students more engaged in science and attract students who are interested in careers in marine science, oceanography and marine biology."

Dr. Chris Haley, Batten Professor of Earth Science, describes his colleague as a world-class scientist. "Dr. Malcolm has elected to devote her career to undergraduate education…her commitment to involving undergraduate students in meaningful research places Virginia Wesleyan in the company of other elite undergraduate institutions."

Outside of the classroom, Malcolm is active in researching mercury as a global pollutant with faculty members from The College of William & Mary. The group is researching mercury through a variety of academic disciplines including art, sociology, politics, economics and history.

In her spare time, Malcolm enjoys hiking and walking outdoors, making jewelry and being a full-time mom to her daughter, Bridget.