Retiring Faculty Honored
Three VWU faculty members celebrated during traditional tree planting ceremony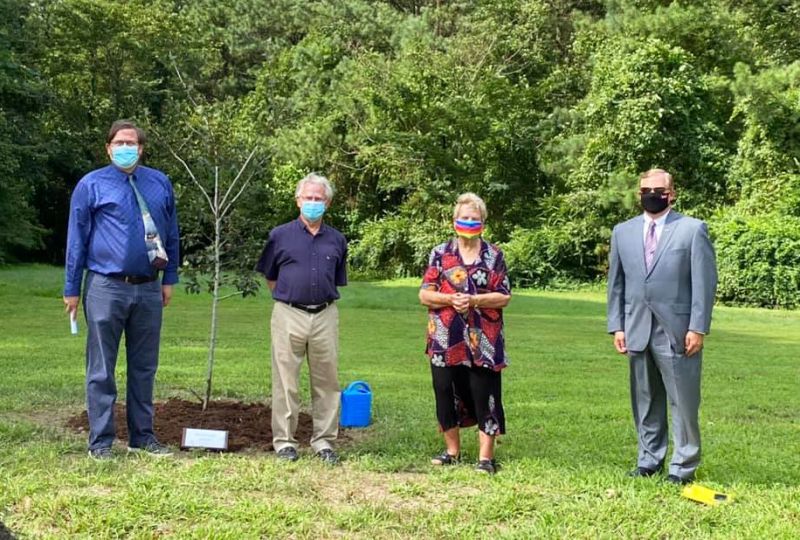 University News | August 25, 2020
Three Virginia Wesleyan faculty members, Hilve Firek, Professor of Education, Michael Hall, Professor of English, and Jayne Sullivan, Associate Professor of Education, were honored August 20 during the University's traditional tree planting ceremony for retiring faculty. This year's ceremony moved to an annex of the Wilson Arboretum, as the original site is now at full capacity.
"This year marks the 25th anniversary of the opening of the Wilson Arboretum," noted University Archivist Dr. Stephen Mansfield. "When it first opened and through the years, there was speculation about just how long it would take to fill it up. With this year's extension to an Arboretum annex, we now know that answer."
Vice President for Academic Affairs Maynard Schaus opened the ceremony and commended the retirees for their distinguished service to Virginia Wesleyan.
"In the same way that we plant the seeds in our students and then give them a lifetime to grow, this ceremony today represents the lasting impact of three colleagues," he said. "These colleagues have planted ideas that will take root in the hearts and minds of thousands of students over the years, and these ideas and their inspiration will continue to grow and make an impact on the world long after they have left the VWU campus."
Hilve Firek, Professor of Education
Professor of Education Hilve Firek first came to Virginia Wesleyan in 2010. She retires after more than 25 total years in education, with experience in secondary education, educational publishing and higher education.
Professor Firek says she especially loved working with the students at Tidewater Collegiate Academy on VWU's campus. Her plans for retirement include working with with bees on her family farm, Firek Farms, in Suffolk.
A Stellar Pink Dogwood tree now stands in the Wilson Arboretum, to commemorate Professor Firek's service to Virginia Wesleyan.
Michael Hall, Professor of English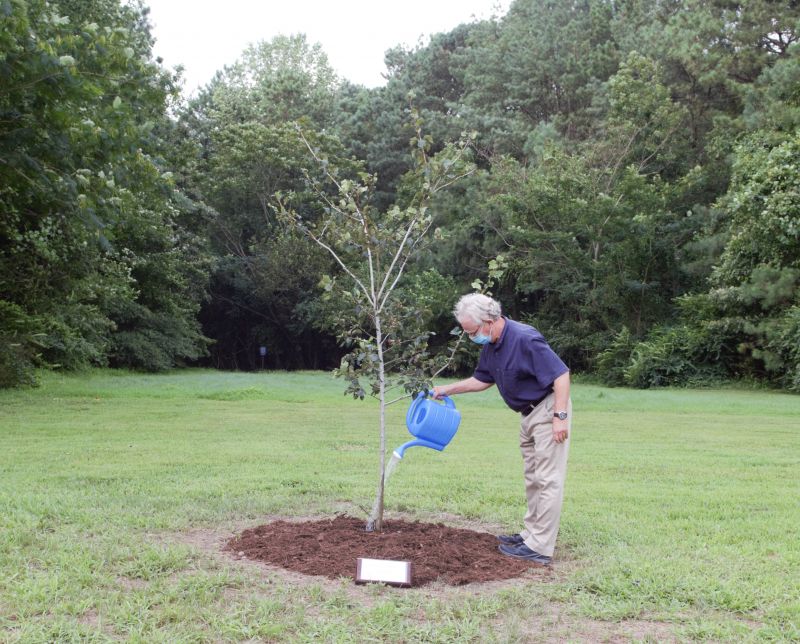 With a career spanning 47 years in education, Professor of English Michael Hall first came to VWU in 1980. During that time, he has held positions as Coordinator of the English Department, Director of the Honors and Scholars Program, Lambuth M. Clarke Distinguished Professor of English, and President of the VWU chapter of the AAUP.
"Mostly, I'll miss teaching, miss mentoring students, and miss my many interactions with colleagues," he said.
His plans during retirement include traveling extensively, writing, reading, and working on his house. To commemorate his tenure at Virginia Wesleyan, he chose a Winter King Hawthorn tree to plant in the arboretum.
Jayne Sullivan, Associate Professor of Education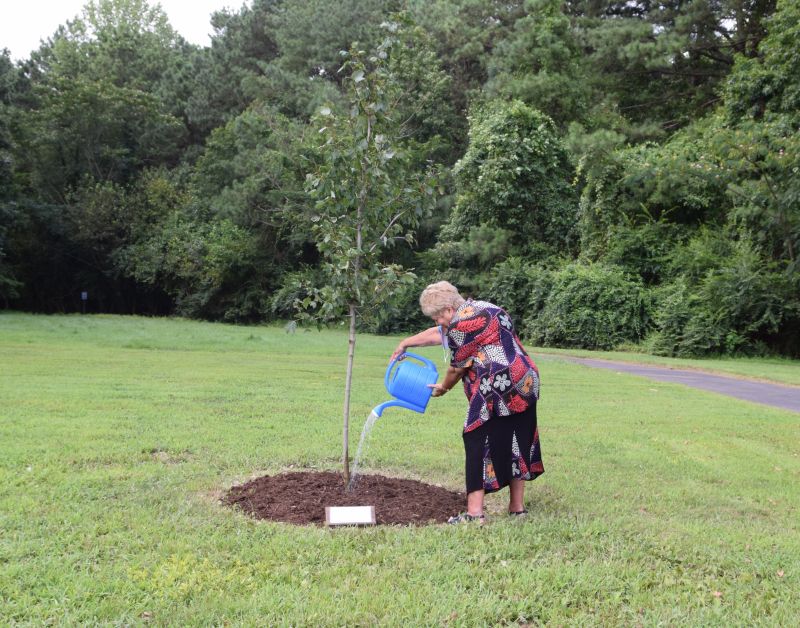 Jayne Sullivan first came to Virginia Wesleyan in 1999, after a 30-year career in St. Mary's County, Maryland, where she served as a teacher, a supervisor of elementary schools, and director of special education and pupil services. She has also taught as an adjunct professor at six other colleges. During her 22 years at VWU, she taught 14 different courses in the Department of Education and served on many committees and advisory boards.
After a total of 58 years in education, she says that she feels blessed to have shared this journey with so many capable and competent professionals. Her plans for the future include continuing to hold Discovery Toys educational gatherings as a consultant and enjoying life in her villa at Atlantic Shores.
Professor Sullivan chose a Red Sunset Red Maple tree to plant in the Wilson Arboretum to commemorate her years of service to Virginia Wesleyan University.
About Wilson Arboretum on the campus of Virginia Wesleyan University
In the spring of 1995, members of the campus community gathered to plant the first dozen trees in the Wilson Arboretum on campus. The Arboretum was established by the Classes of 1986 and 1995 to honor the memory of Dr. William M. Wilson, who served as dean of from 1971 to 1994. University Archivist Stephen Mansfield's book, Wisdom Lights the Way: Virginia Wesleyan College's First Half Century, documents the tradition of planting trees to recognize retiring faculty that began in May 1997 when Gordon A. Magnuson, English professor and William R. Shealy, religious studies professor, selected a weeping willow and a Japanese maple for inclusion in the Wilson Arboretum.