Retiring Faculty Honored
University News | May 15, 2019
By Laynee H. Timlin
Photo Gallery: Retiring Faculty Reception and Tree Planting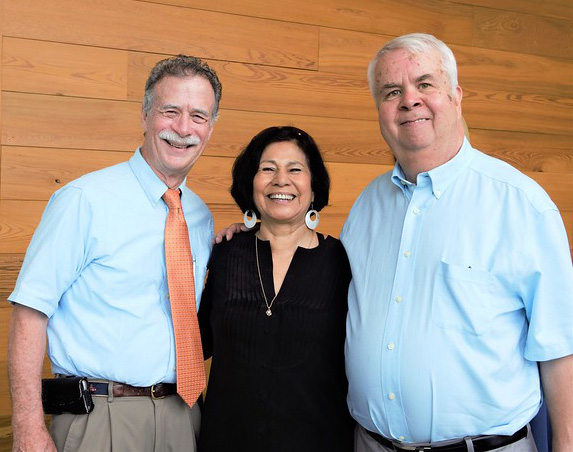 Three longtime faculty members, Robert Albertson, Professor of Management, Business and Economics (40 years of service), David Garraty, Professor of Management, Business, and Economics (40 years of service), and Mavel Velasco, Professor of Hispanic Studies (32 years of service), were honored at a luncheon on May 9 in the Atrium of the Greer Environmental Sciences Center. The traditional faculty commemorative tree-planting ceremony followed in Wilson Arboretum.
Provost and Vice President Timothy O'Rourke commended the retirees for their distinguished service to the University.
"For more than three decades, this trio has been the heart and soul of this institution," noted O'Rourke. "In that spirit, I am reminded of the show-stopping song in the 1950s Broadway musical and later movie Damn Yankees. 'You've gotta have heart; Miles 'n miles n' miles of heart; Oh, it's fine to be a genius of course; But keep that old horse before the cart; First you've gotta have heart.' I salute each of my colleagues who is, in her or his own right, 'a genius of course,' but, far more consequentially a person of good and courageous heart."
Provost O'Rourke then shared the numerous individual accomplishments and contributions made by each of the retirees.
Bob Albertson, Professor of Management, Business and Economics
"For all of my time here," said O'Rourke, "Bob has been a go-to guy for many things. When I arrived he was the Associate Dean of the College and he literally showed me the ropes. Bob led the Division of Social Sciences, later (2016) the Birdsong School of Social Science, from mid-summer 2010 through mid-summer 2017. He played a key role in the renovation of the Kellam Social Science Laboratory. He helped secure SACSCOC reaffirmation of accreditation (2015-16) and then SACSCOC approval of the substantive change (2016) that led to the creation of both online and graduate programs. Of course, 'Dr. Bob' is best known as the director of the Business Program's internship program, from which he has launched the successful careers of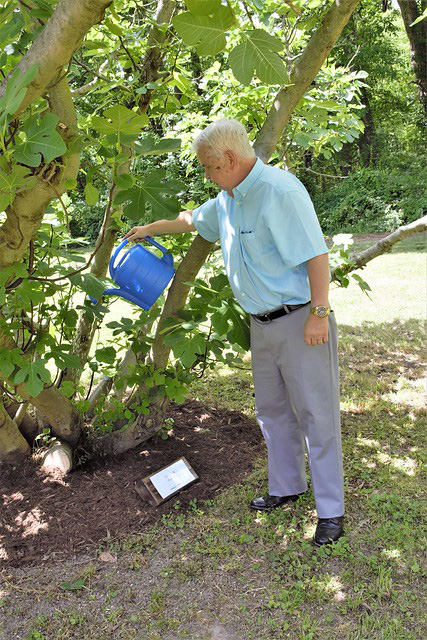 many of that program's graduates."
Albertson says he cherishes the collegiality he experienced at Virginia Wesleyan and absolutely loves talking with alumni and hearing of their personal and professional successes. He hopes to spend time with family in retirement; conduct additional research on Hampton Roads history; and perhaps join his wife in helping a non-profit board or two. He looks forward to attending events on campus, something his busy schedule while working didn't allow for.
Albertson chose an already established fig tree in the Wilson Arboretum to commemorate his 40-year tenure at the University.
"Fig trees graced the backyard of my childhood home," said Albertson," and I always looked forward to their delicious fruit as the summer progressed. The figs which grace the branches of 'my' fig tree will, I trust, bring equal delight to those who pause before entering the grove of trees ahead to sample a delicious treat and, for those who have known me, to think of pleasant times we have shared at Virginia Wesleyan."
David Garraty, Professor of Management, Business, and Economics
"For much of the last 40 years, Dave has been the face of the Business program," noted O'Rourke, "playing an instrumental role, as theorist and department chair, in the development and evolution of the Liberal Arts Management Program. He has led the department's commitment to sustainability and advanced the University's embrace of internationalization, having spent a semester at the Universidad de Madero in Pueblo, Mexico—this as part of an exchange program that Mavel Velasco established and coordinated for many years. His devotion to students is legendary, and it is a rare alum of the Business program, who, on returning to campus, does not offer a heartfelt reminiscence of a transformational experience tied to one of Dave's courses. This may have something to do with what Dave describes as the 80/20 Rule, meaning that teaching is 80 percent heart and 20 percent head."
Garraty says his most rewarding experiences at Virginia Wesleyan were those times when graduates returned and thanked him for his teaching or advising efforts.
"I'll be planting a pecan tree in hopes that it will be productive and help nurture the campus squirrels and other wildlife," said Garraty.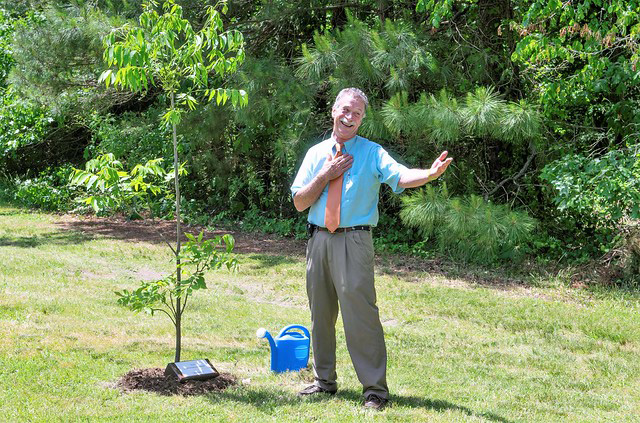 His retirement plans include a quick surgery, an Alaska cruise, a cross-country RV trip, selling his North Carolina house and moving back to Hampton Roads.
"As the Alma Mater says—my path may lead around the world but my heart stays at Wesleyan," added Garraty.
Mavel Velasco, Professor of Hispanic Studies
According to Provost O'Rourke, "Mavel Velasco is the quintessential global citizen. A native Bolivian, she speaks and reads five languages, has traveled throughout the world, and studied and lectured in Japan. As a person of conspicuous intelligence, grace, and charm, she is a person who would be welcome in any gathering in any place. She has been a vocal advocate for the Hispanic community in Hampton Roads and in 2008 received the MIX Magazine Power of the People Award for Education. Mavel has chaired the Foreign Languages Department and, I think I can say now some years after the fact, she guided the department through a particularly difficult time and brought it to a place of constructive harmony. Aside from being an accomplished scholar in the literary tradition of Adela Zamudio, Bolivia's most famous poet, Mavel is a gifted dancer and dance teacher and an accomplished athlete, having run a number of marathons, for which the principal requirement is a big and courageous heart."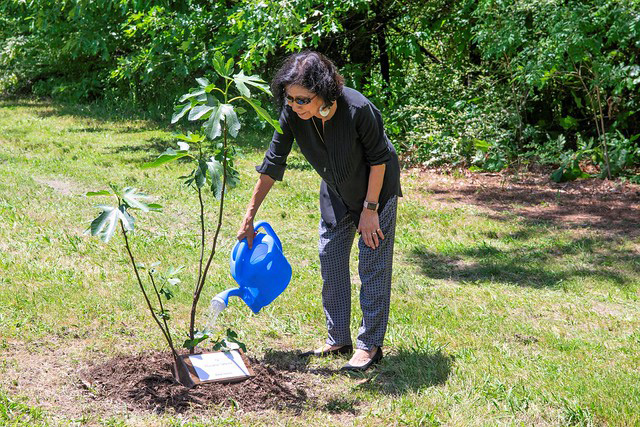 Velasco says that the most important part of her tenure at Virginia Wesleyan University has been, without a doubt, her students. She says that they have taught her more than she thinks she taught them.
"I have chosen a fig tree because it is a beautiful when full-grown and does well in this region," said Velasco. "I have planted a fig tree in the two places I lived and both have been done very well. They are also a good source of food for humans and animals, particularly birds."
After retiring she plans to work with a non-profit organization that she founded recently, the Educational and Cultural Hispanic Organization (ECHO). Through it she hopes to advocate for the education of minorities in our country.
The recently dedicated new trees now stand in Virginia Wesleyan's Wilson Arboretum to commemorate the long and distinguished teaching careers of these three professors.
About Wilson Arboretum on the campus of Virginia Wesleyan University
In the spring of 1995, members of the campus community gathered to plant the first dozen trees in the Wilson Arboretum on campus. The Arboretum was established by the Classes of 1986 and 1995 to honor the memory of Dr. William M. Wilson, who served as dean of from 1971 to 1994. University Archivist Stephen Mansfield's book, Wisdom Lights the Way: Virginia Wesleyan College's First Half Century, documents the tradition of planting trees to recognize retiring faculty that began in May 1997 when Gordon A. Magnuson, English professor and William R. Shealy, religious studies professor, selected a weeping willow and a Japanese maple for inclusion in the Wilson Arboretum.