Share this Story
Robert Nusbaum Center Continues Legacy of Promoting Diversity, Dialogue, Faith, and Freedom
Breaking Barriers — Building Trust and Collaboration Between Police and Communities Now Available Online
University News | September 14, 2023
The Robert Nusbaum Center of Virginia Wesleyan University has been at the forefront of addressing some of the most contentious and polarizing moments in American civic life since its establishment in 1996. This nationally renowned institution, situated within the esteemed Virginia Wesleyan University, has consistently championed the values of diversity, dialogue, and religious freedom.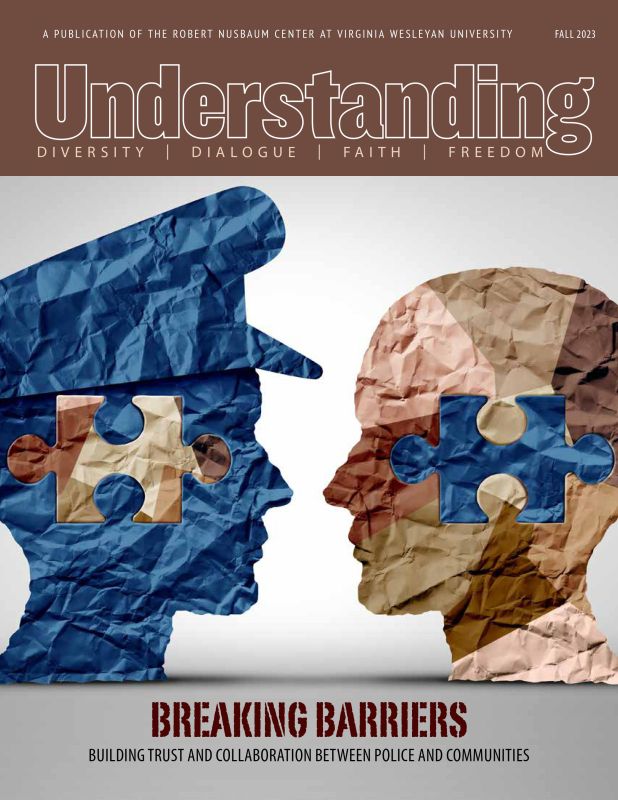 The latest issue of "Understanding — Diversity, Dialogue, Faith and Freedom" is now available online. This publication outlines an impressive lineup of speakers and programs scheduled for the 2023-24 academic year. The cover story for the Fall 2023 issue is titled "Breaking Barriers — Building Trust and Collaboration Between Police and Communities."

Founded on the principles of a rigorous liberal arts education and Virginia Wesleyan's United Methodist heritage, the Nusbaum Center has long recognized religious freedom as a fundamental human right and diversity as the cornerstone of a robust society. In a time marked by complex issues in religion, politics, race, gender, and sexuality, the Nusbaum Center's commitment to fostering respectful dialogue and mutual understanding has never wavered.

The Robert Nusbaum Center's mission is clear: to create a civil society through education and promote mutual understanding among citizens. By equipping and empowering students and community members to become leaders who value diversity, the Nusbaum Center seeks to bridge the gaps between religious, racial, and ideological differences, offering meaningful solutions to today's most pressing issues.

The late Robert C. "Bob" Nusbaum, the visionary behind the Center's founding, once passionately spoke of the Virginia Statute and the First Amendment, highlighting their legacy in promoting diversity, dialogue, faith, and freedom in our nation. He underscored the fragility of these rights, emphasizing that our nation's growth relies on valuing diversity and dialogue. It was his hope that students and citizens would deeply cherish these rights and their role in our commonwealth and country.

Dr. Craig Wansink, the Joan P. and Macon F. Brock, Jr., Director of the Robert Nusbaum Center, with assistance from Kelly Jackson, Associate Director and Eric Mazur, Fellow for Religion, Law, and Politics, and the Gloria and David Furman Professor of Judaic Studies, leads the Center which is located in Clarke Hall.

Established in 1996 as the Center for the Study of Religious Freedom, the organization underwent a renaming in the spring of 2020 to become the Robert Nusbaum Center of Virginia Wesleyan University. This change reflects the Center's expanded mission to embrace the legacy of Robert "Bob" Nusbaum, a humanitarian and civil rights champion. While continuing to champion religious freedom, the Center now addresses a broader spectrum of issues related to race, religion, gender, gender identity, sexuality, and ethnicity.

To learn more about the Robert Nusbaum Center of Virginia Wesleyan University and its commitment to promoting diversity, dialogue, faith, and freedom, please visit https://www.vwu.edu/academics/robert-nusbaum-center.