Share this Story
Scholar Athletes: Got Game and Grades
State Farm and VWU honor athletes named to Spring 2017 President's List and Dean's List
Featured News | December 12, 2017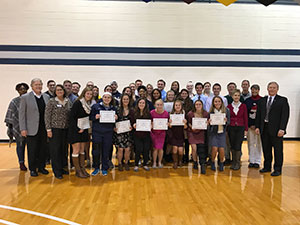 From the classroom to the court, from books to balls and bats-Virginia Wesleyan's scholar-athletes understand the meaning of balance.These extraordinary Marlins were honored during the women's basketball game on December 9 in the Convocation Center of the Jane P. Batten Student Center.
Students-athletes recognized were those who are a member of at least one NCAA Division III athletic team at VWU and were named to the President's List and the Dean's List for the Spring 2017 semester. President's List is awarded to students earning a 4.0 GPA and the Dean's List is awarded to all students who earn at least a 3.5 GPA. Both indicate a careful balance among course work, co-curricular activities, and athletics.
Thanks to State Farm for sponsoring the State Farm/Virginia Wesleyan University Scholar-Athlete Recognition. VWU appreciates the support from State Farm Agents Larry Akers, Rhonda Floasin, Pierre Granger, Jessica Hester, and Joe Query.
Congratulations to the following student-athletes named to the Spring 2017 President's List and Dean's List!
President's List Scholar-Athletes
| | CLASS | MAJOR | HOMETOWN | SPORTS |
| --- | --- | --- | --- | --- |
| Seth Antozzi | GR | Earth and Environmental Science | Estes Park, CO | M. CROSS COUNTRY & TRACK |
| Kollin Baer | SO | Business | Chesapeake Beach, MD | M. CROSS COUNTRY & TRACK |
| Jacklyn Cheely | SR | Sociology/Philosophy | Chesterfield, VA | W. TENNIS |
| Andreas Combos | SO | Mathematics | Carey, NC | M. TENNIS |
| Taylor Erby | GR | Business | Norfolk, VA | BASEBALL |
| Shae Geary | SO | Criminal Justice | Prospect, CT | W. SOCCER |
| Tiffani Gregory | GR | Comprehensive Liberal Studies | Revere, MD | CHEERLEADING |
| Spencer Hawver | GR | English | Chesapeake, VA | M. CROSS COUNTRY & TRACK |
| Abigail Horgan | SO | Psychology/Theater | Wilmington, DE | W. TENNIS |
| Trevor Maloney | GR | Biology/ Pre Med | Houston, DE | M. CROSS COUNTRY & TRACK |
| Taylor Marshall | GR | Elementary Education | Marion Station, MD | FIELD HOCKEY |
| Lauren Topper | SO | Individualized Studies | Leesburg, VA | VOLLEYBALL |
Dean's List Scholar-Athletes
| | CLASS | MAJOR | HOMETOWN | SPORTS |
| --- | --- | --- | --- | --- |
| Asiah Allen | GR | Recreation & Leisure Studies | St. Louis, MO | FIELD HOCKEY |
| Ryan Applewhite | SO | Business | Fairfield, NJ | W. SOCCER |
| Amanda Archer | SR | Communication | Amelia, VA | SOFTBALL |
| Elizabeth Bailey | GR | Recreation & Leisure Studies | Chesapeake, VA | SOFTBALL |
| Elizabeth Britton | SO | Individualized Studies | Midlothian, VA | VOLLEYBALL |
| Mikelah Bur | SO | Biology | Adamstown, MD | W. SOCCER |
| David Cockerill | GR | Business | Virginia Beach, VA | M. GOLF |
| Trini Cole | SO | Undeclared | Prosperity, PA | W. CROSS COUNTRY & TRACK |
| Marissa Coombs | SR | Recreation & Leisure Studies | Newton, NJ | W. CROSS COUNTRY & TRACK |
| Taylor Coutts | SO | Biology | Kinnelon, NJ | W. SOCCER |
| Julia Downing | JR | History | Seekonk, MA | W. SOCCER |
| Andrew Duenke | SO | Criminal Justice | Chesapeake, VA | M. SOCCER |
| Karim Dunn | SO | Business | Newark, DE | M. TRACK |
| Kaylah Duplain | SO | Biology | Virginia Beach, VA | SOFTBALL |
| Justin Erby | SR | Business | Norfolk, VA | BASEBALL |
| Joseph Fairbanks | JR | Criminal Justice | Williamsburg, VA | M. TENNIS |
| Andrew Freeman | JR | Engineering | Livonia, NY | M. SOCCER |
| Rachel Fuller | JR | Biology | Mukwonago, WI | W. LACROSSE |
| Amanda Gerni | JR | Environmental Studies/Political Sci. | Moyock, NC | W. BASKETBALL |
| Paul Gladstone | JR | Mathematics | Port Orange, FL | M. TENNIS |
| Connor Graham | FR | Business | Dunkirk, MD | BASEBALL |
| Jayla Harris | JR | Business | Fredericksburg, VA | W. BASKETBALL |
| Annie Hartman | GR | Recreation & Leisure Studies | Leesburg, VA | W. SOCCER |
| Brandon Hayslett | SR | Recreation & Leisure Studies | Salem, VA | M. LACROSSE |
| Cory Hilliard | GR | Communications | Butler, PA | M. LACROSSE |
| Evan Hockensmith | GR | Criminal Justice | Mechanicsville, VA | M. GOLF |
| Caitlyn Hogge | GR | Art/Psychology | Newport News, VA | FIELD HOCKEY |
| Hanna Hull | SO | Engineering | North Chesterfield, VA | SOFTBALL |
| Wade Jernigan | SR | Engineering | Chesapeake, VA | M. TRACK |
| Catalina Jones | JR | Art | Chesapeake, VA | FIELD HOCKEY |
| Amy Large | SR | Pre Med/ Biology | Kennet Square, PA | SOFTBALL |
| Christopher McTague | SR | Computer Science | Sykesville, MD | M. LACROSSE |
| Evan Merrill | GR | Business | Westminster, MD | M. LACROSSE |
| Monika Metro | JR | Biology | Monroe, CT | W. SOCCER |
| Ann Marie Moffett | JR | Individualized Studies | Manassas, VA | W. SOCCER |
| Jake Morgan | SR | Criminal Justice | Norfolk, VA | M. TENNIS |
| Alyssa Ochsenfeld | GR | Criminal Justice/ Psychology | Hampton, VA | FIELD HOCKEY |
| Zachary Peters | SO | Undeclared | Westminster, MD | M. LACROSSE |
| Alana Peters | SR | Communication | Oakton, VA | SOFTBALL |
| R. Kellen Phillips | SR | Biology | Alexandria, VA | W. BASKETBALL / TENNIS |
| Jacob Pilarski | SO | Mathematics | Pittsburgh, PA | BASEBALL |
| Zachary Raymond | SO | Psychology | Tracys Landing, MD | M. SOCCER |
| William Richardson | SO | Biology | Fredericksburg, VA | M. SOCCER |
| Kristina Sabelstrom | SO | Earth & Environmental Science | Monument, CO | W. SOCCER |
| Madison Sanders | SR | Individualized Studies | Midlothian, VA | W. SOCCER |
| Peter Scrimgeour | SR | Business | Williston, VT | M. GOLF |
| Megan Sherman | SO | Communications/ Engineering | Henrico, VA | W. BASKETBALL |
| Skyler Simmonds | GR | Recreation & Leisure Studies | Carrollton, TX | M. SOCCER |
| Colleen Smith | SR | Recreation & Leisure Studies | Bedford, MA | VOLLEYBALL |
| Jordan Sprouse | JR | Mathematics | Grafton, VA | BASEBALL |
| Alyssa Taylor | SO | Individualized Studies | Waynesboro, PA | VOLLEYBALL |
| Emily Taylor | JR | Biology | Glenwood, MD | W. SOCCER |
| Dillon Thompson | SR | Recreation & Leisure Studies | Chesapeake, VA | M. SOCCER |
| Zoe Traficante | SR | Mathematics | Chalfont, PA | W. SOCCER |
| Georgia Walker | GR | English/psychology | Warsaw, VA | CHEERLEADING |
| Kwonsha Washington | SR | Psychology | Portsmouth, VA | W. CROSS COUNTRY & TRACK |
| Kerri Wasko | SO | Psychology | Chesapeake, VA | W. BASKETBALL |
| Bennett Wiley | JR | International Studies | Hartland, WI | M. SOCCER |
| Taylor Wilhelm | SO | Business | Bel Air, MD | FIELD HOCKEY |
| Rebecca Winslow | SR | Psychology | Nokesville, VA | W. LACROSSE |
| Louis Wolverton | SO | History/Political Science | Bushkill, PA | M. CROSS COUNTRY & TRACK |
| Alexandra Wright | SR | Recreation & Leisure Studies | South Hill, VA | VOLLEYBALL |
| Shelby Wright | SO | Undeclared | East Earl, PA | W. LACROSSE |