Speak Your Truth
Business professor and native Iranian Ehsan Salek encourages self-acceptance; 2014 Alumni Awards are presented at Fall Convocation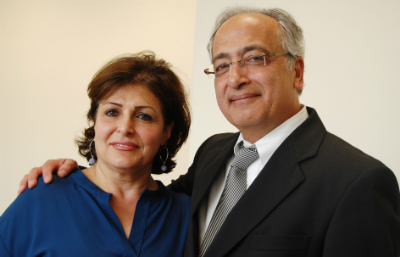 By Stephanie Smaglo | September 8, 2014
Virginia Wesleyan's annual Fall Convocation brought the College community together September 4 to mark the beginning of the 2014-2015 academic year. Held in the Convocation Center inside the Jane P. Batten Student Center, the event launched a new year of intellectual pursuit, starting with a deeply personal keynote presentation by Iranian-born VWC business professor Ehsan Salek.
Convocation's theme centered on VWC's 2014 summer read Persepolis, an autobiographical graphic novel by Marjane Satrapi depicting her childhood in Iran during and after the 1979 Islamic revolution. Incoming students were required to read the book as part of "First Year Experience," a course that explores the nature of liberal arts learning.
In his presentation, "Persepolis: A Personal Reflection," Salek used maps, family photographs and his own poetry to demonstrate the parallels between Satrapi's upbringing and his own. He was born in the Iranian city of Âbâdân on August 17, 1953, the same day the country's democratically elected Prime Minister Mohammad Mosaddegh was overthrown in a coup orchestrated by the American government (CIA) and the British Secret Intelligence Service (MI6) known as "Operation Ajax." Also on that same day, Salek's father—then a college freshman studying petroleum engineering—was arrested for being a pro-Mosaddegh political activist. Salek recalled this time with poetry:
"I don't remember much from those early years
To me, life was without all worries and cares
But later I heard that those were the tough years
Shahs and secret police were everywhere, with guns and spears
My young father was arrested and spent the year in prison
Because he was a political activist, he was charged with treason"
After a year of interrogation and torture, Salek's father was released from prison and forced to sign an affidavit that he would never again take part in political activities. He finished school and went to work in the oil exploration and refining industry. Salek's poetry continued:
"Life was good again, I heard, when he was released
All the bad memories and fears, they all went away and ceased
Good job, good house, no grief
The oil man was once again a refinery chief"
But in reality, Salek's life had changed. Like Satrapi, the professor grew up facing "the enormous toll repressive regimes exact on the individual spirit."* Into his teen years, Salek said his father became evasive and untrusting of politicians, feeling like a pawn tossed aside by the cold war superpowers who were controlling the Iranian government.
In the late 1970s, Salek was a student in the United States. During the Iran hostage crisis, he and other foreign students were taken to an international student office where they were fingerprinted and questioned, a practice Salek found very humiliating and upsetting.
"To this day, based on the advice of my father, I still have the fear of being and acting Irani and being a political dissident," he told the audience. "To this day, to this hour, but it's something I'm working on."
Salek ended his speech with a message particularly directed toward students, but fitting for all ages. A lesson Satrapi also illustrated in her book: be comfortable with who you are.
"You have to be true to yourself," Salek said. "I know at this age it's very difficult to find yourself and be true to yourself. There are so many competitions, so many influences, peer pressures in order to escape from yourself and just melt in with others. But it's so important."
He urged the crowd to speak their minds and tell the truth, even in the face of fear and consequences. Because, he said, that is what it means to have integrity.
Showing their own integrity, recipients of the 2014 Alumni Awards were also celebrated during Convocation. Honorees included Teresa Annas '76 (Distinguished Alumna Award), Howard D. Bartner '82 (Alumni Service Award) and Jason Seward '05 (GOLD Award). The VWC Alumni Association also recognized Anthony Stile and Courtney Beth Dickerson Atwater as honorary alumni and remembered former faculty member Thomas R. Fanney '76.
The afternoon featured music by the Eastern Virginia Brass and performances by the Wesleyan Singers, led by Director of Choral Music Michael Trotta.

*Description from Persepolis Reader's Guide