Spring Alumni Weekend Highlights
Graduates reunite for fun, friendship, and a faculty farewell April 12-14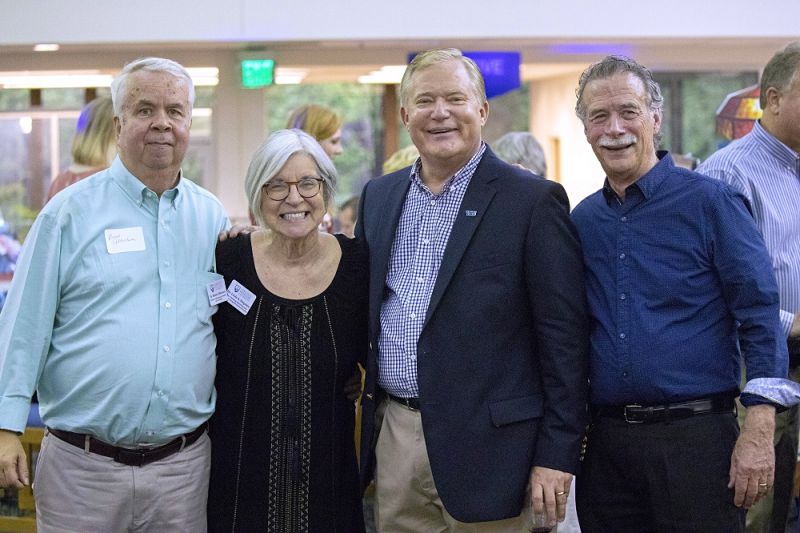 University News | April 14, 2019
Photo Gallery: Spring Alumni Weekend 2019
Though it didn't go exactly as planned, Virginia Wesleyan University's 2019 Spring Alumni Weekend was a special occasion to remember.
With heavy rain in the forecast, several cancellations and postponements affected the weekend's outdoor events. Marlins still gathered, however, for the Alumni Social at ShoreBreak; at alumni games for men's and women's soccer, field hockey, and volleyball; and for the VWU production of "Legally Blonde – The Musical"—the first theatre performance in the new Goode Fine and Performing Arts Center. The President's Parents Roundtable also met on campus for their spring meeting, which featured several presentations and updates on VWU capital projects and initiatives.
"Alumni Weekend is a great opportunity to build relationships and create deeper ties to the University," said Lori Harris '94, Executive Director of Annual Giving and Alumni Relations. "Whatever it is that brings you back to campus—reconnecting with fellow Marlins, athletic or cultural events, or former faculty members—we're so happy to have you."
Graduates and friends filled Hofheimer Library on Saturday evening to offer well wishes to business professors Bob Albertson and Dave Garraty, who retire this academic year after four-decade careers at Virginia Wesleyan.
"It's bittersweet to be here as we mark the retirement of our good friends and colleagues," said VWU President Scott D. Miller. "Their 40 years of dedicated service to Virginia Wesleyan and their impact on their students, colleagues, the community, and the field of business are immeasurable. They have played critical roles in many initiatives throughout the course of their long and successful careers. Most important, they have honored our mission, our student-centered values, and our commitment to academic excellence."
The retirement celebration also supported the Robert "Beau" Cass Endowed Professorship, named for the founder of the LAMP program. For more information or to provide further support, contact Linda Ferguson, Dean of the Birdsong School of Social Science.
Among the postponed events were the Scroll Signing for the Class of 1994 (reschedule date TBA), the VWU softball program's 11th Annual Strike Out Cancer event, rescheduled for April 20, and the State Farm/VWU Scholar-Athlete Recognition Ceremony, which will now take place during the Athletic Department's annual Bob Awards.
Save the date for Homecoming & Family Weekend: October 4-6, 2019