Spring Honors Convocation 2019
Annual ceremony recognizes Wesleyan students' outstanding academic, leadership, service accomplishments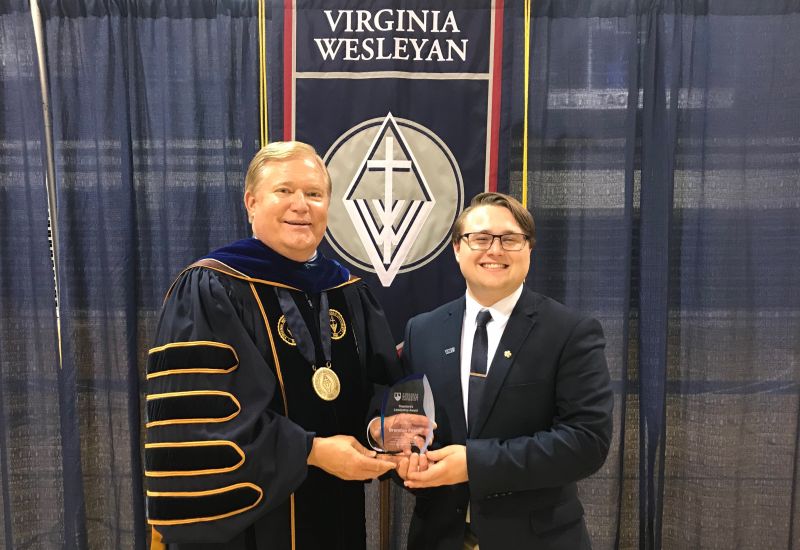 University News | May 6, 2019
Photo Gallery: Spring Honors Convocation
Virginia Wesleyan University's 2019 Spring Honors Convocation was held May 3 in the Convocation Hall in the Jane P. Batten Student Center. The annual event pays tribute to student accomplishments in academics, leadership and service. President Scott D. Miller, Provost and Vice President Timothy O'Rourke and Chaplain Gregory West were joined by VWU faculty and members of the community to present the awards.
From individual department awards and special scholarships to outstanding leadership and achievement awards, the event provided an opportunity to celebrate exemplary student achievements. Students on the President's List, Academic Dean's List, Honor Societies, Batten Honors College, PORTfolio seniors, and the Class of 2019 were also recognized.
The convocation concluded with the singing of the Virginia Wesleyan University Alma Mater led by Virginia Wesleyan Vox Vera, under the direction of Director of Choral Music Bryson Mortensen. A reception followed in the CMAC with refreshments and the Port Day Poster Session.

Congratulations to the 2019 award recipients:
| | |
| --- | --- |
| President's Award | Brandon Foster |
| Presidential Volunteer Service Awards | |
| Gold Level: 250+ Hours of Community Service | Amber Arterburn, Taylor Cain, Kerstin Holmes, Abigail Horgan, Sara Solomon, Melissa Fisher |
| Silver Level: 175-249 Hours of Community Service | Asia Blackwood, Jessa Mae Docor, Elizabeth Hipple, Amber McDonald |
| Bronze Level: 100-174 Hours of Community Service | Storie Cook, Iyana Downie, Bayli Foley, Tiana Johnson, Julie Manning, Tamia Ponder |
| Dan Dickerson Annual Scholarship | Asha Richards |
| William Joseph Annual Scholarship | Justin Robins |
| Rotary Club of Town Center Virginia Beach Citizenship Award | Amber McDonald |
| 2019 Virginia Scholars Award | Emma Larkin |
| Marlin Ministries Servant Leader Award | Adwoa Ankomah-Asiedu |
| Academic Achievement Award for Elementary Education | Kelly Bateman |
| Education Department Rising Star Award | Jacob Davis |
| Judith Vinson Klein Award | Sindy Jessup |
| Phoenix Award | Vernon Hanburry |
| Visual Art Outstanding Studio Practice | Daniel Becerra, Lydia Johnson |
| Senior Thesis Outstanding Visual Art Award | Duncan Crook, Lexis Holley, Ja'lisa Yates |
| Biology Department Award | Amanda Albert, Rachel Fuller, William Kyle Richardson |
| Outstanding Freshman in Chemistry Award | Caroline Tryfiates |
| American Chemical Society Outstanding Senior in Chemistry Award | Cassandra Caldwell, Poonam Patel |
| Outstanding Major in Environmental Studies Award | Alexandra Fitz, Rebecca Schamel |
| Earth and Environmental Sciences Department Award | Megan Agee, Mayanni McCourty |
| Classics Department Classical Studies Award | Lydia Johnson, John Brooks, Cecilia Ward |
| Communication Award | Madalyn Chevalier, Val Miller, Ana Dominique Nakagomi |
| Journalism Award | Hayley Heath, Mickella Rast |
| Outstanding Student in Calculus Award | Rachel DeMay |
| Outstanding Student in Computer Science Award | Andrew Bright |
| Department of Criminal Justice & Sociology Faculty Recognition Award | Aaron Aranda, Edwin Campos, Jacklyn Cheely, Miranda Klobosits, Marie Lerch, Ann Marie Moffett |
| Creative Writing Award | Mickella Rast |
| English 105 Award | Mollie Sequeira |
| Outstanding English Major Award | Melissa Fisher, Mickella Rast |
| Sharon L. Payne Award for Excellence in Women's and Gender Studies | Bayli Foley |
| History Department Distinguished Student Award | Caleb Mercer, Sydnie Allen |
| Tucker-Guy Scholastic Achievement Award - Norfolk Historical Society | Gretchen Yobp |
| Library Research Award | Reilly Barnhart, Caleb Mercer |
| Robert H. Cass Outstanding Senior Award | Kathryn Grainer |
| MBE Academic Achievement Award | Justin Robins |
| Award for Excellence in International Studies | Kristina Sabelstrom, Bayli Foley |
| Award for Excellence in Political Science | Storie Cook |
| Distinguished Graduating Seniors in Psychology | Ryan de los Reyes, Jessa Mae Docor, Brianne Sullivan |
| Research Award in Psychology | Emilee Caldbeck, Abigail Horgan |
| Religious Studies Departmental Award | Jake Stokke |
| William "Tree" Roundtree TowneBank Young Life Award | Andreas Combos, Kerri Wasko |
| Dora H. Dobrin Award for Excellence in Social Work | Mary Ann Gower, Haleigh Espada, Brandon Foster, Morgan McDonald |
| Outstanding Graduate in Recreation and Leisure Studies | Taylor Cain, Kathryn Alvarado |
| The Hite Award for Outstanding Service to VWU Theatre | Jakob Steward |
| S. Diane Guadalupe Memorial Award | Melissa Fisher |