Student Spotlight: Cecilia Ward
Classics and history major helps rewrite history as dramaturg for "The Shield"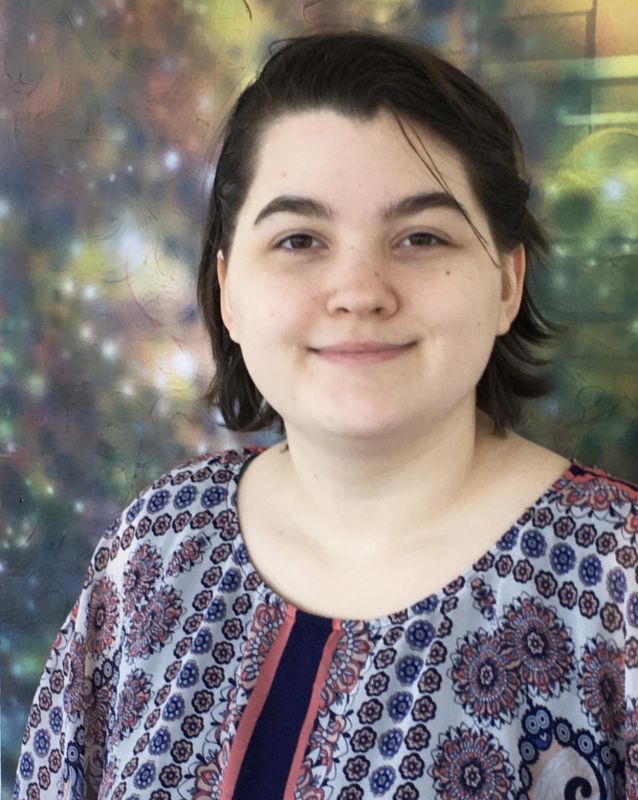 University News | February 28, 2020
By Sandi Billy
As with many VWU students, Cecilia Ward is enjoying an impressive experience outside her classics and history double major. She is dramaturg for the theatre department's upcoming production and has worked alongside Dr. Travis Malone, the play's director and Dean of the Susan S. Goode School of the Arts and Humanities. Their task has been to complete an unfinished work by Greek playwright Menander (342-291bce).
"This has been a fascinating experience," according to Cecilia. "How do you finish a play from several thousand years ago that's lost? I've been reading other Menander plays to see how he ended his other comedies, and preparing an essay on the 'aspis' (or 'shield'). It's exciting to see the practical aspects of my research and work utilized in a production setting.
"Working on the play didn't just include finishing Menander's work, but making lots of revisions. For one, there's a noticeable absence of women and those who are there were only described by their relationships to men. Then there's the issue of slavery and even the word 'aspis' can draw out giggles.
"As a history major, I don't get offended at history being history, but it's evident that others don't share the same opinion, so while for some it's acceptable—after all, it's a 2000 year old Greek play performed in English—a lot of my classmates don't feel the same way, so Dr. Malone and I decided there were things we needed to change."
In researching Menander's life and work, Cecilia discovered that while the Greek writers often used various gods to open and close their stories, Menander was open to using characters within the plays as well.
"He was revered in his lifetime as one of the top poets and second only to Homer as a storyteller," she said. "Parts from his plays are often uncovered in the works of other writers, but after his death, his work seemed to have its own 'dark age' until works began to surface around 1910.
"I like the theatre practicum classes the school offers. It allows you to take a role and work on a particular show." In addition to this semester's practicum as dramaturg for "The Shield," Cecilia enjoyed another practicum last spring as costumer for Legally Blonde. The options at VWU are part of what drew her to campus.
"I chose VWU because it allowed me to commute and it had a great campus atmosphere. I toured other campuses, but some were too big and I felt like I'd get swallowed in a huge lecture hall with dozens of students. I really like being able to get to know the faculty on campus. I know my professors and they know me."
Cecilia is a Virginia Beach native and graduate of the Visual and Performing Arts Academy of the Virginia Beach Public School System. During her senior year, she won top honors in playwriting at the School of the Performing Arts in the Richmond Community (SPARC) for her comedy "Mother Knows Best."
"It was part of a class project. We were given the opportunity to write a play to submit for this contest. We judged each other's work as 'like, acceptable with revision, or rejected' and mine was rejected. Well, maybe not fully rejected," she admits, "but only accepted with a lot of revisions; most didn't like it."
Apparently, the judges at SPARC felt differently. She won top honors and earned a two-week residency in a professional setting with a staged reading of her work at the conclusion.
Cecilia plans on continuing her education after VWU with hopes to earn a doctorate in history with a focus on historic preservation and museum curation, but she also loves historical architecture and can imagine working to maintain historical buildings and sites. While she finds work in the theatre enjoyable and fulfilling, she thinks of herself as just a "theatre nerd."
"My relationship with the theatre is an appreciation for the art-form. And here, you learn so much from each professor. Acting isn't my thing; I don't like memorizing lines, although I do like acting in comedy roles. It's much more rewarding because people react to it so it's fun to perform. With drama, it feels like an audience abyss, but in comedies, you get immediate reinforcement. I don't know if they like what I'm doing, but I know I'm connecting."
Cecilia developed her love of the classics at an early age. As a child, she enjoyed mythology, the Percy Jackson books, the movie "Hercules," and a children's book that used classic structures and mosaic as a basis for cartoons. "It was a lot of fun," and accounts for her love of the VWU course in classical architecture.
"When I came to college and needed to fulfill a "Values" requirement in my schedule, I chose mythology. Only then did I realize that classics was its own discipline. I always thought those topics would be found in other disciplines, but the classics really 'dips its toe' in everything"—a good description of Cecilia's VWU experience.