Summer Scholars
Rising ninth grade girls explore E-STEM fields during VWU Environmental Institute
Featured News | August 7, 2018
By Laynee H. Timlin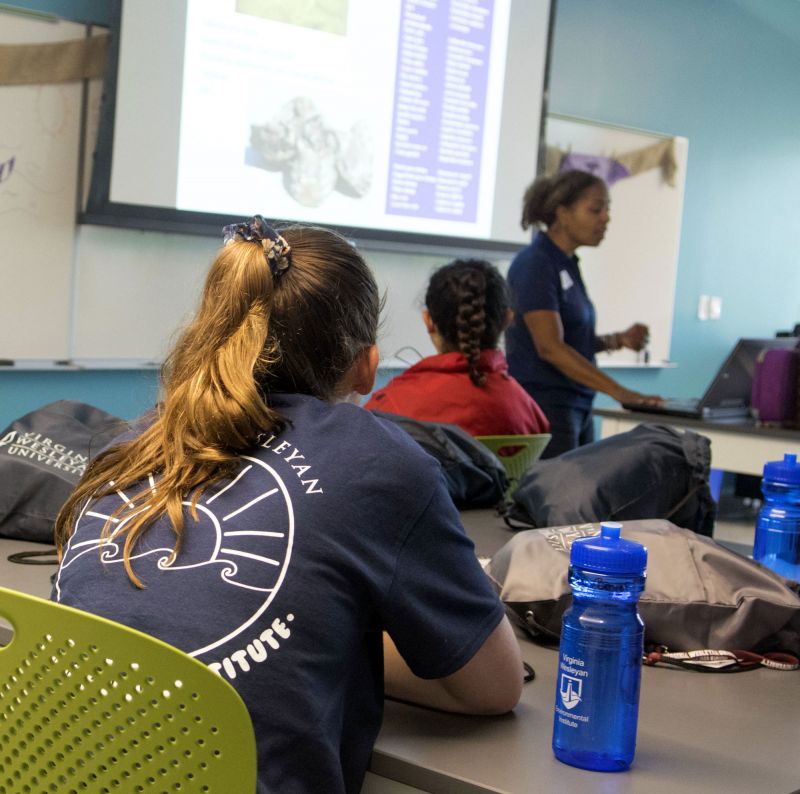 Twenty-two rising ninth grade girls were on campus to participate in the first Virginia Wesleyan Environmental Institute: Summer Scholars Program during the week of July 23 – 27. The residential environmental science program enabled the girls to participate in authentic environmental science, technology, engineering, and math (E-STEM) experiences alongside environmental science professionals in academia, industry, business, government, and non-profit organizations in order to better understand the vast opportunities for women in E-STEM fields.
The week-long initiative was coordinated by VWU Assistant Professor of Education Bill McConnell and Associate Professor of Biology Deirdre Gonsalves-Jackson. Professor of Ocean and Atmospheric Sciences Elizabeth Malcolm also contributed to the development of curriculum and activities for the participants during the week. Professor of Education Hilve Firek presented on "Women in STEM Around the World," and Professor of Earth Science Chris Haley provided an introduction to the scanning electron microscope. VWU students Katy Kopaskey, education major, and Mayanni McCourty, earth and environmental sciences major, also served as educators for the camp. VWU students Divine Brooks (education) and Marie Lerch (political science) served as camp counselors.
"Most high school seniors interested in environmental science know little about careers in the field and much less about the authentic practices associated with them," said McConnell. "From robotics, to building design, to water quality, to periwinkles, this program immersed ninth-grade girls in the work of multiple environmental science related professions and allowed them to meet and network with female STEM leaders in our area."
During the adventure-packed week, the girls visited the Virginia Institute of Marine Science, the Brock Environmental Center, the Virginia Tech Agricultural Research and Extension Center and the Virginia Aquarium. They conducted research, participated in a design challenge, a campus hunt for invasive species led by botanists from Norfolk Botanical Gardens, and created research poster presentations. And, in true "camp" fashion, they enjoyed cook-outs, s'mores, games, and a "dive in" movie night at the pool in the Jane P. Batten Student Center.
McConnell reported that initial analysis of pre/post data revealed increases in content knowledge, career knowledge, and an expanded view of personal career options and pathways related to environmental science. Reflections from the participants also provided a valuable indicator of the program's impact. Participants commented that this was a "life changing program," "an eye-opening experience," and that "this program helped to put me on the right track for a career I will love!"