The Anatomage Has Arrived
New virtual dissection table takes center stage in updated anatomy and physiology lab in Blocker Hall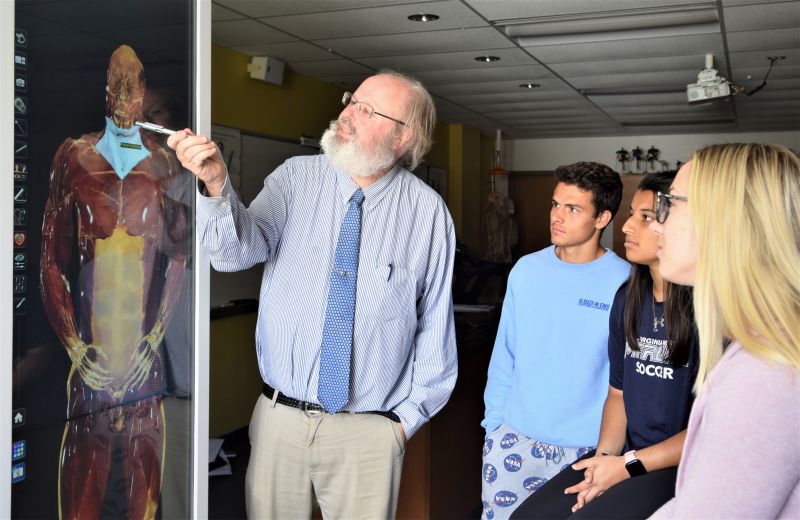 University News | September 14, 2022
This fall, more than 70 students enrolled in BIO 221 at Virginia Wesleyan, including many first-year students, will have an innovative and novel educational experience that was simply not possible in previous semesters. For the first time, students will examine and dissect the human body using the digital cadavers provided by VWU's newly acquired Anatomage (think anatomy and image) Table. This new high-tech virtual dissection tool brings even more advanced learning to life in Blocker Hall's freshly transformed anatomy and physiology laboratory.
"Fall Semester 2022 marks a significant milestone in the continued evolution of the natural sciences at VWU with the transformation of Blocker Hall 104 into a modern human anatomy and physiology laboratory," said Professor of Biology Vic Townsend. "In addition to the acquisition of new skeletons, anatomical models (hearts, brains, kidneys, lungs, muscles), treadmill and physiological apparatuses (for measuring heart rate, respiration, blood pressure and brain activity), the enhanced lab features an Anatomage Table 8 as its centerpiece."
The Anatomage Table is a convertible, life-size touch screen that permits rotation of the structure under examination and can be positioned in either a horizontal or vertical configuration. The table was primarily funded by an anonymous donation and is a crucial investment in VWU's nursing, allied health and biology programs.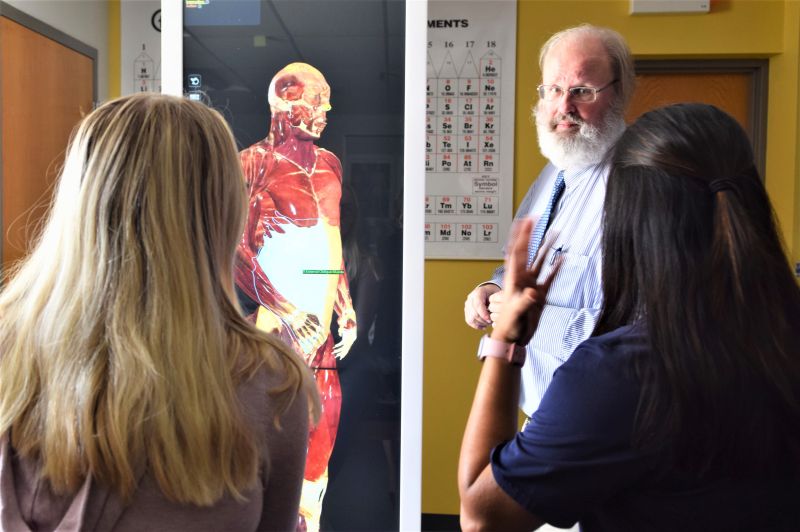 Townsend, who is the Kenneth R. Perry Dean of the Joan P. Brock School of Mathematics and Natural Sciences, explains that this new three-dimensional virtual dissection tool enables students to visualize accurately the anatomy of the human body in a manner comparable to the examination of a fresh cadaver. The instrument includes digital representations of four human cadavers as captured by CT and MRI scans, high resolution regional anatomical scans, simulations of blood flow, a digital pregnancy, kinesiology demonstrations, and histological visualizations of the microstructure of major organs and tissues.
"VWU's new Anatomage Table will be used to support lectures as well as to provide demonstrations in labs for a variety of courses including Human Anatomy and Physiology I & II, Comparative Animal Physiology, and Histology," continued Townsend.
He says that plans are in the works to host open houses for campus groups to visit the transformed lab this fall and participate in demonstrations using new anatomy and physiology equipment, including the Anatomage Table. Townsend looks forward to demonstrating its capabilities to interested groups and he's fully prepared to have the Anatomage Table up and running for tours or groups of visitors on Marlin Days and other events this academic year.
The transformation of the anatomy and physiology laboratory in Blocker Hall and the addition of the state-of-the-art technology provided by the Anatomage Table significantly elevates learning and discovery for students studying the natural sciences at Virginia Wesleyan University.
Learn more about the Joan P. Brock School of Mathematics and Natural Sciences