The Arts at VWU: Spring 2022
Mark your calendars for a season of music and theatre in the Goode Fine and Performing Arts Center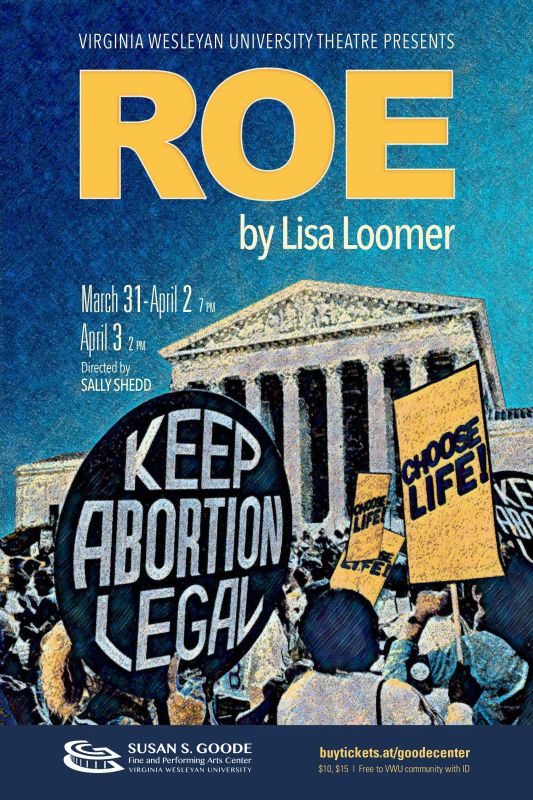 University News | February 14, 2022
Virginia Wesleyan's two Artists in Residence, Tidewater Classical Guitar and Virginia Chorale, offer concerts for the Virginia Wesleyan community with performances also open to the general public this spring.
Tidewater Classical Guitar (TCG) is a non-profit arts organization with an all-volunteer board that cultivates awareness and appreciation of classical guitar by presenting world-class concerts and advancing guitar education. TCG presents concert series which feature many of the world's best-known and most outstanding guitarists.
The Virginia Chorale is the premier professional vocal ensemble in the Commonwealth of Virginia. Founded 38 years ago, the ensemble has grown from a community-based early music chorus to today's dynamic group of professional singers. The Chorale presented "In a Persian Garden" on February 5.
Both groups are representations of artistic excellence and dedication to the role of the arts in a liberal arts education.
Mark your calendars for these upcoming events:
Tidewater Classical Guitar Showcase Concert
February 18 | 7:30 p.m.
TCG Showcase Concert featuring the Tidewater Guitar Orchestra is a concert that brings together artists from our region for a powerful concert experience devoted to the community. This concert will feature performances by the duo of Anibal Acosta and Anna Feucht, Todd Holcomb, PC Duo, and the Tidewater Guitar Orchestra.
Single Tickets – $30 General Admission, $25 Senior/Military/Educator, $10 non-VWU Students, Free for VWU Student/Faculty; Livestream Passes – $15
Roe
March 31 - April 2 | 7 p.m.
April 3 | 2 p.m.
The VWU Fine and Performing Arts Department presents Roe by Lisa Loomer.
Roe v. Wade, the landmark 1973 case that legalized abortion, is still fiercely debated 50 years later. In this incisive play, acclaimed writer Lisa Loomer cuts through the headlines and rhetoric to reveal the divergent personal journeys of lawyer Sarah Weddington and plaintiff Norma McCorvey ("Jane Roe") in the years following the fateful decision. In turns shocking, humorous, and poignant, ROE reflects the polarization in America today while illuminating the heart and passion each side has for its cause.
Presented by arrangement with Dramatists Play Service, Inc., New York.
Buy Tickets: $15/$10; Free to VWU students, faculty, and staff
JukeVox
April 8-9 | 7 p.m.
Wesleyan Vox Vera presents a fun-filled concert of vocal jazz and acapella vocal music, including songs by The Beatles, George Gershwin, Fleetwood Mac, and Jerome Kern. Come join us for an evening of great music and fun conversation! Free to the public
Jazz Ensemble and Orchestra Concert
April 21 | 7 p.m.
Hear selections by the VWU Jazz Ensemble under the direction of Dr. Jason Squinobal, and enjoy an evening of traditional music from the string orchestra, including music by Bach, Mozart and Dvorak under the direction of Justin Stanley. Free to the public
50 Years of Singing with the Wesleyan Choirs
April 22 | 7 p.m.
Since their first concert in 1972, the Virginia Wesleyan Choirs have developed a tradition of quality choral singing in Coastal Virginia and have performed across the East Coast, including Boston, Hershey, and two performances at Carnegie Hall. Join us for performances by Wesleyan Camerata, Bravura, and Vox Vera as we remember music performed over the past 50 years and look forward to the future of the Wesleyan Choirs. Free to the Public
Tidewater Classical Guitar
April 29 | 7 p.m.
Jorge Amaral and Mia Pomerantz-Amaral's performances have been described as "masterful, with poetic virtuosity and intensity of expression." Join Tidewater Classical Guitar for their season finale featuring a guitar duo that brings both the sweetly sublime and a thunderous intensity to the concert stage.
Tickets are available at the online at TidewaterClassicalGuitar.org/tickets or at the door. Single Tickets – $30 General Admission, $25 Senior/Military/Educator, $10 non-VWU Students, Free for VWU Student/Faculty
Livestream Passes – $15
Senior Recitals and Capstone Performances
Brianna Allen, Directing "Collective Rage" by Jen Silverman
April 22 & April 23 | 9 p.m.
Hailey Schumacher, Flute
April 23 | 2 p.m.
Rachel DeMay, Soprano
April 23 | 4 p.m.
Andre Wiggins, Baritone
April 23 | 6 p.m.
May Davis, Soprano
April 29 | 7 p.m.
Rebecca Gardner, Mezzo-Soprano
April 30 | 4 p.m.