The Wesleyan Choirs Celebrate 50 Years
Enjoy music from the past 50 years with performances by Bravura, Vox Vera and Camerata on April 22
University News | April 13, 2022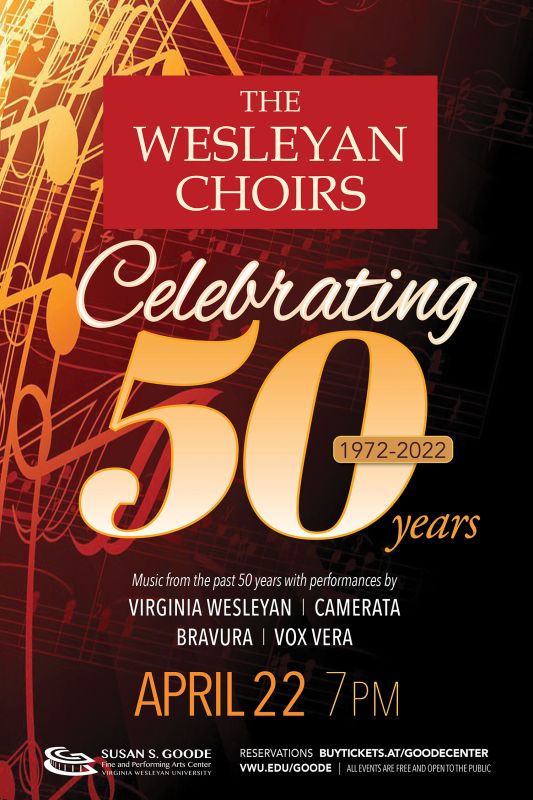 Fifty years ago, the premier concert of the newly formed Virginia Wesleyan Chorus took place in the dining hall on campus in the fall of 1972. The performance of the Vivaldi "Gloria" was led by Virginia Wesleyan's very first choral director Dr. David Clayton, during his first year on the faculty.
Fast forward 50 years to 2022. On April 22 at 7 p.m. in the Susan S. Goode Fine and Performing Arts Center, the Wesleyan Choirs will commemorate this significant anniversary with a special concert. The event will begin, as it did a half century ago, with the Vivaldi "Gloria."
Associate Professor of Music and Chair of Fine and Performing Arts Dr. Bryson Mortensen will be directing the choirs. All of Wesleyan's choral ensembles will perform: Bravura, with student conductors at the helm; Vox Vera, a mixed ensemble of sophomores, juniors, and seniors; and Camerata, an auditioned, mixed-voice ensemble available to all students. The concert program will also be filled with messages from choir alumni and images from past performances.
"The performance is an opportunity to celebrate the growth of the choral program over the past 50 years," said Mortensen. "We begin the concert with the very work that launched us into this trajectory in 1972, and will conclude the concert with the piece that has come to mean so much to choral alumni as they return to campus for each concert. In between, we will sing several pieces that can serve as sign-posts along the journey of the choirs at Virginia Wesleyan."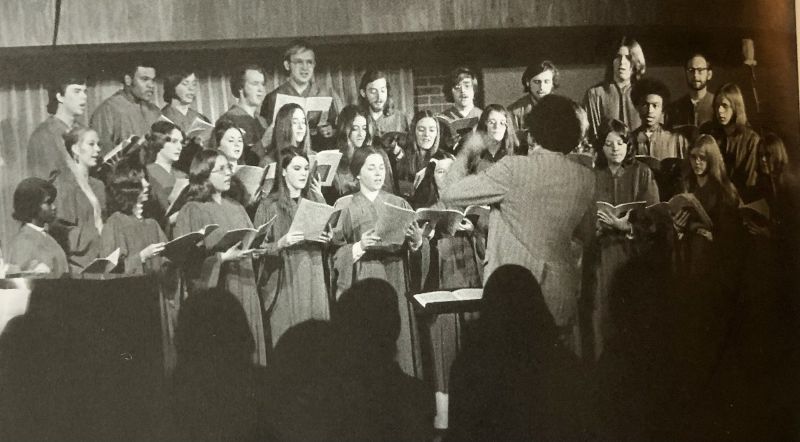 Since that first auspicious performance to today, the choral program has grown immensely, becoming an integral part of the campus community with performances from the annual "Wesleyan Christmas'' celebration to tours to Carnegie Hall, Louisiana, Massachusetts, and New Hampshire. The facilities have also improved throughout the years, from the construction and the move to the Hofheimer Theatre to the grand opening of the Susan S. Goode Fine and Performing Arts Center. And the choirs themselves have evolved, from the Virginia Wesleyan College Choir and Chamber Singers to Wesleyan Bravura, Wesleyan Camerata, and Vox Vera.
"It is such an honor to be present at a time when we get to celebrate the strong foundation on which the choirs stand," noted Mortensen. "We are able to look at how that foundation has helped us develop into the thriving community of singers we have now become."
Join the guest list for the Wesleyan Choirs 50th Anniversary Celebration on April 22 at 7 p.m. in the Susan S. Goode Fine and Performing Arts Center.