Upping Our Game
Students bring their passion for gaming to VWU's growing esports program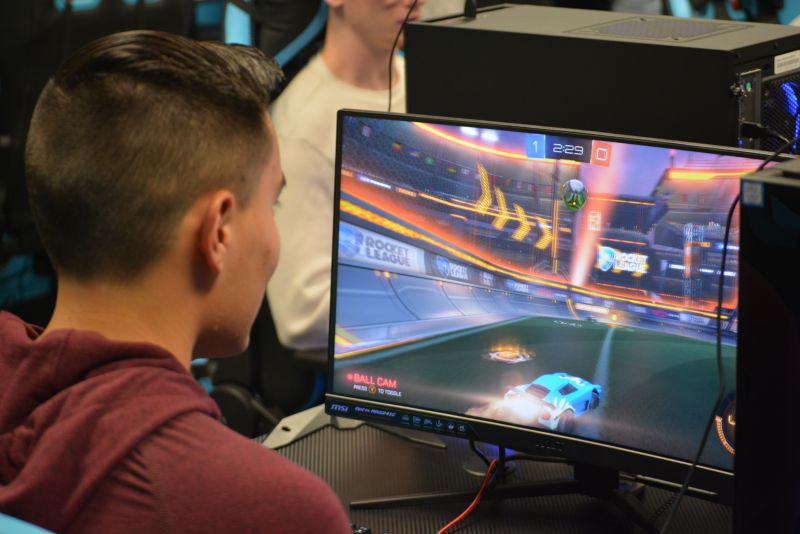 University News | November 9, 2022
Esports, a fast growing global sport and billion-dollar industry, continues to grow and expand on college campuses across the country. Leagues and teams face off in competitive, organized video gaming as fans watch from all over the world.
The Virginia Wesleyan Esports program, which first pressed play in 2019, has grown to a roster of 37 competitors—25 of whom are first-year students. The players compete in collegiate matches against colleges and universities such as Clemson, Yale, and M.I.T.
The rapid growth of the program inspired the University to up its game. In spring 2022, VWU added Fortnite to its existing lineup of League of Legends, Overwatch, and Rocket League.
Players compete in the Marlin Esports Arena in the Jane P. Batten Student Center, and due to the expanding roster, additional practice space has been added in the Digital Media Lab of the recently renovated Beverly Hall.
The program has also gained attention from area businesses and is currently sponsored by Endurance IT Services of Virginia Beach.
Esports Head Coach Glenn Johnson '13 is an avid gamer himself, and though he shares the students' passion for gaming, he also knows how important it is to successfully balance the demands of academic coursework with esports play.
Johnson, who works in VWU's Instructional Technolgy Services Department as assistant director of enterprise resources, stresses the importance of academics first.
"I often tell the players that their VWU education is their number one priority," he notes. "When prioritizing their schedules, academics must come first."
That is certainly true for Brandon Kwon '23 who has been competing in VWU esports since his freshman year when the program first started. As team captain for Rocket League, he creates practice structures for his team, assists them in understanding the game and preparing for competitions.
"When I first heard about esports I thought it was a great opportunity," says Kwon, who's played Rocket League since he was 14. "It's definitely one of the emerging industries and highly watched all around the world."
Kwon stays engaged with esports while maintaining a rigorous academic workload in VWU's pre-engineering program as a math major. He says he plays or watches esports on Twitch—a livestreaming platform for gamers—at least two hours each day. He says it's a good stress reliever from his math and pre-engineering studies. He's on track to graduate from VWU with a bachelor's degree in May 2023 and will then complete a master's degree in aerospace engineering.
"Esports has been a way to decompress at the end of the day and have an outlet...then I can focus my energy toward academics in a more positive way."
Hailey Schumacher '22 was involved with esports during her years as a student at Virginia Wesleyan majoring in music composition. Now, as an enrollment counselor for VWU, she supports the program by helping to promote it on social media. She also has opportunities to share her experiences in gaming with potential students.
"At a recent recruiting fair, many high school students approached the VWU table to express interest in the University and learn more about our esports program," said Schumacher. "We were one of the only universities at the fair that even offered an esports program and it was definitely a draw for students interested in gaming at a collegiate level."
Virginia Wesleyan is a member of the National Association of Collegiate Esports (NACE).