Virginia Wesleyan and YMCA of South Hampton Roads Break Ground for New Facility
The new 6,000 square-foot partnership facility is scheduled for completion by May 2017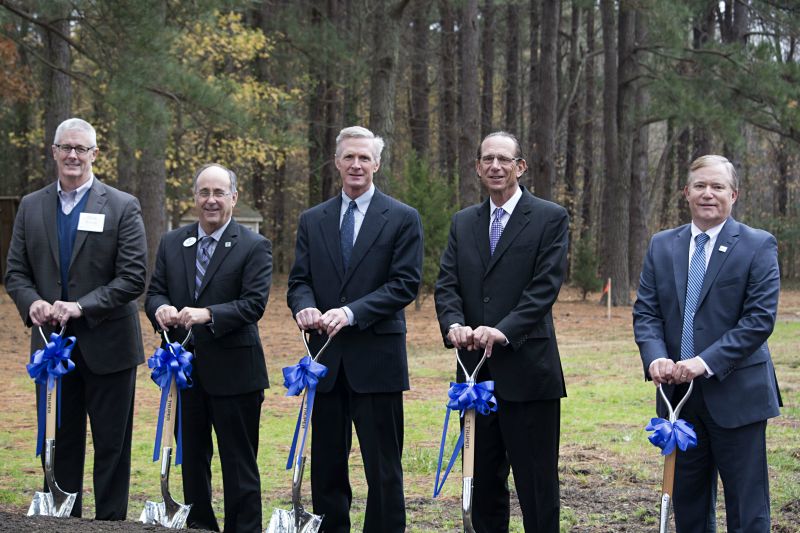 News Release | December 12, 2016
Virginia Wesleyan College and the YMCA of South Hampton Roads broke ground Dec. 8 for a 6,000-square-foot partnership facility that will be located on the VWC campus. Scheduled for completion by May 2017, the facility will be located at the entrance to the College's Wilson Arboretum. It will contain three classrooms that open into a large multi-purpose room, four offices, a reception area, kitchen, and an adjacent outdoor amphitheater with stage. The building will be used by the College during the academic year and by YMCA Camp Red Feather during the summer months.
With 300 acres of trees, trails, and Lake Taylor, Virginia Wesleyan College provides the perfect setting for partnership with the YMCA. The campus has been home to Camp Red Feather since 2005, and each summer welcomes nearly 2,000 campers ages five to 17 to play, discover and grow at VWC. The relationship has led to various recreational additions on campus, including a treehouse and dock near Lake Taylor and the 2011 installation of the Alpine Tower—a 50-foot structure designed for climbing and teambuilding exercises.
"As a college growing and reaching out to the community for new synergistic partnerships, we are especially honored to collaborate with the YMCA on this important facility," said Virginia Wesleyan College President Scott D. Miller. "Our goal is, together, to enrich the services we provide to our community and this campus, while affording us a facility to encourage innovative thinking and the development of new programs."

Dr. Miller was joined in the ceremonial shoveling by William H. "Billy" George, President and CEO of the YMCA of South Hampton Roads and a Virginia Wesleyan College Trustee, David L. Kaufman, Chair of the VWC Board of Trustees, G. Dudley Ware, Board Chair of the YMCA of South Hampton Roads, and Chris Brandt, Executive Vice President of Hourigan Construction.
Following the groundbreaking ceremony, 17 students from the Virginia Wesleyan course "Management of Recreation and Leisure Services" presented a check for $5,500 to Mr. George and Rhonda Marsh, Director of Development for Camp Silver Beach. Students raised the funds in support of the College's "Send a Kid To Camp" fund, which helps send economically disadvantaged children to Camp Silver Beach. The fund has raised more than $70,000 since its inception in 2003.
Mr. George acknowledged VWC Professor of Recreation and Leisure Studies Dr. Douglas Kennedy for his instrumental role in bringing the two organizations together more than a decade ago.
Conceptually designed by VMDO Architects and Woodard Design, the architects of record, and constructed by Hourigan Construction, the new joint-use facility will complement the Virginia Wesleyan's forthcoming Greer Environmental Sciences Center, scheduled for completion in fall 2017.
View the groundbreaking photo gallery at:
https://flic.kr/s/aHskMDY9E7