College Welcomes New Members to Board of Trustees
Virginia Wesleyan College welcomes eight new members to its Board of Trustees for 2016-2017
News Release | November 22, 2016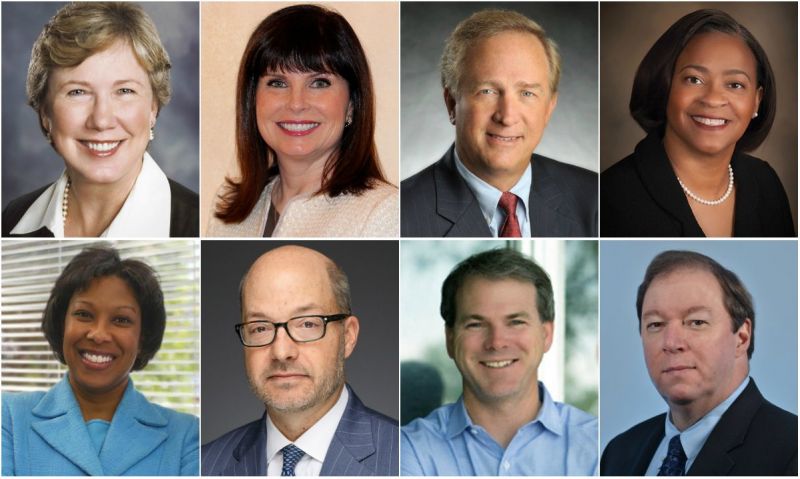 Virginia Wesleyan College welcomes eight new members to its Board of Trustees for the 2016-2017 academic year, according to Dr. Scott D. Miller, President of the College.
New members include Dr. Nancy T. DeFord of Virginia Beach, Mary C. Haddad of Suffolk, Virginia, Howard P. Kern of Norfolk, Rev. Sharma D. Lewis of Glen Allen, Virginia, Mavis N. McKenley '11 of Virginia Beach, Lee T. Stevenson '85 of Chicago, Kenneth G. Trinder II of Norfolk, and Michael J. White '81 of Florham Park, New Jersey.
Trustees include leaders from business and industry, education, and the United Methodist Church. The 35-member Board supports the College's mission, is responsible for securing adequate financial resources for the operation of the College, and establishes long-range goals and institutional policies.
"Virginia Wesleyan benefits enormously from the leadership of our Board," says President Miller. "These experienced and talented individuals join an engaged group of Trustees whose dedication continues to be a critical asset to the success of our College, its students and alumni. They offer a wealth of insight and skills as we chart our strategic course for the coming years."
Dr. Nancy T. DeFord
Dr. Nancy T. DeFord is vice president of DeFord, Ltd. in Virginia Beach. She holds bachelor's degrees in art and history and a master's degree in curriculum and supervision from Trinity University in Texas. She earned a doctorate in innovative curriculum design and administration from the University of Southern California and has additional training in principled decision-making and gifted education. Dr. DeFord is a retired superintendent of Park City Schools in Utah. She served as principal of Princess Anne High School and held other administrative positions in the Virginia Beach City Public Schools division. She is past-president of ASCD, an international education organization focused on research, training and publishing in best education practice. In addition to the Virginia Wesleyan Board, she serves on numerous community foundations in the Hampton Roads area and is president of the Board of Directors for the Virginia Beach Historic Homes Foundation. She is married to Robert "Bob" DeFord, Jr., Trustee Emeritus at Virginia Wesleyan College.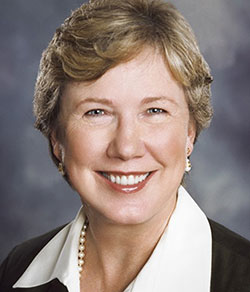 Mary C. Haddad
Mary C. Haddad is president and co-founder of the Louis and Mary Haddad Foundation. She holds a master's degree from Gonzaga University in organizational leadership with a certification in servant leadership and a bachelor's degree from Hampton University. She previously served as a senior marketing representative and vice president at a large development firm and has extensive volunteer and non-profit board service, including the Chesapeake Bay Academy, the Old Dominion University Board of Visitors, the Suffolk Foundation, WHRO Public Broadcasting, and the State Council of Higher Education for Virginia (SCHEV). Haddad has received many awards, among them the Local Hero from Bank of America, Humanitarian from National Committee for Community and Justice, Safe Harbor from Programs and Places for Children, Woman of the Year from Hampton Roads Youth Center, Volunteer Achievement Honorary from Volunteer Hampton Roads, Chairman's Award from Hampton Roads Chamber of Commerce, Volunteer and Community Service Award from Outstanding Professional Women of Hampton Roads. She and her husband, Lou, are the parents of four children.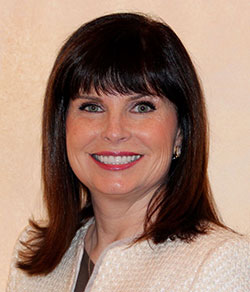 Howard P. Kern
Howard Kern is president and chief executive officer of Sentara Healthcare in Norfolk. His executive management experience includes 36 years in hospital, managed health insurance, ambulatory services, and healthcare finance. He obtained his master's in health administration from the Medical College of Virginia, and is on the faculty as a lecturer in the School of Health Administration. He also completed the CEO Program for Health Care Leadership at the Leonard Davis Institute for Health Economics at the Wharton School, University of Pennsylvania. Kern is a fellow in the American College of Healthcare Executives and serves on multiple professional and community boards, including HealthEast, Future Hampton Roads, MDLive, the Virginia Symphony Orchestra, and the Virginia Biosciences Health Research Corporation. He previously served as chairman of the board for Westminster-Canterbury on Chesapeake Bay.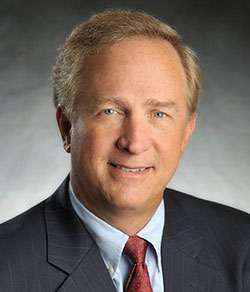 Rev. Sharma D. Lewis
Rev. Sharma D. Lewis is the Presiding Bishop for the Virginia Conference of the United Methodist Church. She is the first African-American woman from the South to be elected to the denomination's highest office. Bishop Lewis previously served as the district superintendent of the Atlanta-Decatur-Oxford District in the North Georgia Conference. She was born and raised in Statesboro, Georgia, and holds a bachelor's and master's in biology from Mercer University and the University of West Georgia, respectively. She earned a Master of Divinity from Gammon Theological Seminary at the Interdenominational Theological Center. Prior to surrendering to God's call upon her life, Bishop Lewis worked as a research biologist and chemist.
Mavis N. McKenley '11
Mavis (Escoffery) McKenley, a 2011 graduate of Virginia Wesleyan, is vice president and trust officer at AMG National Trust Bank and chair of the VWC Alumni Council. In addition to her bachelor's degree from Virginia Wesleyan, McKenley is certified as an accredited estate planner (AEP) and a certified trust and financial advisor (CTFA). She serves as vice president for her local estate planning council and as board president for Samaritan House, an area nonprofit that provides advocacy and services to victims of domestic violence and homeless families. McKenley resides in Virginia Beach with her husband, Wayne, and their son, Nigel.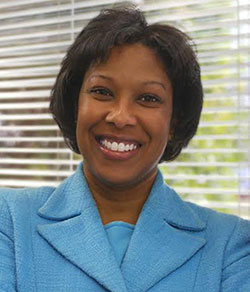 Lee T. Stevenson '85
Lee T. Stevenson, a 1985 graduate of Virginia Wesleyan College, is managing director of the global firm Marsh & McLennan Companies, where he oversees the firm's Central region of more than 20 retail brokerage offices. He serves on Marsh's U.S. Executive Committee and its President's Council, consisting of the company's top executives worldwide. Stevenson has over 27 years of industry experience, including underwriting, broking and global client management, and he is a frequent speaker on industry related topics. He is a member of the Chicago Council on Global Affairs, Turnaround Management Association and the Broadwater Academy Board of Trustees. Stevenson is a native of Virginia's Eastern Shore and lives in Chicago with his wife, Lara (D'Domenicus) Stevenson '88. The couple has three children, Taylor, Jack, and Natalie.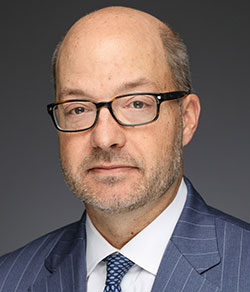 Kenneth G. Trinder II
Kenneth G. Trinder II is the founder, CEO and president of EOS Surfaces, LLC, a polymer surfacing company in Norfolk. He is a former practicing attorney and holds a J.D. from Wake Forest University, a bachelor's from Franklin and Marshall College, and is a graduate of Norfolk Academy. Over the last five years, EOS has created and deployed the world's only federally registered Preventive Biocidal polymer for use in fighting Hospital Acquired Infections. The groundbreaking material, EOScu, uses copper oxide embedded throughout the polymers to create a self-sanitizing surface that kills all hospital pathogens in under two hours. Trinder lives in Norfolk with his wife, Larissa, and their three sons. His father, John A. Trinder, is an Emeritus Trustee of Virginia Wesleyan.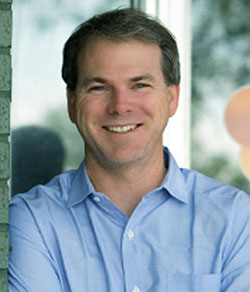 Michael J. White '81
Michael J. White, a 1981 graduate of Virginia Wesleyan College, is president of Maersk Line Agency, Inc. He is responsible for all Maersk Line Agency activities for North America, including the United States and Canada. He previously served as chief executive for Maersk Line Central Europe and president of MaerskLogistics USA, Inc. Earlier in his career, he held a number of senior management positions with P&O Containers and P&O Nedlloyd. White is a licensed Customhouse Broker, and has been the qualifying officer for the Freight Forwarding organizations of P&O Nedlloyd and Maersk Logistics. His prior board positions include Maersk Holding BV, Maersk BV, Maersk Logistics USA, Inc., Hudd Distribution Services, Inc., Bridge Terminal Transport, Inc., Maersk Customs Services, Inc., Maersk Logistics Canada, Inc., P&O Nedlloyd Terminal Holdings, Inc., P&O Nedlloyd Logistics, Inc., Farrell Lines, and Port Newark Container Terminal. In addition to his Virginia Wesleyan studies, White studied at Harvard Business School and IMD Business School in Lausanne, Switzerland. He is married with two children and resides in New Jersey.