Share this Story
Virginia Wesleyan University Distinguished in 2024 'Best Colleges' Rankings
A Vanguard of Diversity and Social Mobility, VWU Secures Multiple Honors in National Liberal Arts College Categories
University News | September 19, 2023
In the recently released 2024 Best Colleges rankings by U.S. News & World Report, Virginia Wesleyan University (VWU) has once again been spotlighted, receiving accolades in three noteworthy categories: top National Liberal Arts College, exceptional ethnic diversity, and a foremost performer in social mobility.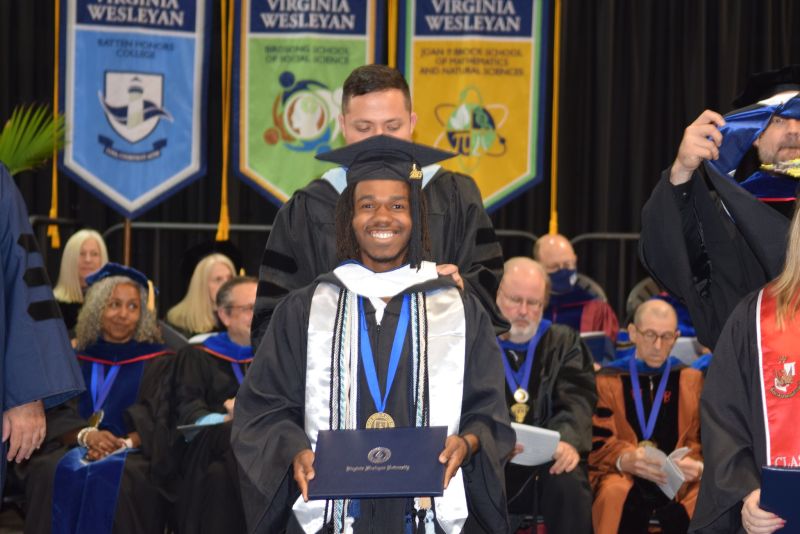 For the seventh year running, VWU shines as one of the National Liberal Arts Colleges with the most vibrant ethnic diversity, a testament to its commitment to fostering a global community. The rankings illustrate a rich tapestry of backgrounds at the university, with a significant representation of African-American students, who make up 21% of the student body. This assessment was conducted by U.S. News through a thorough analysis of the ethnic diversity within the 2022-2023 student cohort, showcasing the remarkable variety of ethnic groups represented at the institution.
Reflecting on these accolades, VWU President Scott D. Miller has a deep sense of pride in the institution's steadfast dedication to inclusivity and academic excellence. "This acknowledgment stands as a testament to the multicultural and global fabric that characterizes our university," he says. "Our foundational belief is in cultivating values and traditions that foster a community where students are immensely proud of their choice to join the Virginia Wesleyan family for their scholarly pursuits."
The assessment process involved a detailed scrutiny of numerous data elements, covering up to 19 criteria indicative of academic quality. There was a pronounced emphasis on student outcomes, including graduation retention rates, which formed a significant 21% of the overall assessment score.
Additionally, for the fifth year in a row, the university has been recognized as a "Top Performer on Social Mobility". This specific category scrutinizes how effectively institutions are at graduating students who have been recipients of federal Pell Grants, comparing these results with the general student population. This commendation further cements VWU's commitment to promoting social progression through its educational programs.
The annual Best Colleges rankings by U.S. News & World Report serves as a pivotal resource for prospective students and their families in their quest to find the ideal academic home among nearly 1,500 U.S.-based colleges and universities. With its continued recognition, Virginia Wesleyan University firmly establishes itself as a prime destination for those seeking an inclusive and academically robust institution for higher learning.