Virginia Wesleyan Unveils New Esports Arena
Open house gives glimpse at what's to come when the program presses play this January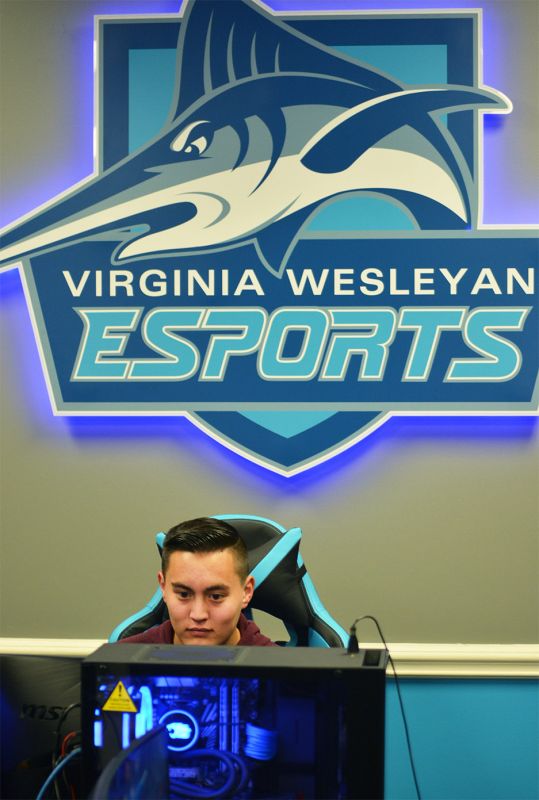 University News | October 18, 2019
"Game of Thrones"-like battle refrains sounded on 17 powerhouse PCs October 18 as the Virginia Wesleyan community explored the University's new Marlin Esports Arena in the Jane P. Batten Student Center. The open house gave guests a glimpse at what's to come when the program presses "play" this January.
Today's fastest growing global sport and a billion-dollar industry, esports is quickly expanding to college campuses across the country. Leagues and teams face off in competitive, organized video gaming as fans watch from all over the world.
"There's more viewership for esports right now than any other professional sport in the world besides soccer," said Chris Davis, VWU Esports Program Director and Head Coach. "The amount of hours consumed watching esports last year surpassed all the hours of everybody watching Netflix for the entire world—it's very relevant."
Virginia Wesleyan is a member of the National Association of Collegiate Esports (NACE) and will compete in "League of Legends," "Overwatch," and "Rocket League." The program will begin as a club sport with plans to expand to varsity and potentially introduce an academic program.
"It opens up pathways for potential majors and courses," Davis says. "There are lots of jobs right now in the esports world. It's not just being a player or a game designer, it's everything that goes along with it—it's marketing, it's business communication, it's being a story writer."
Seasoned gamers will find the Marlin Esports Arena impressive, equipped with 17 high-performance gaming PCs featuring Intel Core i7-9700K processors, ASUS Prime Z390-P motherboards, MSI RTX 2070 Armor video cards, and MSI Optix gaming monitors. The space also includes a large projection system for audience viewing and game study.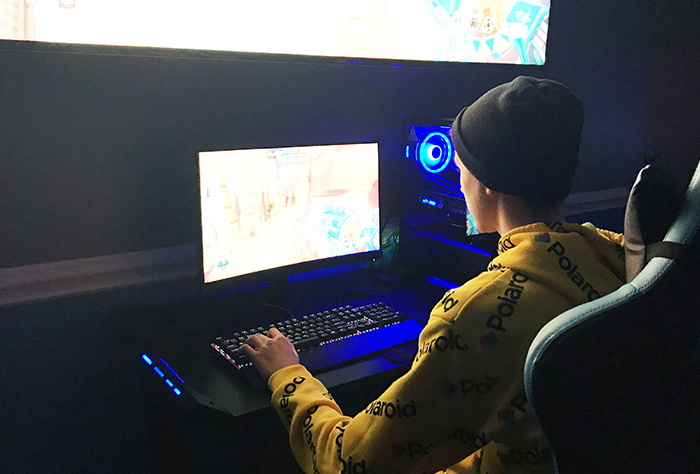 Brandon Kwon, a freshman from Fredericksburg, demonstrated his gaming skills during the open house.
"When I heard about esports I thought it was a great opportunity," says Kwon, who's played "Rocket League" since he was 14. "It's definitely one of the emerging industries and highly watched all around the world."
Kwon says he plays or watches esports on Twitch—a livestreaming platform for gamers—at least two hours each day. He says it's a good stress reliever from his chemistry and pre-engineering studies and running cross country/track and field.
"It's a way to decompress at the end of the day and have an outlet...then I can focus my energy toward [academics and athletics] in a more positive way."

Current and incoming students are invited to play based on interest and tryouts are held. Interested players should complete the Virginia Wesleyan eSports Interest Form or email esports@vwu.edu.