Virginia Wesleyan Welcomes Second Batten Honors College Cohort
Forty students participate in Batten Honors College Matriculation Ceremony August 24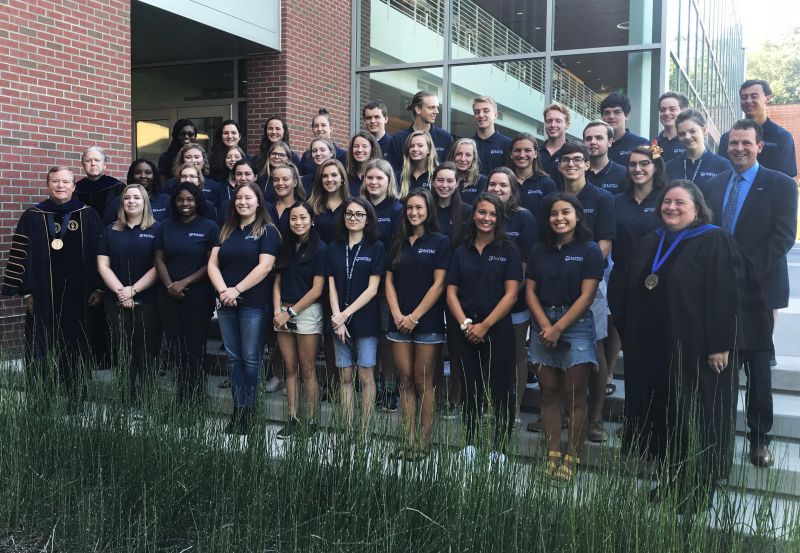 University News | August 24, 2018
Photo Gallery: 2018 Batten Honors College Matriculation Ceremony
Shortly after their arrival on campus August 24, the second cohort of Virginia Wesleyan University's Batten Honors College convened in the award-winning Greer Environmental Sciences Center for their formal Matriculation Ceremony.
Each of the 40 students came forward to pen their signature in the matriculation book, signifying their commitment to be responsible and contributing members of the Batten Honors College academic community, to strive for excellence, and to realize the full potential of their own unique gifts and abilities.
"Never again will you have such an unparalleled environment in which to expand your horizons, take calculated risks and find new passions—to chart a meaningful purpose for your life and for our society, culture and natural environment," President Scott D. Miller told the students. "Today, each of you becomes an important part of our story, and you will contribute more than you may realize to the legacy of Virginia Wesleyan University."
Launched in fall 2017, the highly selective Batten Honors College has quickly emerged as a national niche program of the University. It was created to inspire, engage and prepare academically talented students to become impactful leaders and environmental stewards globally. Signature program features include small class sizes, a living-learning community, personalized instruction, funded international study, and full academic-leadership scholarships. The Batten Honors College is gratefully named for Virginia Wesleyan Trustee Emerita Jane P. Batten and her late husband, Frank Batten, Sr. The program awards 20 full-tuition scholarships and 20 two-thirds tuition scholarships annually.
Dr. Joyce Easter, Dean of the Batten Honors College, shared her hopes for the students during the ceremony.
"John Quincy Adams said, 'If your actions inspire others to dream more, learn more, do more, and become more, you are a leader.' The faculty of the Batten Honors College aim to help you in your transformation to become an influential leader, but also to inspire you to be more. My hope is that in four years you can pay that forward by inspiring others to dream more, learn more, do more, and become more."
The second cohort, collectively, has a grade point average of 4.21 on a 4.0 scale, an average SAT score of 1340, and an average ACT score of 29.
"You are the caliber of students we sought, and we are incredibly proud of our second class," said Dr. Miller. "Your potential for success is unlimited, and Virginia Wesleyan University is the place to achieve it."
The Batten Honors College Matriculation Ceremony was live streamed and can be viewed on the VWU Digital Broadcasting Network.