Share this Story
Wesleyan Welcomes VOLUNTEER Hampton Roads
Volunteer organization opens office on VWC campus; Ribbon cutting ceremony held March 11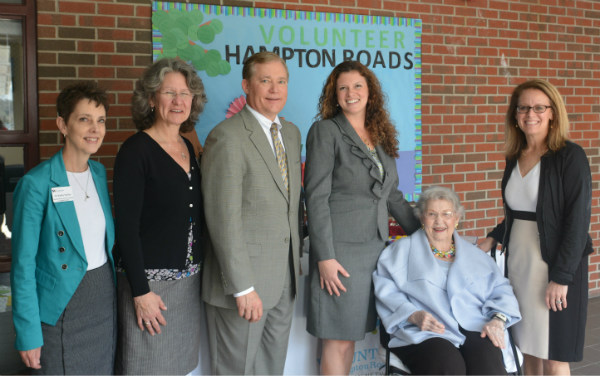 News Release | October 11, 2016
VOLUNTEER Hampton Roads now has a home on the campus of Virginia Wesleyan College. A ribbon cutting ceremony took place March 11 to mark the official opening of their Virginia Beach office and to celebrate collaboration between the two organizations.

"We've had a long partnership with Virginia Wesleyan, and we're really excited to go even deeper with the College as we create and expand service in the community," said Kate Meechan, Executive Director of VOLUNTEER Hampton Roads.

Meechan was joined by VOLUNTEER Hampton Roads Board Chair Joanna Brumsey, Past Board Chair Dawna Ellis, board members Sam Howard and Michelle Ellis Young, and several staff members. Also in attendance was Lenora Mathews, a pioneer of VOLUNTEER Hampton Roads who served as executive director for more than 20 years. Mathews spoke of the new location and the natural connections it creates for Virginia Wesleyan students.

"It first puts them in connection with doing volunteer work within the community, and that is their introduction into what they're going to do in the future as a volunteer," she said. "And you'll notice now that so many corporations are involved in volunteer activities…that also leads to a lot of other connections [for students] within the community."

The organization's presence on the Virginia Wesleyan campus will bring numerous benefits to the College, VWC President Scott D. Miller told guests.

"We will have additional resources for community engagement, greater connections to skills-based volunteer opportunities for students, an additional channel for internships, direct access to training in non-profit and volunteer management, and the potential for mentorship from high level business and civic leaders."

Virginia Wesleyan has a long history with VOLUNTEER Hampton Roads. The organization has held its annual Family Volunteer Day at the College for more than a decade, inviting hundreds of guests to collect nonperishable food items for area nonprofits. In 2015, Virginia Wesleyan friend and former board member George Birdsong was honored with VOLUNTEER Hampton Roads' Lenora Mathews Lifetime Achievement Award.

This collaborative relationship was made possible by the efforts of Virginia Wesleyan Director of Community Service Diane Hotaling and Associate Dean for Innovative Teaching and Engaged Learning Kathy Stolley.