Virginia Wesleyan College Announces Greer Environmental Sciences Center
State-of-the-art facility will provide unprecedented opportunities for students, foster regional collaboration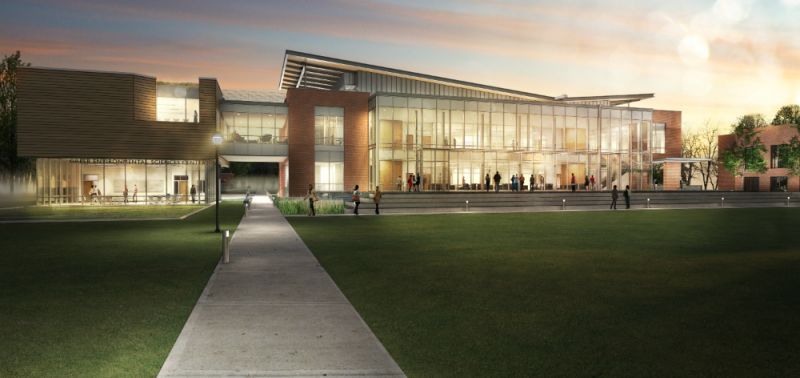 News Release | May 20, 2015
Watch a video about the new Greer Environmental Sciences Center
View the Greer Environmental Sciences Center One Sheet
Virginia Wesleyan College has announced that it will establish the Greer Environmental Sciences Center, scheduled for completion by fall 2017. The announcement was made at a retirement celebration in honor of President William T. "Billy" Greer on May 20. Fully-funded by an anonymous donor, this new facility will honor Greer for his long-standing advocacy for a thriving science program and commitment to environmental sustainability during his 23-year tenure at Virginia Wesleyan. Greer retires as president on June 30, 2015.
The nearly 40,000-square-foot building will be prominently located at the south end of the academic lawn and will complete the College's main quadrangle. In addition to honoring President Greer's legacy, the building will serve as the cornerstone of the College's growing environmental sciences programs. The Greer Environmental Sciences Center's spatial and visual connections will help create an inspiring sense of place on the VWC campus. Through its location and landscaping, the building will connect students in powerful ways to their local ecological community.
The Greer Environmental Sciences Center is organized thematically around the earth's four spheres – atmosphere, hydrosphere, lithosphere and biosphere – and is designed to support continued growth in the Division of Natural Sciences and Math while fostering interactive learning and interdisciplinary research. The facility will include four large teaching laboratories related to the spheres: Ecology and Marine Biology Lab, Earth Science Lab, Atmosphere/Oceanography/Hydrology Lab, and Analytical Chemistry Lab with instrumentation. In addition, the facility will feature dedicated research labs such as a Chesapeake Bay Fish Lab, Mercury Analysis Lab, Nutrient Analysis Lab, and Geology and Hydrology Lab. The building also includes related lab and research support spaces such as lab preparation with freezers, lab storage, field equipment storage, sample processing space, instrumentation labs, temperature controlled environmental room and chemical storage. An Environmental Imaging Suite will house the scanning electron microscope, confocal microscopes and preparation and observation space.
"The Greer Environmental Sciences Center creates a collaborative, student-centered learning environment with the flexible space needed for undergraduate research that goes beyond the typical discipline boundaries," said Dr. Soraya Bartol, Associate Professor of Biology and Director of Undergraduate Research. "Moreover, one of the many goals of this facility is to provide a space for regional institutions to come together in a collaborative research effort and the opportunity to enhance partnerships with the Chesapeake Bay Foundation, Virginia Aquarium and Virginia Institute of Marine Science (VIMS). This type of synergy will provide VWC students with unparalleled access to exciting research opportunities."
A wing on the east end of the building will house a 50-person, tiered lecture room, two 36-person active learning classrooms, two 20-person seminar rooms, and a Geographic Information System (GIS) classroom. Formal and informal group study spaces are located throughout the building. These classrooms and common spaces will be accessible to non-science majors and provide opportunities for all students to develop a closer connection to the sciences.
A new greenhouse and research gardens will be located on the south side of the new building. Native plantings will be used in the landscaping to emulate a variety of local ecosystems and create a habitat for local wildlife. These outdoor classrooms will provide innovative teaching opportunities through the use of hands-on experiences and undergraduate research opportunities.
Since 2010, the College has invested more than $4.5 million in the natural sciences through facility renovations, additions of major equipment and STEM-focused scholarships. As a result, enrollment in the natural sciences has grown by 111 percent in the last five years and biology has flourished to become the most popular major, representing 12.1 percent of the student population in the fall of 2014.
Throughout Greer's tenure as president, he has demonstrated a remarkable commitment to environmental stewardship, evidenced by the College's recent selection by The Princeton Review as "one of the most environmentally responsible colleges in the U.S. and Canada." The Greer Environmental Sciences Center will embody "science on display" with fully glazed walls on the north side of the classroom laboratories, exposing science and scientific exploration. Strategically-placed sustainable features will be accessible to students who will observe and monitor the building's use of energy, water and material resources. The facility will feature a geothermal (a ground source heat exchange) system for heating, cooling and domestic hot water, an array of photovoltaic (PV) panels and a small-scale demonstration wind turbine. An extensive green roof will be located on the roof of the classroom section on the east end. Vegetated bioretention basins and constructed wetlands will treat stormwater runoff on-site in inventive and engaging ways that may be studied by students.